So this is the last weekend to get ready for our annual Cabin Con gaming and I'm still prepping material for some games.  I've been making progress on my components but I'm still pretty behind.  I'll likely need to start scratching things off the list to make sure I can finish the most pressing projects in time.
First up are my Battle Buses from Dropzone Commander for use first in my Thunder Road Skull City variant.
So a long ways to go on these as I only have them primed and base painted.  A have a sinking feeling that these won't be ready in time 🙁
Next up, I wanted to include the Cabin Con goers in The Walking Dead All Out War minis game preview I'm running.  This game is from Mantic and should be out near the end of the year but they released a preview of the rules and I'm eager to try them out.  There is no way I can get 3D sculpts of us so I decided to go old school and make custom standees for each of us.
A quick picture, some photoshopping, and printing gets my test standee prepped.  Litko Game Accessories makes nice little acrylic standees that are perfect for this and so I was able to grab pics of some of the other attendees, assemble the standees, and now I have half of them ready. The other pics will be ready when I ambush the attendees upon arrival.
In the background, you can check out the papercraft building I also completed for this game. I've discussed paper terrain before and this is a set of city buildings from Fat Dragon Games.
The building was really easy to make: print per the instructions, cut out the pieces, glue it together and we're good to go.  These buildings feature my favorite aspect of paper terrain: collapsible and portable.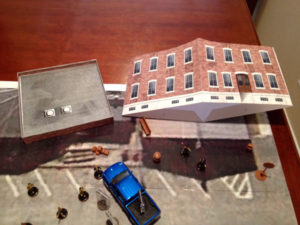 So I still have a long way to go.  I need to make some additional paper buildings, print another game mat, and work out the rest of the details on these games but it's a start…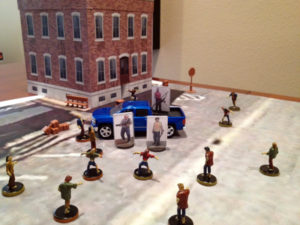 Time to get back to work!