After working up a lot of pimped-out items for my copy of Thunder Road, I'm still finding I want to do more.  I want to add some different features and I started thinking of possibly moving it to a new setting and an urban Death Race theme seemed appropriate and interesting.
When I first picked up Thunder Road, I noticed the UK version (the one I own) is actually a great match for the 10mm Dropzone Commander's scale models.
This has led to a few crossover elements like adding some of the infantry figures to the actual Thunder Road models to help improve their aesthetic.
Dropzone Commander has a great paper terrain set in their "Ruinscape" accessory and it is with that I decided to build my new theme around.
I decided to turn the whole thing into a little unofficial "expansion" called Thunder Road: Skull City.  Skull City will use all the rules I developed for my Advanced variant and expand it to use the new burned out urban terrain.  I have the extra rules cards being printed and hope to have them soon from CowCow.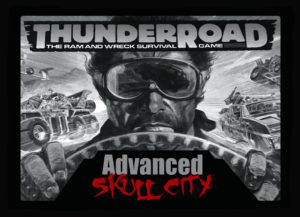 First thing I had to do was make the "swappable" boards iconic to the game.  These are boards that continuously are placed one in front of the other as the cars race off the edge of the lead board.  This is the main mechanic of the game and helps create the endless road that is such an integral part of the game's appeal.
I had a few options like scanning the terrain tiles and editing them in Photoshop similar to the boards in my advanced set but I wasn't confident I could get the quality I wanted so I decided to actually use the actual tiles themselves and mod them.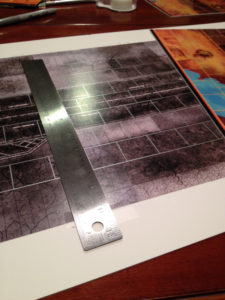 I started by laying out the tiles I wanted to use and measuring out the distances to match the original boards.  I then grabbed a metallic silver sharpie and used a straight edge to start marking the board lines to match the original.  It took awhile but with some patience and heavy use of my other boards as a guide, it started to come together pretty well.
Afterwards, I cut the tiles to size- basically used one and half tiles per "board" and that perfectly matched the size needed for the regular boards.  I used the same process of mounting them to artboard as I used on my poster image boards.  I sprayed both the 11×14 artboard and back of each tile with 3M adhesive spray and carefully laid them on the board.  I broke out the straight edge and exacto knife and cut the final board down to size, this time without cutting the crap out of my finger.
The final boards came out well and I did a quick test set up.  I have a few items left to finish up the "expansion" but it is coming along very well.