I was walking through my local Walgreen's and stumbled upon a cheap little find for The Walking Dead: All Out War- a plastic army man set with some interesting plastic terrain:
Yep! For the paltry sum of $3.50, I got me a little plastic tank for some future scenarios.  The set also came with some barricades and a flag post but I forgot to take shots of them before I primed them. In the mail the same day came my Rick on Horse expansion.  I don't know why but that little expansion always seemed so cool to me and I'm glad I can start using it in my games.
So here we have a quick little scene I put together with my primed army terrain and Rick a la Horse.
The detail on the tank up close is exactly what you would expect from a cheap plastic toy but still works pretty well for scenery.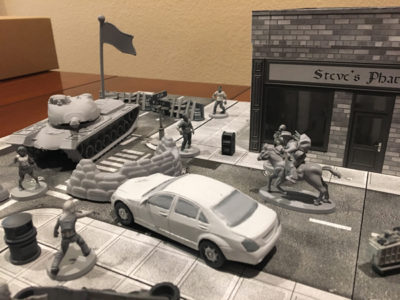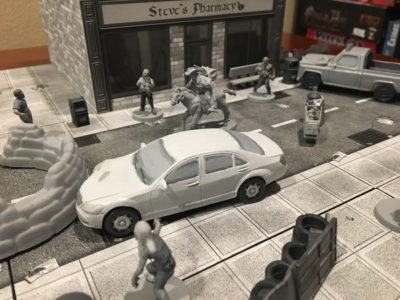 For a better scale comparison, I pulled the tank out and put it next to a reference Rick.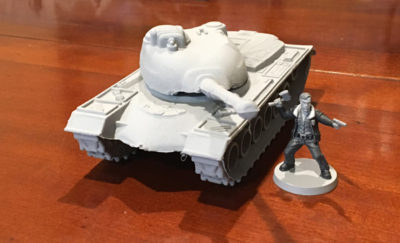 I don't know tanks really at all (I can't even tell you what kind of tank this is- if you know, let me know in the comments!) but the scale seems to work according to my untrained eyes.
However, as I reported back when starting on some farm terrain, Stewart Gibbs revealed some terrain info on the upcoming expansion sets:
For Woodbury, you'll need 2 smoke clouds about 3″ across, 4 lamp posts, 6 stakes for walkers to be tied to in the arena, and a tank around 7″ by 4″.
So you can see why I wanted a tank but notice that Stewart gives us the dimensions of the tank template and it is massive.  My little cheap plastic tank measures a paltry 2.75″ x 5″. I'm not too worried.  I think my little tank works and if Mantic's decision to make an MDF RV for the game is any indication, maybe we'll get an official 3D tank some time soon too. Then my little tank can have a big brother. Perfect.