I really love miniature games.  I love the spectacle, the freedom of gaming choices, the complex strategies, and the unique customizations you can achieve to bring individuality to your game components.  Pimping minis games is so ubiquitous though that I've seen it argued that the vast majority of effort in a minis game isn't pimping at all.  Rather, it is more like a minimum requirement to play the game, much like punching out game tokens are in a board game.  I can see both sides of the argument but I grew up and still consider myself a board gamer first, minis gamer second so anything beyond punching tokens or bagging up components feels like work and if it is work making the game look better or play better, I consider it pimping.
This "work" aspect is my least favorite part of minis games.  I want to play the game so I can figure out what, or even if I'd like to emphasize something when I decide to pimp it out.  I'm not a fan of some of the staple hobby aspects such as modelling and painting. The other issue I have with the genre is storage.  Even if I had the room, storing all the extras that come along with miniature games like terrain, custom boards, modeling and painting tools, and the miniatures themselves can eat up way too much storage real estate.
One cheat I have to get my minis games to the table faster is my savior: Paper Terrain.  Paper terrain works for me on so many levels.  It is a cheap option to get decent-looking terrain on the table, it can be made to be collapsible and fold down to a very small space, and finally, it can be infinitely customized in my most preferred method- digital image manipulation.
I first came across paper terrain when I was pimping out my copy of Kwanchai Moriya's OGRE re-theme from Steve Jackson Games.  Kwanchai's re-theme featured a World War II motif and used buildings to indicate the impassable terrain.  Since I was going all 3D in 6mm scale on the project, I needed 6mm scale buildings.  A lot of 6mm buildings can be found in resin but the costs quickly added up when figuring the amount of buildings I would need.  I was already having a paint quite a few 6mm models and also didn't relish the idea of painting up a ton of buildings as well.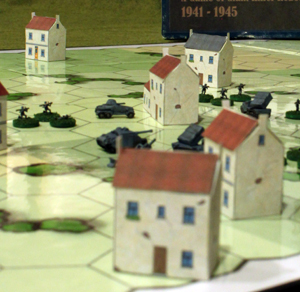 Paper Terrain is pretty popular with World War II games for it's ease of use and quick production times. I found a great site from Scott Washburn on paper terrain and used his free sample building to outfit the houses I needed for OGRE. Scott has some great items up on that site and I really like the variety of his European building options.
Most of his terrain is 10/15 mm scale so I had to downscale the graphics to make it work for 6 mm.  With paper terrain, scaling is quite simple and just using some basic math to determine the appropriate scale height should help to determine what percentage to reduce the final graphic to. Upscaling can be difficult however, unless the original image had the resolution to increase as the image will quickly become distorted.
Since the images are digital, you can customize any paper terrain in a number of ways.  Photoshop can be used to enhance some of the features or add/remove detail as well as alter the color schemes, giving you more variety from the same model.  If you're good with geometries, you can also start digitally cutting up the images to create brand new structures.
For my OGRE project, I needed some larger buildings that spanned 2 hexes as well as the central terrain piece: the Command Center.  The expanded house was easy, I simply duplicated the sides again, chopped it down to only one floor and add the second roof.  Each building is a separate piece so I can have them separated if need be.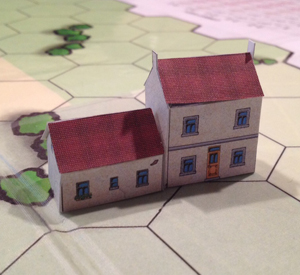 The Command Center was a bit more work.  I started with a few short "box" building shapes using the housing side image to keep things uniform and nondescript.  Then I created a double high, large box building to make the main body of the Command Center.  I finalized the building structure with a tall tower structure to give the building some dynamic presence on the board.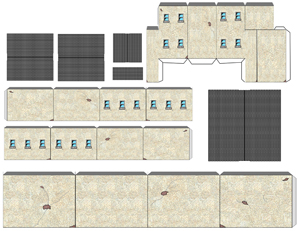 After assembling, I finished out the piece with the top of the "laser canon" mini from the original Fortress America game by Milton Bradley.  Using just one paper terrain image file, I was able to make a variety of building options for my OGRE set quickly and cheaply.