Thursday opened the Con with its typical crush of attendees all vying for position at the main entrances.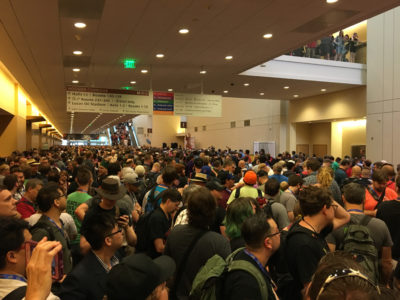 While I didn't really notice a difference in attendance on Wednesday, I surely felt it Thursday. Gen Con personnel did a good job of keeping things safe and moving so even with the larger crowds, the transition into the exhibition hall was smooth and quick.
Inside, I had a goal of grabbing the new dexterity game Flip Ships (art by my favorite game artist Kwanchai Moriya).  Unfortunately, Renegade Studios also announced a new game in the Clank! line so their booth was packed. With the aid of a friendly attendee couple, we found a way through the disorganized chaos of that booth and paid for our haul and got out of there.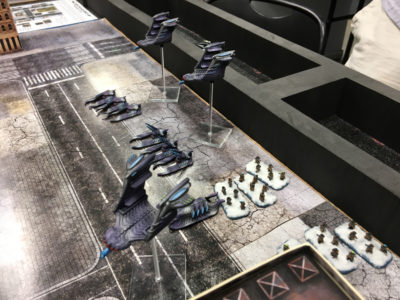 I had about 30 minutes before my first event so I made my way to the Hawk Wargames booth to chat about the new Dropzone 2.0 rules.  I was not disappointed as the demoers were pretty knowledgeable, being avid fans of the original game. I have a summary of the 2.0 rules here. Please note that these rules were what I heard/understood and are subject to change.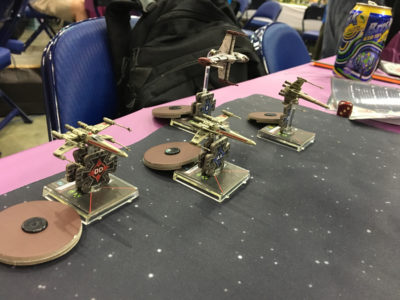 Soon after, I was off to my first event of the Con: an X-wing variant "The Heroes of the Alturi Cluster."  This variant automates the Imperial ships and turns the overarching flow of the game into a full co-op with all players (up to 6) piloting one ship.
I chose a B-wing to pilot and we were off to stop a group of Imperial interceptors from attacking a Rebel transport.  The system worked out very well and I plan on printing out the campaign for our group.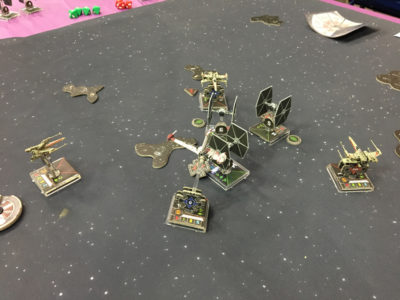 The system allows for pilots to gain experience and buy upgrades and skill so it also contains some light advancement rules.  Very fun and I can't wait to get a group together to play through it.
The event ended a little earlier so I snagged a quick lunch and jumped back into the dealer hall to scout out some games that were on my demo list.  I went to the Ares Games booth to see about Hunt for the Ring but they didn't have anything except some minis in a case (lame).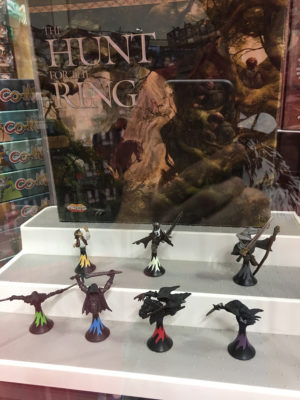 Next, it was over to Flying Frog Productions to see about their new 10th Anniversary Edition of Last Night on Earth.
The new bits look good but are a little cheap.  The new heroes sound fun and if they offered an upgrade pack for the fans that helped get them to 10 years, I'd be in but forcing me to rebuy all the content I already have gets a big "no thanks."   From talking with the guys at the booth, they sound like they want to do the same thing for A Touch of Evil.  If that is the case and they won't also release an upgrade pack, I can just scratch that publisher off the list of ones to ever check out again.
I popped over to the Catalyst booth with little hope for info on some of The Duke expansions that have sat around on pre-order for almost a year now.  Catalyst, as expected, was too busy dealing with their big Gen Con release, Dragonfire, to have info on those expansions but lo! What was this??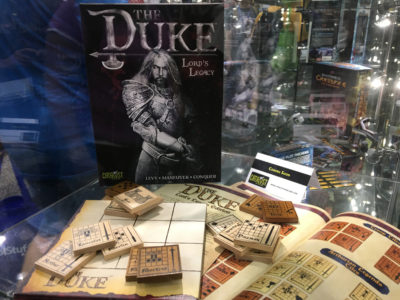 In their display case, a new Duke core set was shown (with some uninspiring art).  I went in search for more answers and it sounds like they are hoping to have this through in a year (don't hold your breathe with this publisher).  After that, they want to work on a Feudal Japanese themed version.  That really isn't news as they've been dangling that carrot in from of The Duke fans for years now.  In any case, it was surprising to see a new edition in the works with some new and out of print bits included.
So you may ask, 'why does Catalyst get a free pass with a version re-issue and Flying Frog doesn't?' and it is simple economics.   I have a lot of Last Night on Earth and having another copy of all those components will be pretty useless.  Another copy of The Duke, however, can be used in a travel version I'm making and includes the OOP Arthurian Legends expansion that is impossible to find for anything but insane price points.  Also the price for this new Duke set will likely be on par with the original unlike the 10th anniversary Last Night on Earth set which is retailing for $100.
At this point, it was time to head over to my next event, A Song of Ice and Fire Miniatures Game.
This is CMON Limited's new tabletop miniatures game that just finished wrapping up on Kickstarter. I'm really not sure what to think of what CMON was doing with this product.  They ended the Kickstarter campaign right before Gen Con, missing an opportunity to show the game off to a lot of people and gain more backers and base support.  I did back the campaign but wanted to try it out before I committed to any more in their eventual pledge manager.  Luckily, I was able to get into a demo and get some hands on experience.
I'd read the work-in-progress rules posted to the campaign so I was pretty familiar with the basics but it's always better to see the game in action.  Unfortunately, CMON overreached on this whole product and didn't have enough production copies on hand to run the full event that was listed in the program.  Instead of a full game, they only had enough models to play two units vs two units.  Some demo is better than no demo and they compensated us for the change in event layout with the remainder of the San Diego Comic Con exclusive promo.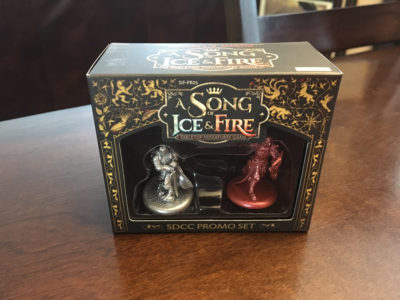 That is a nice little bonus. It was unfortunate that I wouldn't get to try out a full game but planning for this event has to happen months in advance and if any little issue comes up, it can cause things like this to happen.
Back to the demo at hand.  It was good to see and feel how the units work and interact but we hit another snag in trying to learn this game as the person running the demo (a volunteer for CMON) had zero experience with any tabletop game and it seemed like a passing understanding of the game he was demoing.  I would like to say that we just got unlucky but I had other friends demo this at the CMON booth later and they had the same experience.  It also didn't help that, as a "feature," CMON hired a live violinist to play Game of Thrones themes with amps pointed directly at the play tables. Not the best idea for your demoers to shout the rules at you over live music.  The musician was good but it was just another misstep in a series of missteps for this products first debut at the biggest gaming Con in North America.  I asked for them to turn it down or turn the speakers to point somewhere else but was told they couldn't.
In the actual demo, after wading through a lot of missing rules, misunderstandings and incompetent instruction, we played a "game" with me running the Starks and my friend taking the Lannisters.  Whatever game we ended up playing was interesting but I have zero confidence that I actually played the game listed on the box.  I was able to surround Jaime Lannister's unit and beat the hell out of him but I can't claim that it was due to any strategic prowess on my part. Rather, it was due more to the fact that the demoer would let my friend know what he could have done instead, usually using a rule never explained or mentioned.
The miniatures are great and there seems to be an interesting game on that table if I cobble the basic experience I had playing with the physical models and combine it with the beta rulebook posted but I can't say if I'm really going to go in on this game as there is too much unknown at this point.  I was glad to see some of the unit stats got revised between the start of the KS campaign and the demo as it looked a little unbalanced with the few units they showed so far. Things didn't go as swingy as I thought but again, who knows what game I was actually playing.  I tried to get clarification from the person running the demo group but all I got was that some of the rules were modified to fit the extremely small game we played as a demo. Ah well.  At least the minis look cool. Maybe I'll pick it up and pillage it for Kings of War.
While at the display case, I also checked out their next Kickstarter, Hate. I have no info on this game but the resin miniatures were fantastic looking.
Moving on from the debacle that was Song of Ice and Fire, I had a few more minutes to check out the hall before it closed and remembered that I saw some little teaser about some interesting 15mm miniature game coming out called Time of Legends: Joan of Arc. The company was new so it got shunted into the very corner of the exhibition hall so I trekked over and saw a pretty amazing scene.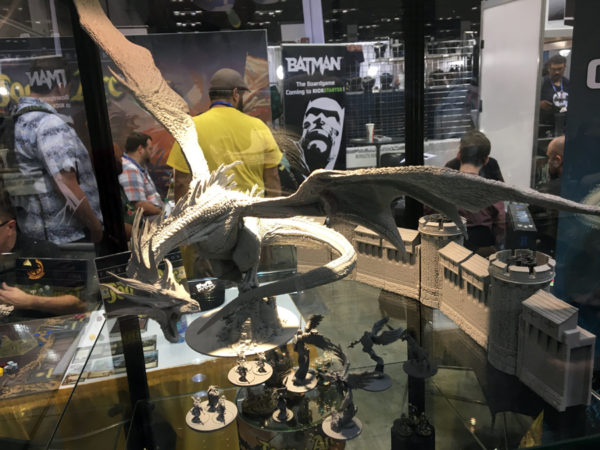 My jaw dropped when I saw that display case.  I didn't have time to really check it out but I immediately cancelled my first event on Friday to make sure that as soon as the dealer hall opened, I would bee-line to this booth and drop in for a demo to see if it played as cool as it looked.
With the dealer hall closing, we headed out to dinner and then hit the They Might Be Giants concert.
I'd always wanted to see this group live and they were ok but I think it had just been too long since I listened to them and that style of music just isn't as interesting anymore.
We left the concert before the encore and headed to the BGG Hot Game room.  The game room didn't seem as well stocked as last year or maybe the offerings were just weaker but we got in a good intro game to Flamme Rouge.
Flamme Rouge is a racing game with a customized track.  You move by playing cards from your two rider decks.  Each player has the same decks but you'll be adding low "exhaustion" cards to your deck if you stay out in the lead.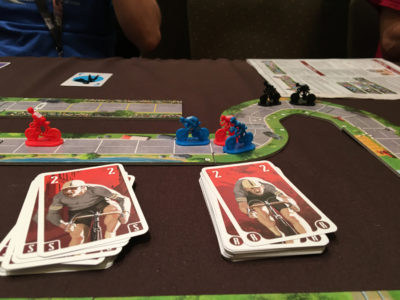 By mid-game, I'd broken away from the pack and we all left our friend Colton (black riders) in the dust.  I figured my lead rider would burn out and my second rider to coast in using the blue riders as his wind shield. But apparently Colton had other plans and was just biding his time.  We got all bunched up on a hill and then Colton started subtly making his move.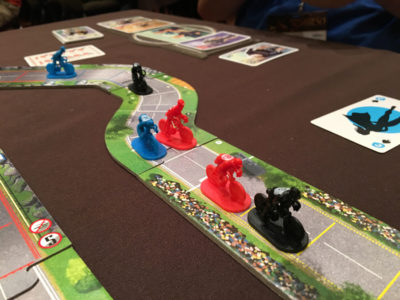 and then used his sprinter to blast ahead right at the very end, narrowly winning the race.  The game was shocking and quite fun.  I'd definitely play it again but still feel like CFR delivers the better racing game.
We finished out the evening and day 1 with Kingdomino, the Spiel des Jahres winner.  I'm not sure what happened but I totally misheard the rules and played totally wrong, losing horribly.  This was surprising because the game is really simple.  I guess I was more tired than I thought or had a little too much bourbon during Flamme Rouge…