Finishing up the Dropzone Commander Underground Hangar took a little longer than expected.  The biggest issue was painting up the closed baffles for the hangar opening.  I struggled a couple of times until I found a simple way to just get it down.
Priming in Gun Metal metallic and apply a liberal amount of rust effect and Nuln Oil wash got it done.
The rest of the model was the same but with the same grey priming I did with my Orbital Laser.
The whole process works up very quickly and is pretty effective for tabletop play.
Doubt we'll get in a "night game" but this terrain piece might need to feature prominently just so we can see what we're doing.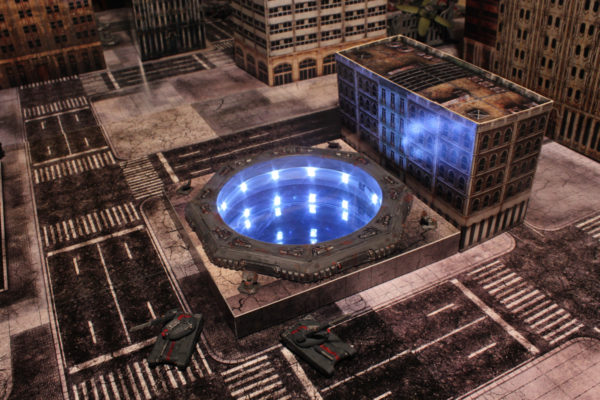 A very fun project to finally wrap up.
---
With the Underground Hangar complete, along with the Orbital Defense Laser and Monorail, that wraps up the big three official terrain pieces from Dropzone Commander. There was one terrain piece left, the M116 Bunker Complex set.
While I finished up my hangar, I did a quick work up of the bunker set as well.  This set is very simple and is the easiest one to complete.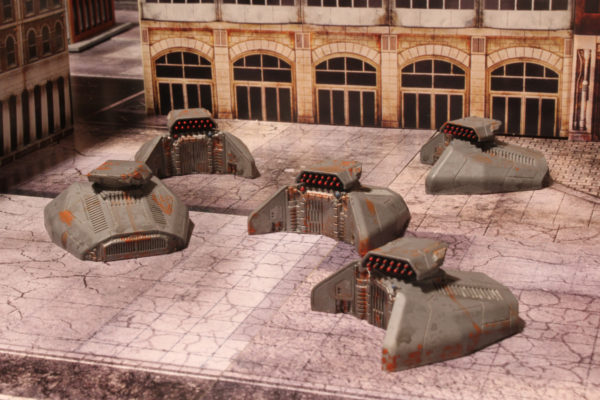 One nice thing is the missile top is removable and can swap out for several of the Resistance Gun Wagon weapons.  This now completes all the official terrain items from Hawk Wargames (Including the Shackleton Escape Pod).  I'm interested to see if TTCombat decides to remake these sets or expand the resin terrain options further.
---
This also happens to be my 300th post so I decided to shoot a few "encounter" shots I've been thinking of.  I have a few more encounter ideas kicking around but right now we'll center on the Apex fauna.