With my Gen Con days concluded, I only have a quick wrap-up of some final thoughts and this year's spoils.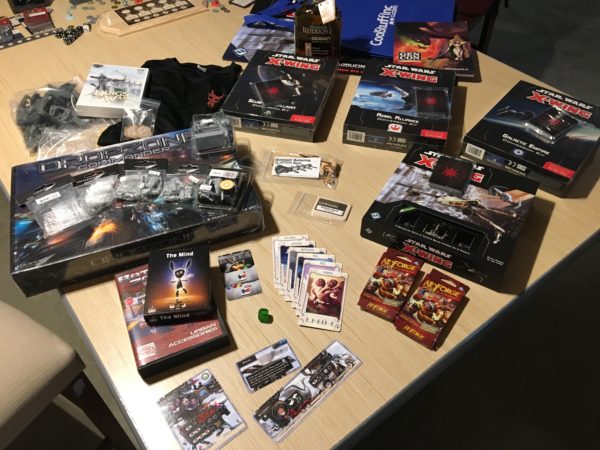 This year had a pretty good haul and most of it was either event-driven or promotional.
While I didn't spend as much time in the dealer hall as usual this year, my friends were able to snag me several promos for Steampunk Rally, Santorini, and Adrenaline. We also each received two decks of Keyforge at the FFG Inflight Report. They don't always do this but I expect that next year's report will be packed with people hoping for free stuff. I also have my obligatory 2018 die of the convention.
It wasn't all promotional material as I decided to patronize some of the booths as well. In addition to The Mind, picked up from Pandasaurus, X-wing 2.0 was a big draw with the starter and second model obtained at the premiere event. For playing I also got and additional promo card and some acrylic premium tokens. To complete my existing collection, I picked up all the conversion kits as well and received several of the promo damage decks to boot.
The Mantic Game night came with some swag as well. I don't play Kings of War or their other war games but maybe I'll find a use for some of these items.
I went a little nuts at the TTCombat booth and picked up several of their convention-only items including three sets of "civilian vehicles" for Dropzone. I'll actually use them for my Gaslands conversion so they can pull double duty soon. I also picked up extra flight stands after seeing a neat hack from the event organizer of the Dropzone game I played. Lastly, the Dropzone starter was marked down to $30 and with all the stuff we'd picked up, we haggled it down to $20.
And finally we have another bottle of our Gen Con booze and a bunch of bags people were giving away. Gen Con started off with a free bag and then, in the final minutes of the convention, exhibitors were trying to just give any bags they had away.
In other miscellany, I was chosen as a "Premier Event Group" and had a tiny feature promotion in the event catalog. The "Premier Event Group" distinction is given to those that run events that sell out or are popular so it was nice to see the recognition.
I'll finish out with some final shots taken from the dealer hall as I did some quick fly-bys inbetween events.