This is one my first fully pimped project and easily one of my favorites.  For a long time I'd been interested in Steve Jackson Games' OGRE.  I like the simplicity and asymmetry but wasn't a fan of chits and hex grids nor did the theme seem especially original after I found it 30+ years from it's introduction.
Kwanchai Moriya is probably my favorite board game artist though he didn't start out as such.  Originally a studio artist (and still is), Kwanchai is an avid board gamer and being an artist, started playing around with retheming out of print games.  One of his first and most popular was taking OGRE and retheming it into an alternate World War II war game.
Kwanchai's art and theme really drew me into the game and I had to make a copy for myself.  There was some controversy about the legal rights to Kwanchai's work so it is no longer available but I was able to get a hold of the files before they were ripped down.  I'm not a fan of chits in games. I recognize that they are extremely efficient but they don't do anything to immerse me in the game. Being a game-pimper, I really can't make a project with them so I was thinking about alternative options.
Making the game with 3D elements seemed the best way to go so first was what to do with the OGRE himself. I thought a few things like a paper standee or maybe a wooden token cut out but a friend of mine suggested maybe going full 3D and making a miniature.  I have no talent for that and no time to learn but luckily, he did.  It actually turned into a huge project for him and at times I think he regretted the suggestion but what he finally produced was absolutely amazing.
We had a lot of discussion on size and scale and ultimately decided to help emphasize "Robbie's" (as we called him) size, we went with 6mm/ Z scale.  I started sourcing 6mm German WWII soldiers and vehicles and found a lot of great options.
I ended up going with CinC miniatures for the figures and the vehicles from Historical Board Gaming.
Next we needed the houses to block terrain.  I covered how I made these in my Paper Terrain post but it was easy to make them in scale.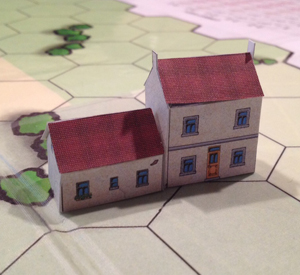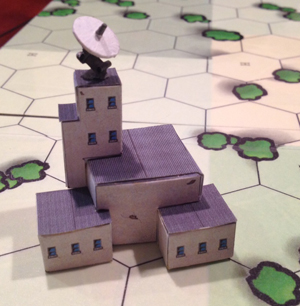 With all the pieces assembled and ready, I grabbed a couple of cheap Trivial Pursuit games from a thrift shop and remade the main board by printing out the board images in pieces and using spray adhesive to the Trivial Pursuit boards and laminating them.
I made some reference pieces, grabbed dice from Flames of War, and found a tray to put it all in and that was it.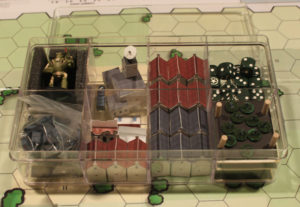 My fully rethemed and 3D version of OGRE.
This was the first entry I ever submitted to Boardgamegeek's Pimp Your Boardgame contest.  It placed 4th against some stiff competition but I was still very happy with the results and I think of this game as the catalyst that got me pimping games.