Ah yes, earlier this week my KS copy of The Walking Dead: All Out War came in.  All things told, it came in pretty good shape for the way it was packed (I've been reading some horror stories on the KS campaign page but it also sounds like Mantic is taking care of those issues pretty quickly).
This game is pretty funny as I've hyped it up quite a bit over the last few weeks/months and the danger is always that consumer reaction of waning interest after you've opened the box.  That hasn't happened for me on this game though.  This game has never been an item on my checklist: something to acquire, check the box, and shelve for some far off "we'll play someday."  I feel like my interest for this game hasn't even begun to peak and I'm really excited to see where this game takes me.
As you can see from the above picture, there are a ton of miniatures.  This bizarre weather we've been having was lucky enough to hold for a few more days and that let me prime everything.  It was just in time as the weather finally turned and winter is now upon us.
As I've shown before, I've already worked up a board and building and combined it with some of Mantic's Battlezones terrain.  Since I had already started with the little terrain pieces, I decided to finish up all the terrain elements, including all the new plastic pieces from the KS campaign.
I started off mixing my black and white acrylics into one bottle to make a base grey that I would use for most everything.  I got the ratio off and ended up with a pretty dark tone but it worked fine as a base that I usually lightened during my painting process.  I'll probably create another custom color with a light tone and mix the two as needed for the different gradients.
I didn't shoot a lot of pictures of the prep and process of painting the terrain elements because I was working fast and trying to get everything done by the end of the week.  Also, terrain elements aren't something I wanted to spend a lot time on and they aren't really that interesting to photograph.
The car pieces are another story.  I saved them for last as this allowed me to get comfortable with the monochrome technique on the easy/less interesting items.  These cars were painted in a typical "block painting" style (which is about as far as I go in painting anyway) but I did try out some blending for the first time on the car windows.  They turned out alright if viewed at typical "tabletop" distance… or maybe a few feet farther away. Ah well. Good enough for terrain and I got to try out the technique a little.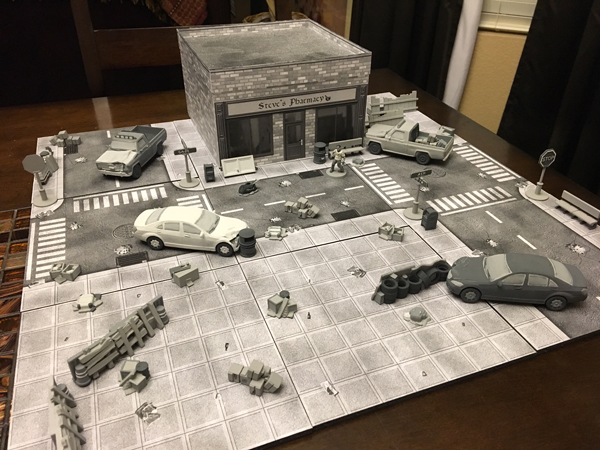 So here we have the full board (overly) populated with a lot of the Battlezones terrain elements for character and the Walking Dead terrain pieces to kick the whole set up into a great play area.
Our consummate zombie reference figure "Stan" is there to contemplate the brave new world he's inherited. Now he gets to play with cars and barricades and searchable loot tokens.  Oooh and a Police bag full of guns. Too bad Stan isn't into guns, he just wants living flesh.
This terrain is 90% done for me.  I still need to apply a wash to get some real-world character on these pieces (everything is a little too clean for a recent apocalypse) and then seal it all so it can be used over and over without having to worry about scratching or chipping off paint.
So I'm really happy to see this effect come together.  I'll wrap up the terrain this week (though I might need the weather to improve if I want to seal things) and then I have all those figures to start on.  I'll do the zombies next and finish up with the heroes last.