Having finally finished up my Gen Con 50 reports, I jumped back into prepping some miniatures.  I started with a Knight Model for the Batman Miniature Game.
I have a few Suicide Squad starter figures that need to be put together but this Green Arrow figure I picked up is one of my favorite sculpts so I decided to work on him instead.  I got smart this time and busted out my dusty jewelers clamp because I remembered that Knight Models loves complicated three-point poses and rarely do they all match up easily.  I used a little green stuff to fix the angle on the bow arm and it all worked out in the end.
For basing, the new metal miniatures come with the much improved solid base instead of the slotted rubble bases that always required greenstuff to fill in and sculpt.  It was always a pain and I never felt like I could get the effect right.  The left image above in grey is an old base I obviously used greenstuff on.  The right is the new base that I'll customize to fit the dynamic scenery that Green Arrow stands on.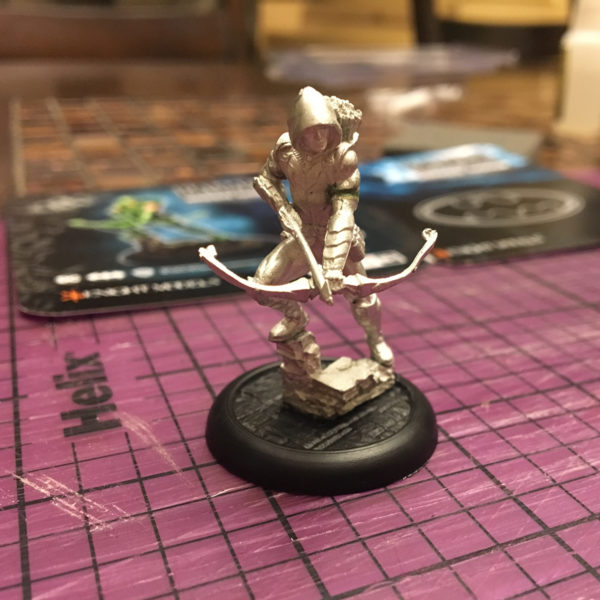 And here he is in all his glory.  He should be pretty fun to paint up.
---
This upcoming weekend, I have a Dropzone Commander game coming up at Funtastic Games so that means another "drop everything and finish up some models" week for me.
I'm tackling the new-ish Typhoon attack helicopters this time.  Only two models so it shouldn't be too bad.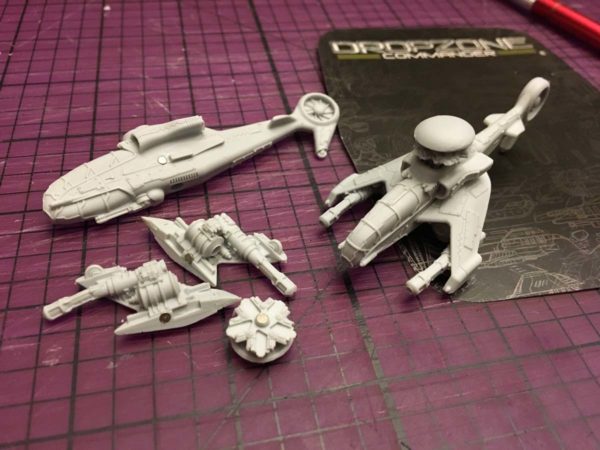 Ah but I spoke too soon.  These models are part of their dual packaging wave where each model comes with all the other gun iterations.  This package can double as the older Cyclone attack choppers or the new Typhoons.  I still really like the Cyclones so I don't want to commit this models to only one choice so that means magnets.
It took me awhile to find my 2mm magnets and get everything set up but after that, it went as good as could be expected.  No real major issues but I wonder if I'm going to have to add a second magnet to those wings to help hold them in place.   Maybe after this weekend.  I've got to get these guys into the garage to prime up.  I'll post my progress at the end of the week.