See Recap Day 1 or Recap Day 2 or Recap Day 3
The last day of the Con was here and my big Loopin' Chewie Tournament was in the morning.  I say "big" because it had apparently sold out all 36 slots.  Last year I had four people show up so this was going to be interesting.
I only brought 6 games of Loopin' Chewie so I'd have to run the event in two heats.  Maybe next year I'll run them in separate event heats like X-wing does so that no one has to feel like they are waiting.
I still wasn't sure what to expect with a sold out event of this size as it was a Sunday and a cheap event so a lot of people might just ditch anyway.  But nope. I had most everyone show up and those seats that were empty quickly filled up with friends of the other participants.  The main reason for the sell out? X-wing.  A group of X-wing tournament players had seen the event listing and all wanted to join in.  Apparently this group had started to play Loopin' Chewie at some of the bigger X-wing tournament events around the country and found that it was a great way to blow off steam and de-stress during the long tournament runs.
It was a great group of gamers, from young kids who love the game, to a family that came from German where Loopin' Louie is almost a national past time, and of course the X-wing tournament players.
I can't thank the participants enough for being great sports and really getting into the game.  I had some diabolical setups for the participants as we ran two main heats of the normal game. To make sure the game didn't just end quickly for anyone in the first round, we used the "standard" tournament rules (as I understand them) from Alan Moon's Gathering of Friends event (which used to feature standard Loopin' Louie tournaments and maybe still does).
In essence, you will play multiple rounds of Loopin' Chewie where the goal is to be the last player left with a Storm Trooper token in their player zone.  Each time you win one of these mini-rounds, you start the game again but start with one less token.  All players keep playing mini-rounds until one player wins the game starting with only one token.  That player is the winner of the round and will move on to Round 2 of the tournament.
Round 2 ran the same way with the 12 qualifiers from the two round 1 heats playing again.  This round ran in the same fashion, be the player to win the game with only one token at the start.
At the end of Round 2, we had four semi-finalist.  Now I started to make things interesting.  Each of these finalists would pair off for Round 3 and now have two games of Loopin' Chewie running simultaneously.  The rules revert back to the simpler "last man standing" to keep things moving.
At the end of the Semis, we had two players remaining. For this final round, I upped the ante one more time to really determine the Loopin' Chewie Champion: 3 games running simultaneously.  This set up had the two "book end" games running just like in the semi-final round but added a third center game that used a piece from the special 6 player adapter mod created by Robert McFadden.  Again, the round was just "last man standing" and it created a pretty epic finale with the winner coming down the last token for each player.
It was a great event and a lot of fun and I can't wait to run it again next year.
Sunday is usually the lightest day for me but this year it seemed pretty busy with the tournament in the morning and an afternoon event.  In between, I was able to check out a few last things in the exhibition hall.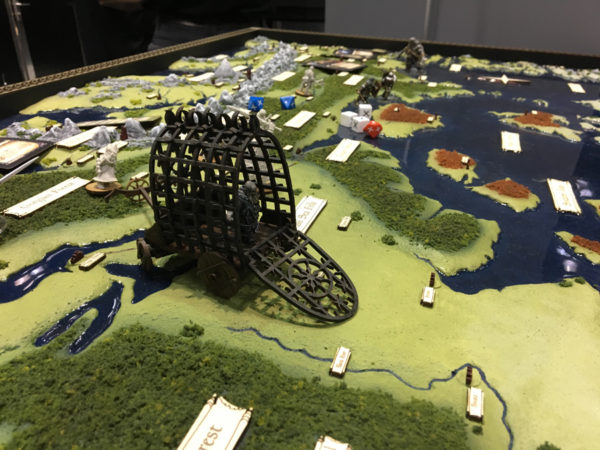 This pimped out version of the recently Kickstarted Fabled Realms was on display but I didn't have time to play it.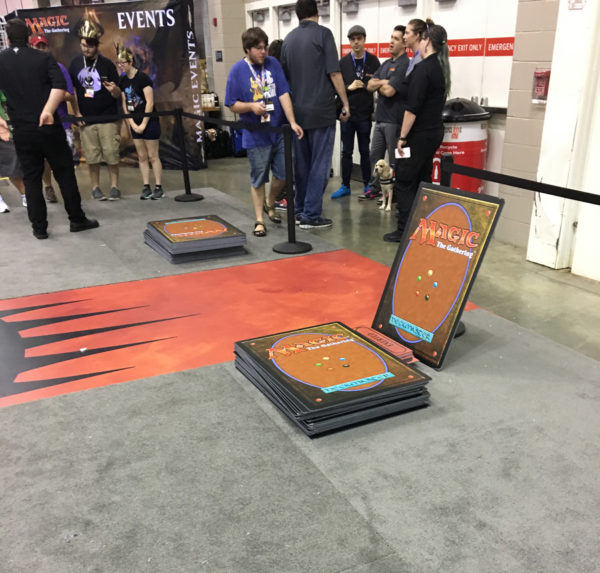 I was really happy to see oversized Magic: the Gathering back at the Con.  I hadn't seen this since my very first Gen Con back in 2007.
The Matagot booth was always popular, especially at the Meeple Circus demo tables.  I didn't get a chance to play but was able to watch enough of a game to see that I was definitely interested in picking it up.  At its heart, it's a timed dexterity game where you are trying to stack your meeple pieces in certain positions to score points.
Finally, I made it over to my afternoon event, a full game demo of Rayguns and Rocketships.
This is a nice tactical miniatures board game which plays like an updated four player Broadsides and Boarding Parties.  You crew a ship and have scenario goals to earn victory points.  Once one player reaches a certain victory point amount, the game finishes out the round and the highest score wins.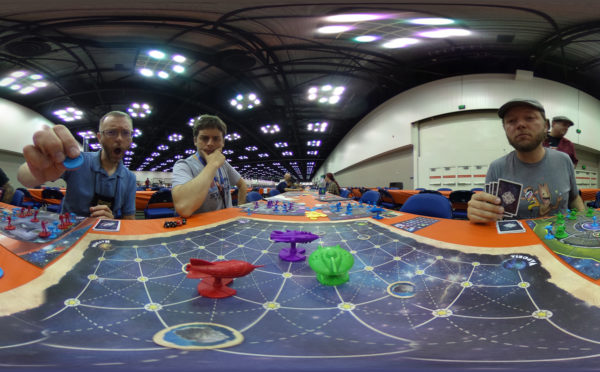 You have two tactical boards, one is the space board that has each player's starship which can shoot each other to damage their tactical ship board.  The ship board contains your crew and must be moved about and interacted with to move your ship and fire guns. You can also be boarded and attacked directly.  The game has a lot of freedom to it and was very swashbucklery.  I wouldn't mind porting a lot of the rules over to my copy of Broadsides and Boarding Parties as this really is a great system for that classic game.  The game itself is also well made and fun enough to pick up on its own as well.
---
So that concludes my Gen Con 50 experience.  It was a great convention and easily one of the top 3 in my eleven years going.  It's sad that the popularity has outgrown it's venue and our success at this convention will be up to the housing lottery but maybe we'll find a more consistent way to attend in the future.
I came home with more swag than usual as I picked up several promo sets like the Sparky Super Dog promo for the upcoming Flick 'em Up: Dead of Winter, Adrenaline and Santorini Dice Tower promo cards, out of print Evolution promos and two event promos, one for Rayguns and Rocketships and the other for A Song of Ice and Fire minis game. I talked to the guys at Win Go Games about what it takes to publish and they gave me a sample box filled with a lot of their production samples.  Then there is the Flip Ships game and miniature portal terrain I picked up.
Lastly I picked my Gen Con 50 dice and dice bag.  The one shown above is the oversized edition (followed by the last ten years of the standard ones) but I also picked up the standard sized one for this year and another "commemorative set" as a nice bookend to my 2007-2017 Gen Con attendance.