After searching for a good printer that will do a cheap 24×36 poster for a game board (jury is still out on if I made the best choice), I decided to cover the current printing options I use.

First up is Artscow and Cowcow.  These two companies are very similar and may even be owned by the same parent company.  They are my number 1 printing site.  I only use them when I have a coupon for 20+% off and free shipping otherwise they are just too expensive but when those coupons come around, they create amazing deals on everything from printed cards, gaming mats, canvas boards, or gaming bags.  You can find these coupons by either checking out the "hotdeals" thread on Boardgamegeek or subscribing to Artscow's newsletter.
I first was introduced to Artscow through their card printing services.  They really only have one option to use standard poker (bridge) sized playing cards but the option is flexible enough to have unique front and back printing for every card.  Custom card purchases come in sets of 54 cards so you will need to use that minimum or risk paying for cards you don't need.
Using their Silverlight system can be frustrating but having used it for several years now, I like the options you have and rarely get bad results anymore.  The key is to leave yourself enough bleed edge on the cards. I typically make my image size a quarter of an inch bigger than needed all around and that usually works well.  Alternatively, you can reduce the image size in Silverlight to fit the proper printing zone and back fill a color to match your border.  This is riskier since you're trusting that you background color (usually black or white) will match whatever color options they have since they don't give you the CMYK or RGB codes.
In this example, we had plenty of bleed and the cards are cropped pretty uniform across the set.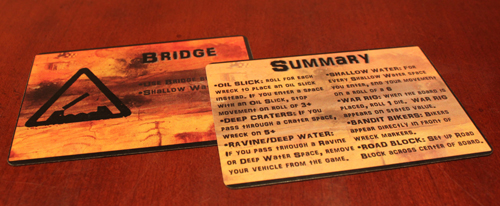 Here, I didn't leave enough bleed and the printing comes almost out to the edge making for a somewhat sloppy design.  It also emphasizes the inconsistent cutting/cropping that is evident in more card printing manufactures.
I don't have specs on what core the cards are (grey, blue, purple, etc) but the cards have a general flat/smooth finish and come in a cardstock tuck box that has a general design on it that I typically don't keep.
Game mats are basically Artscow's "bar mats" or "plate mats."  They are a standard mousepad-like mat that has a printed "durable heat-resistant polyester fabric top, backed with a neoprene rubber non-slip backing."  As expected, the color saturation on these mats aren't as strong as a standard print and the resolution may be too soft for fine print but it remains a great option for personal player mats or even small game boards.
A close up reveals the "softness" of the printing resolution.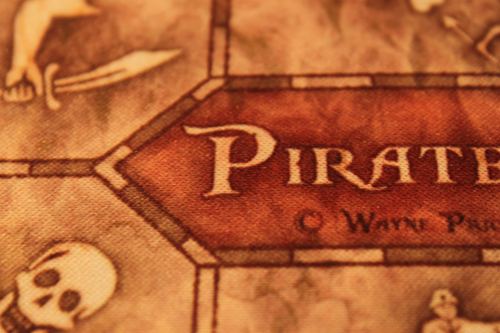 The process is the same as designing cards in that you likely want more bleed than necessary and if you are familiar with their Silverlight layout for card printing, it will work the same for all of their custom items.
Game coasters are another option for the game-pimper and they work like smaller, thinner versions of their game mats but are still the fabric top with neoprene rubber backing.  I've used these as gifts for friends, accents in my gaming room, or even game accessories.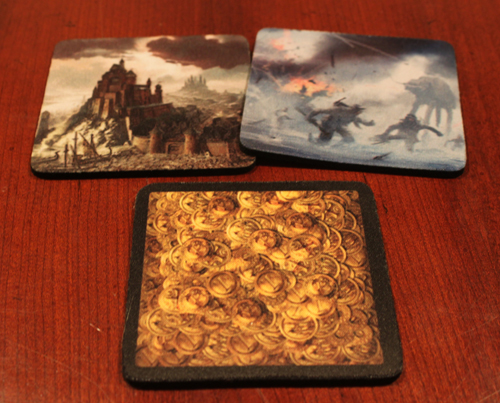 Canvas options come in a variety of sizes and are a good option for flexible gaming board replacements.  I've seen them used for large boards like 20×30 inch standard game boards or smaller square ones like my custom Duke play mat.
Canvas gives you a durable surface that has a matte finish and is flexible (though I still roll mine and won't fold them up).  The resolution is better for text print than the neoprene mat options but can still be too soft for very fine text.
Gaming bags are a high-end way to hold your gaming bits but also can be nice options to use for games that require a blind draw mechanic.  Artscow bags come in a few different sizes and offer full printing around the outside of the bag.  I've used them for dice, meeples, chits, and cards.
If you look at the detail, you can see that the printing quality is pretty strong for the material.
Pro:
one-stop shopping as they carry almost anything a game-pimper would need to pimp their games
cheapest printing options (when using coupons)
can print other user's contributions
Con:
printing interface takes getting used to and uses the older MS Silverlight plug-in that isn't the easiest to get working and may no longer be supported
shipping and manufacturing is from China so expect 3-4 weeks or more turnaround time.