In part 1 of my review on print resources I discussed Artscow/Cowcow as a good general printing resource. This time I'm going to talk about a few alternative print options that I've used.
First up is Walmart Photo Center. It is really only useful for posters 20×30 or under.  I used this service once to make my Thunder Road boards: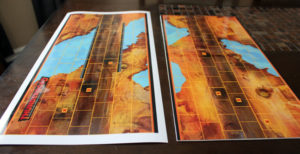 It's one of the cheapest options out there for a 20×30 print (under $20) and quality is definitely good enough to print custom boards on.
Pro:
Con:
Options are limited to poster prints
Poster size limit is 20×30
A friend of mine has been talking a lot recently about Printer's Studio and so I tried them out on some card and poster options.  Printer's Studio offers a lot of the same options as Artscow and Cowcow but has some interesting alternative sizes that aren't available elsewhere.
One of the main uses I see for them is they offer every board and card game card size available for complete custom printing. It is really incredible to be able to print custom cards in any size (Artscow decks are limited to Poker, Circle, or Heart shaped/sized cards). The quality of the cards (300 gsm, 310 gsm, or plastic!) can also be selected as well as the finish (smooth or linen).
Another great aspect is in some card sizes, the minimum print amount is under the standard 54 cards.  Poker sized cards, for instance, can be bought in sets of 18 cards. Card packs can be either shrink-wrapped or in a card tuck box with a clear window.  This box is a bit more useful than the designed box that comes from Artscow.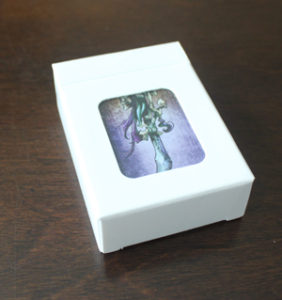 Here are some samples of the card printing.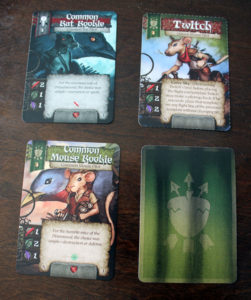 These cards were special POD options for Plaid Hat Games' Tail Feathers game (printed with permission from their site).  The card download from the site was set up with proper print specs and Printer's Studio did very well printing them within the designed specs.  This yielded a very good set of cards that were cropped very well.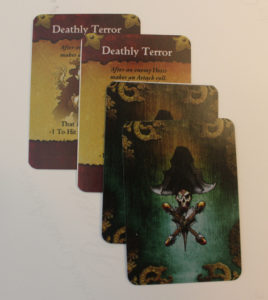 I tried making my own custom set for small-sized version of Rum & Bones that I'm making and the prints didn't come out as clean.  It seems the cropping of the single image card back was inconsistent and left some slight white edging on some of the cards (notice the top of the 3rd card from the top and the left side of the 2nd card from the top).  This wouldn't be so bad if it was the front of the card but technically the inconsistent card backs make the decks "marked." We aren't that competitive with games (especially not my homebrewed custom creations) so it won't be so bad but still slightly disappointing.
It could be user error that created the inconsistency but when I set up the files, the bleed areas were good and so it should have worked out.  Like Artscow, it may take a test print to see how best to set up your cards.  If you know how to create proper print specs, that is likely the ideal set up for this company.
Printer's Studio also has good poster options as well.
I needed a poster size larger than 20×30 that didn't cost $60+ (like FedEx wanted to charge) and Printer's Studio has options up to 24×36 for under $20.  The quality of the poster came out great and is a great alternative to Walmart for roughly the same cost (Walmart won't charge you shipping if you do an in-store pick up so Printer's Studio's total will be a little more due to their shipping charge).
Similar to Artscow, Printer's Studio does offer coupons though they are not as frequent as Artscow nor do they get prices down as low- currently Artscow has one of its typical "4 for $20" sales which get you complete 54 cards for $5 each (shipped). Still, their coupons can be great for the quality and prices you find on their site.
Pro:
Best card printing options with every size available
Great poster size options
Competitive pricing
Great quantity/quality options (cards)
Cheap shipping
Con:
some inconsistency in print cropping
layout system not precise and takes some time to get used to