With CabinCon (our yearly friend meet-up where we catch up and play games up in the mountains) starting Wednesday, there are few things I want to get done before I leave so today was a major prep day.
One thing I want to host this year is a Championship Formula Racing mini cup, a "CabinCon Cup," if you will.  This will be two or three races with point scoring to determine the overall winner.  I picked up a set of 1957 F1 cars on Shapeways to serve as each player's cars and as is our custom for CabinCon, these will be given away to each player along with whatever placement prize they achieve during the CabinCon Cup.
After painting a set of the cars up, I wanted to work on the "trophy" stands that will also serve as prizes for the event.
This is a pretty simple stand with a little wooden bit at the bottom and a dowel post at the top, which will support the car.  Magnets for the post and the cars will make it so the cars stay on the stand and can be interchangeable.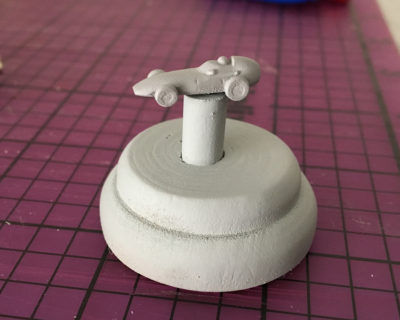 So here we have the concept all primed up.  I then had to drill into the cars to magnetize them.  This always sucks but I've gotten used to it after all the Dropzone Commander that I've magnetized.
Just make sure to mark the magnets for polarity so that everything lines up at the end.
Next came the painting of the actual cars.  Unlike my last set of painted Formula 1 cars, I used google image search more for inspiration rather than trying to find the actual car color schemes.
The 1957 formula 1 cars are pretty conservative on detail which made painting them up pretty quick.  I decided to enhance that detail by adding numbers this time.  Not sure how soon I'll be doing that again though.  It is really time-consuming and a bit nerve-wracking.  I'm pretty happy with the results but it's not something I want to jump back into tomorrow. Luckily, I don't have to as I'm all done with the cars.

Now to complete the trophy stands.