A couple weeks back, I was able to get in another game of Dropzone Commander at Funtastic Games' Dropzone Commander monthly get together.  This time, my friend and I went to a 999 point Skirmish battle.
I don't recall the name of the scenario but it featured a reinforced bunker in the center that was used to house an objective marker and two downed UCM Bear transports to use as focal points.  I decided to go thematic with an Allied Resistance force who was trying to recover the wounded UCM soldiers and get the last bits of intel reports from the bunker.  My friend had his Scourge force coming in to sweep out the area.
We both knew that this game was going to center around that bunker.  The grey pieces on the side were the only entrance points to the structure.
I actually messed this game up by starting on the wrong corner of the map.  We decided to let it play as we were already through the first round before we realized the mistake.  My Lifthawk trundled in to get as close as possible to the bunker.
Followed by the rest of my forces: a duo of Cyclone Helicopters, a Thunderstorm commander craft, some Anti-Air units (Gun Wagons and Gun Technicals) in their Kraken hovercrafts, and some Attack ATVs and Freeriders to take up the rear.
My friend brought in his Scourge Prowlers to stalk the side of a building with car debris as cover.  Then he drove on a whole division of tanks from the board edge two sets of Anti-Air Reapers and two sets of Anti-Tank Hunters.
By the start of round 2, he was able to get one group of Warriors into the bunker at the cost of their light transport.  That transport thought it was going to be a badass and stay "to the deck" but must have clipped the bunker taking off as it spun out and crashed to the ground.
My Kraken launched a bunch of Gun Technicals to take down more light aerial transports but only got one.  The Prowlers came in to respond, one even trying to take a leak on my shiny Gun Technical.
Bastard.
The Scourge are able to get a second group of infantry into the Bunker as I drop all three of my infantry groups inside.  I definitely have the numbers to hold out in there but we'll see if the Scourge can find the objective next turn and get out before the battle gets too pitched.
Round 3 starts with the infantry battle and I wipe all the Scourge clean down to one lonely Warrior on one final infantry stand. I send my APC's around the side and 'nade that last stand but it totally fails.
My Cyclones get in on the action after seeing the Scourge Anti-Tanks come around and shred my Thunderstorm command unit.  I can't have those Hunters running free so my Cyclones go full out and wipe out three tanks.  At this point, each Hunter unit is down to one tank.  My Cyclones fall quickly to the Scourge Reapers but it was worth it.
And I get a lucky Objective find and get an infantry group out of there and head home.
Meanwhile my Freeriders have been hopping building to building until they got over the far focal point, where they will camp it out.  The Scourge only have a Reaper to try to claim that focal so I've locked that one in.
My Attack ATVs try uselessly to weaken the Scourge Reapers but get taken down instead.
My objective is still trying to make it home while I repair my Thunderstorm and keep my Gun Wagons covered, waiting for the Scourge Overseer to try to come out and make it's final push for the focal point.
The Overseer comes out but shrugs off most of my Gun Wagon hits.  It won't take the focal point so my side has this one secure.
I run my remaining APC over to the far side focal point as insurance and take this one at the end of the game as well.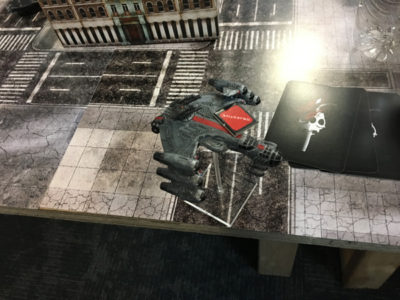 Finally, my Lifthawk makes it to my starting zone and takes the objective home.  The final result for this one were firmly in the hands of the Resistance. I got some really lucky rolls in the mid-to-late game that took out a few key Scourge tanks but I think the biggest thing was being able to overwhelm them with my infantry. With only one objective, this swung the game pretty well in my favor and starting in the wrong corner next to a focal point didn't hurt either.