Stewart Gibbs is a studio manager at Mantic Games and answers questions on Facebook for The Walking Dead: All Out War.  I was going through one of the threads and Stewart was kind enough to give details on the scenery for the next three expansions.  I don't recall exactly what thread his comments were in but I did save them for future reference:
For the farm, you'll need 6 fences around 3″ long, a tractor, a barn around 6″ by 8″, and 4 hay bales.

For the prison, you'll need 5 chain link fences around 4″ long – that's it for the prison as the rest is the internal corridors which are printed on the mat. You could build a 3D one to match, but you'll need to wait for the actual mat if you want to match sizes etc.

For Woodbury, you'll need 2 smoke clouds about 3″ across, 4 lamp posts, 6 stakes for walkers to be tied to in the arena, and a tank around 7″ by 4″. The rest of the Woodbury stuff is four houses, all printed on the mat. They must be small enough that there's room on a 20″ mat to have a street between them, and space between and behind them for models to move. They can have a few rooms in each, but all of them must have at least one 75mm square room that is used for certain objective overlays.
Having finished up my scenery needs for the Core Set and Days Gone Bye expansion, any lead time to create scenery now for the new expansions helps get that content to the table quicker.
With that in mind, I went on a search for hay bails. I found some recommendations on making your own but I don't have time for that.  Instead, I found some O-gauge model train terrain at Hobby Lobby and gave it a try.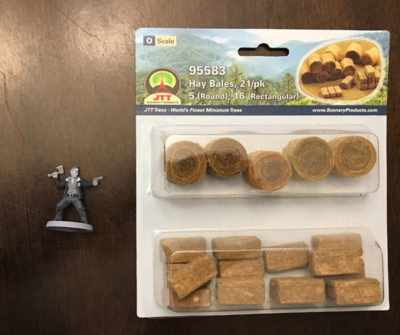 I was skeptical about the size so here is the direct comparison.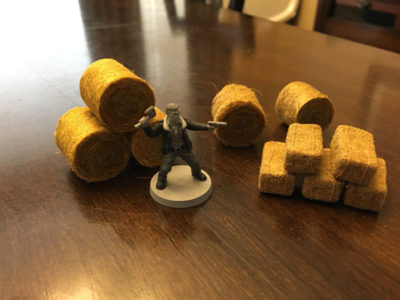 They are a little smaller than real life rolled bails but they get the point across. The square ones are pretty much spot on though.
They are really light so I tacked them down with thumbtacks and double sided tape so when I sprayed them, they wouldn't go flying all over and make a mess.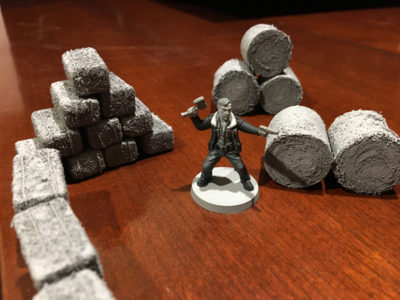 Pretty easy and if you have a coupon, you can get these for about $6 plus tax.  A lot of sellers have them on eBay as well so if you don't have a Hobby Lobby near you or they don't stock these, you can try that outlet as well.  The company makes quite a few different kinds of natural scenery and I saw some dried cornstalks that might go great for the Greene family farm expansion.
In other news, I bit the bullet and went all-in getting the comics.
This won't catch me up with the current issues but is better than me stealing some reads off my friend's copy and I find that they are a great reference for terrain and scenarios.
Speaking of comics, I'm finishing up my next issue of The Real Adventures of Rick and Glenn.  This one is running a bit longer than my first session but I still hope to have it out next week.  Here are some shots of my set up.
And for closer shots
The game board is on a large homemade lazy susan so that I can get different angles without having to mess with the black backdrop.  Timeline and Bananagrams work well as a DIY steady platform. The exposure times on some of the high depth-of-field shots run in upwards of 10 seconds so a stable platform is pretty essential.  One of these days I'll get better lighting for this too.