Since I'm playing some Relicblade in Tabletop Simulator, I need proper assets, my assets. This means I need to go back to photogrammetry and start scanning my painted minis and getting them into TTS. Unfortunately, I no longer have a good turntable to shoot my minis on as I left it back in Colorado. Time to get back to work.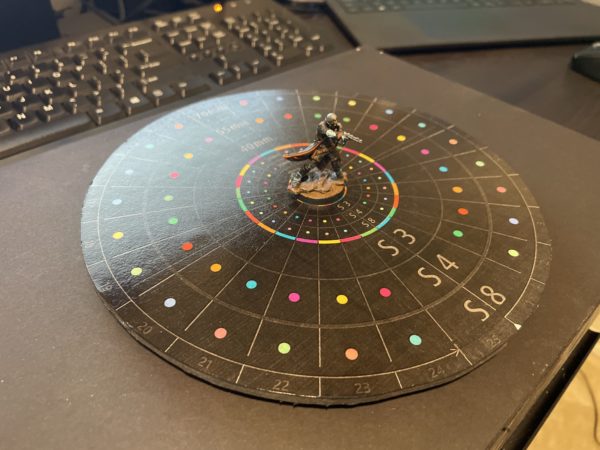 I messed with the turntable image this time because I found that it didn't have enough reference points if I was to try a large model. After the image was revised, I printed it out and stuck the sheet on a piece of foamcore using adhesive spray. When that was dry and secure, I sprayed the whole thing done with a heavy acrylic gloss. This is highly recommended by the original creator of the process and I find that it helps as well. The gloss protects and reduces the amount of soft reflection from the top of the table, darkening the whole thing to help the program pick out the model details and ignore the black space.
Mounted on a new box made of foamcore, the table is ready to go. I made a change from the last time I did this in that I used a toothpick to act as the pin that lets the whole table rotate. Last time I used a metal nail and found that my minis with magnets would interact unfavorably to it and make it difficult to shoot. The tradeoff seems to be the nail was better at keeping the table steady but made some minis almost impossible to shoot. I'll deal with the toothpick for now and if it causes issues, find a better solution.
Camera scanning setup is always the same: DLSR on tripod, two flanking lights, roll of black velvet for backdrop, snifter of scotch. This setup is pretty easy to set up and tear down and always yields good results. I could use a release trigger on the camera but the shutter speed is quick enough to not have any real issues. All told, after set up, shooting a mini takes maybe 90 seconds. Rotate. Click. Rotate. Click. Rotate. Click. 50 times and you're done.
Images in and the fun begins. Zephyr3D is the free program I use and it looks like the table didn't mess anything up. The program got me a good cloud of points and soon rendered the model.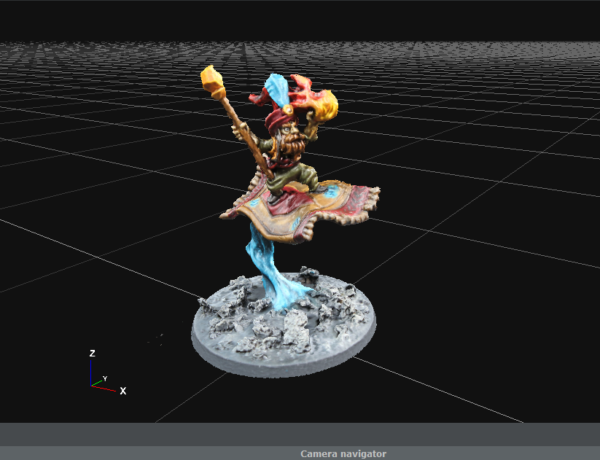 My Magister is now in 3D. He has a bit of a hike still to get all the way into TTS and become an actual game asset but he is well on his way.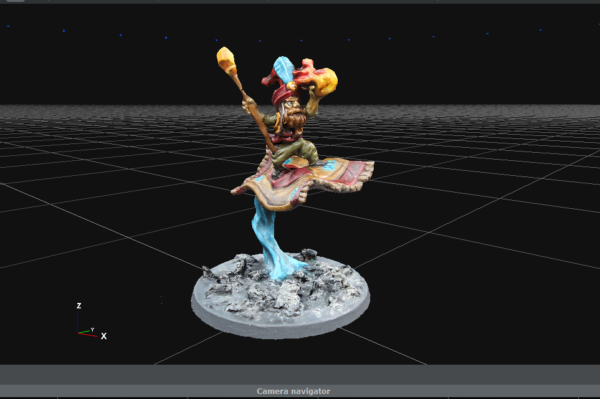 To get the model into the next phase, I had to finalize him as textured map and convert to him an object that I can import into Blender.
While I had some time (the rendering on my slow computer takes a long time), I also rendered my Ibex Rider as well. Things are working perfectly and I'll soon have them into the TTS module for a digital campaign of Relicblade that Friend Sean and I will try.
For now, Battlesmith Ibex Rider will guard the digital cosmos from all potential threats.
If you want to learn more about this process, you can check out my previous blog posts or see the original tutorials on the Dice From Hell site.