With the bulk of my city planning done for what I'm now calling "phase 1", it was time to dot some "i's" and cross those "t's". Namely, I wanted to get this phase into a more finished state and it would start with the foam tiles.
While the blue tiles are quick and relatively easy to use, they are an off-putting shade of blue. To dress them up a bit more I turned to my spare Ruinscape city pack to add some additional continuity. Taking spare tiles, I cut them into 12″ x 2″ strips.
Using crappy craft store black acrylic paint, I cover the edges and corners of each tile. The paper strips will cover the rest and since the tiles aren't perfectly even, the black will help hide the gaps.
I have one large 2'x2′ board used to cover a big area so I also painted the gaps as well as the center. This will be in case the tiles don't fit perfectly on this board. I won't have to fuss around with the layout to make sure I'm still covered. Note that I've decided not to seal anything yet. I'm not sure I'm will as most of the touch points are going to be on the paper tile sections.
I can't just get the foam gaps taken care of. I also have the white prints I made and so all those pieces got some grey paint with the airbrush. I only need to hit the exposed areas so that was easier for the larger pieces.
After the paint was dry, I used spray adhesive to glue the strips on to the side. It definitely isn't perfect but since the sides aren't really a feature of the terrain, it helps it all fade to the background.
As suspected, the tiles would lay perfectly with the foam risers but the black undercoat helps hide the imperfections.
The 3D printed pieces blend in nicely with their neutral grey coloring. The sides strips where only covered on some of the riser sides as putting them around every tile is overkill. I decided to make 4 corners (so only two sides are covered), 2 three-sided tiles, and 2 specialty tiles that will have all four sides covered. The big 2×2 riser used three sides to cover.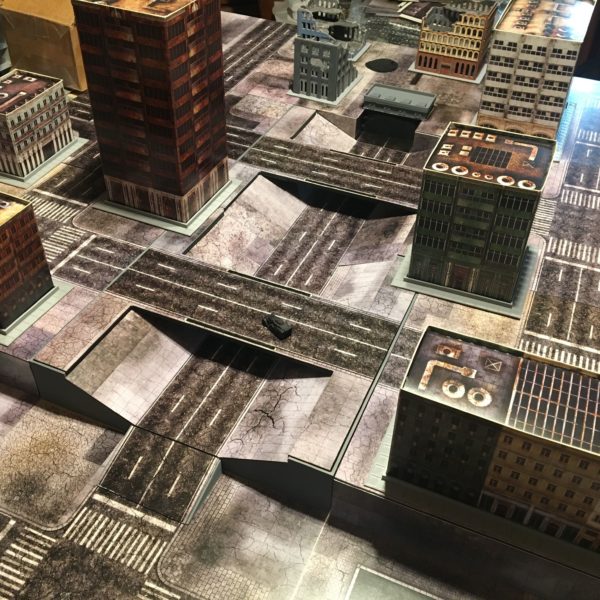 During the re-setup with some of the cleaned pieces, I decided to cannibalize a spare building and create a tall skinny high rise for the table. These are now important as the split levels will eat up the non-road space and I don't want to just be left with little buildings everywhere.
That basically finishes up the map so far. I want to paint up the tunnel building I made but aside from that, Phase 1 is complete and I'm already working of my Phase 2 projects.