Even though the latest ruleset for Dropzone Commander leaves a lot to be desired, I can't help but work on the hobby side of the system. I've done some starts and stops on improving my main board but thought that it just wasn't possible without a lot more work than I'd have time for but with the 3D printer, the world opened up just wide enough to really jump back into the concept.
I attempted this style of multi-level board a while back but I wasn't happy with how disjointed the tiles became when I cut the foam blocks out. I've since come around to accepting that level of imperfection and after cutting a few more blocks out, the overall scheme was pleasing enough to continue.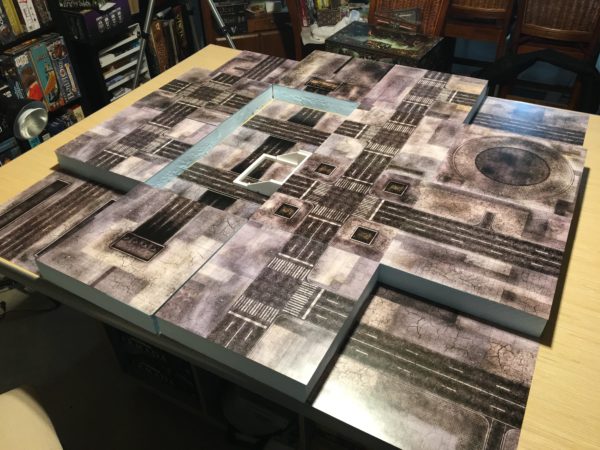 Along with this acceptance and the realization that I could outsource some of the more complicated tasks, I decided to forge ahead with some of the more aggressive board changes. You'll notice the odd white piece in the middle and I'll explain more.
One of the big reasons to go with a multi-level board is because it allows you to go deeper. Dropzone Commander already has a lot of vertical options with the cardstock buildings and monorail lines but there are several interesting aspects to a city that go a little lower than the main ground level. One of these is the over/underpass canal.
The original Dropzone tiles had an example but it is hard to do anything with it in 2D. So I went to Fusion360 and created some support structures. My print bed can realistically only handle a footprint of 9 or so inches square so I created four 6×6 inch structures to hold my tiles.
I could build the whole thing in 3D and print it but it seems like a waste of filament and time since I'm going to be mounting these tiles anyway.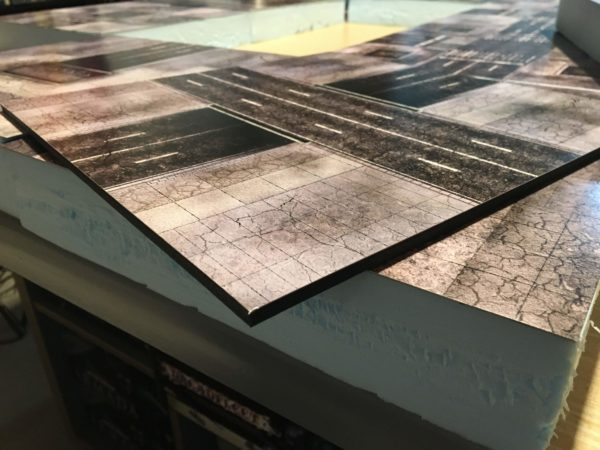 Speaking of mounting the tiles, that was the next step after I had my 4 structures printed. I mounted the tile in question on foamcore. Foamcore is going to allow some quick and instant rigidity to the tile and allow for the whole tile to swappable. If I just print it, the tile will only ever have the one function.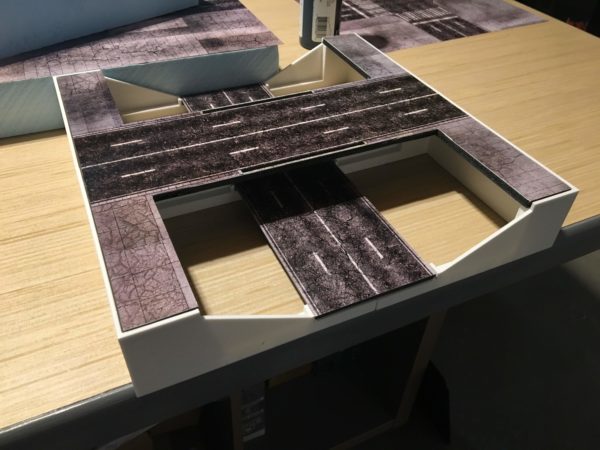 So here I cut out the top tile to match the 3D elements I needed. I then mounted a road and placed it under. Since these items are just loose and held in place by the structure, they are swappable. I could easily replace the top section with just side platforms and no roadway or the bottom road with a river making it truly a canal, or both. Arguably, I could still have done that in CAD and maintained the options but again, cost and money will also be a factor and foamcore is quick to cut and cheap to use.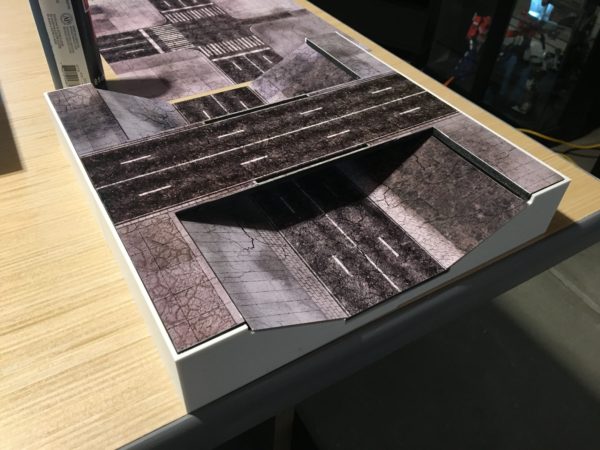 A few side pieces later and we have the (mostly) finished structure. I'll need to prime the printed plastic black to better hide it but other than that, this complex addition is basically done.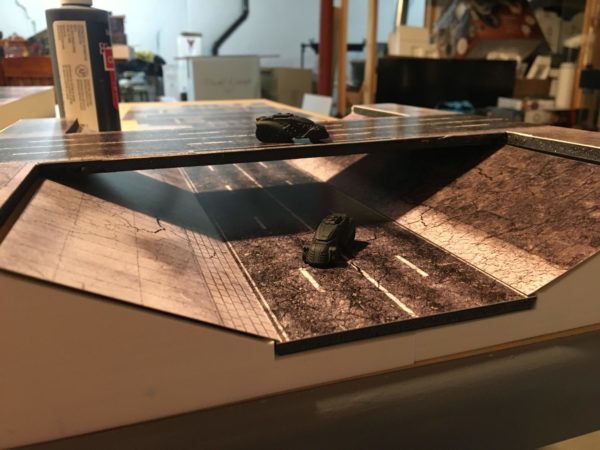 These unfinished APCs help give an example of the scale of the tile. There are some larger models that will struggle to fit but most of the models the city was designed around should have no trouble.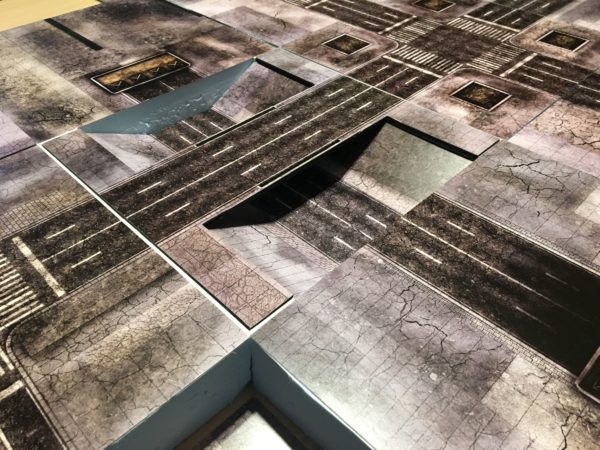 I'm really excited by the way this turned out. I have my second canal printing and I'll work on the canal "end caps" as well. These may just cut straight out of the 2 inch foam I have or I might design more structures to print.