Over the past couple of years, I've been getting more and more into miniatures games.  It started with Fantasy Flight's X-wing Miniatures Game which spoiled me with prepainted minis and no need for any terrain building.

My game group had seen a relatively new game around by Hawk Wargames and it looked fun but I didn't want to jump back into the whole hobby side of modeling, painting, and terrain building unless the game was truly great. At Gen Con, Dropzone Commander, a 10mm skirmish war game had demos and we were able to finally try it out.  The game was a lot of fun and the miniatures seemed easy to paint with very little assembly.  To make it even easier, Hawk Wargames had the brilliant idea of making easy and great looking paper terrain so once you pick up a starter and do any minor assembly, you can throw it all down and get started.
Why I liked X-wing so much was because it was zero effort from open box to playing on the table.  Dropzone Commander isn't zero effort but if you don't mind unpainted minis, it is pretty darn close.  My friend picked up the main starter set and I decided to focus on their post-apocalyptic themed Resistance army.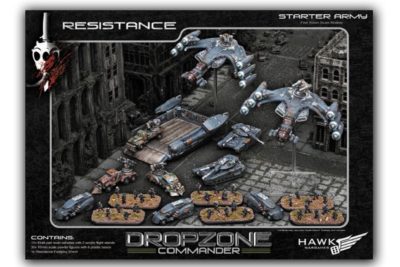 I'm decent enough at painting but I also want to get the game to the table as quickly as possible so I usually limit myself to a small palette of colors.  This army was a little tough for me as it wasn't a standard regimented army and so the color schemes had to be consistent but still varied and "hodge-podgey" to represent the army's ragtag theme.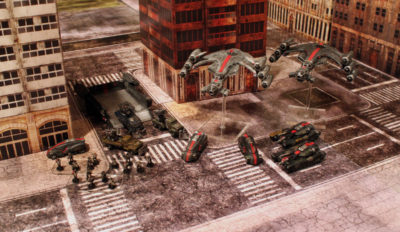 I decided that I'd have the bulk of the army in a dark black scheme but have random vehicles in an entirely different scheme to represent newer acquisitions.  The army would keep it's cohesiveness with a telltale red blood stripe down the center.  Red is my usual player color in games (if given a choice) so I was happy to add this element to my army.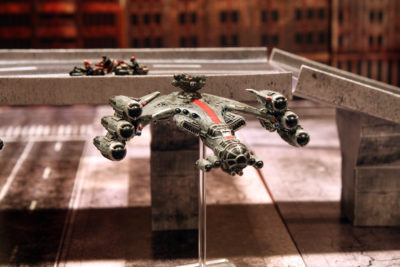 Since the models have a few interchangeable options with weapons, I decided to magnetize these options so they can swap out easily. The gun on top of the Lifthawk dropship pictured above has magnets to swap out for non-gun versions and magnets on the undercarriage to carry different vehicle options.
The tops of these APCs have magnets as well to go into any of my dropships.  The Infantry are on clear bases as that is my favorite basing style since it is relatively easy and works amazingly well on flat, smooth game mats.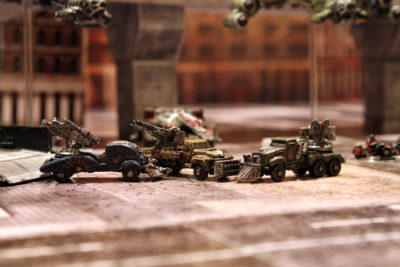 These gun wagons are part of the Resistance Army's signature ragtag appearance and so I broke the red stripe theme and just made some post-apocalyptic trucks.  The guns are magnetized as well to swap out for the various wagon unit options.
That completed the starter army but I quickly expanded to a full 1,000 point army, which is a good beginner size that allows for some army build flexibility but keeps things small enough to not overwhelm new players.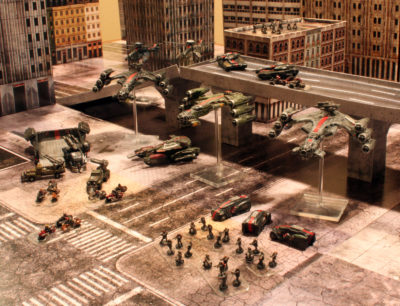 To get up to 1,000 points, from the 600-ish point starter, I added a few new elements.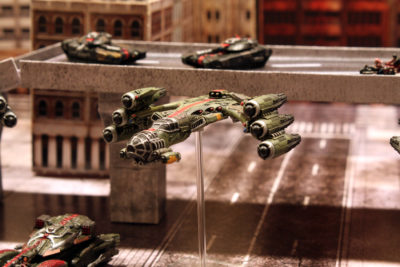 I added a Barrel Bomber and added more magnets for army building flexibility.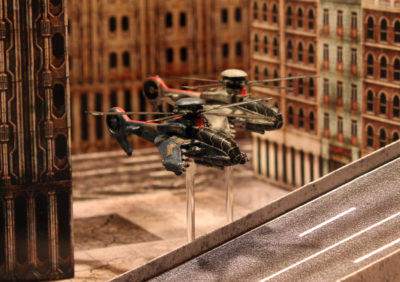 Then added the awesome Cyclone helicopter models.  The rotors are magnetized just so they can easily be removed for storage.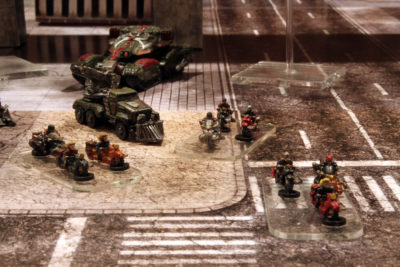 Before Hawk made some rules adjustments, Freerider motorcycles were a mainstay of every Resistance army.  Here, I mounted them again on clear acrylic bases.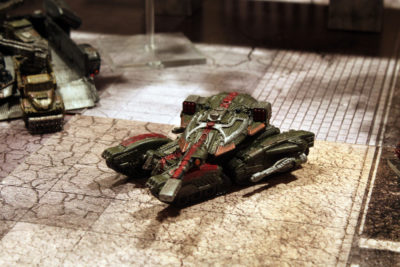 Finally, I capped the army off with a commander unit. This time, I used Salakahn's "famous" commander model to double for the general M3 Alexander super tank.
Recently, I was able to add a bit more to push my army to the standard 1,500 point tournament size.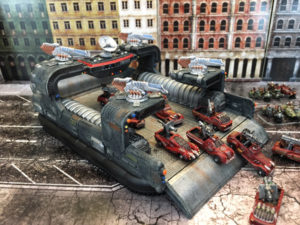 The massive Thunderstorm hovercraft transport became my new commander unit.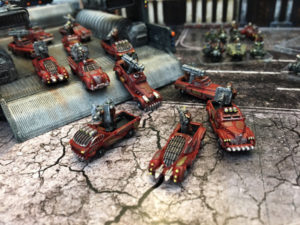 Along with their crazy Walord's Retinue.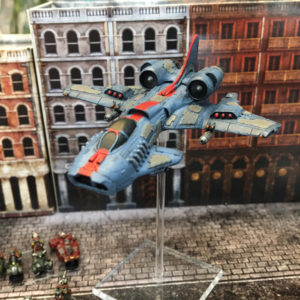 I branched into the Fast Flyer rules with Foley's J19 Hellhog.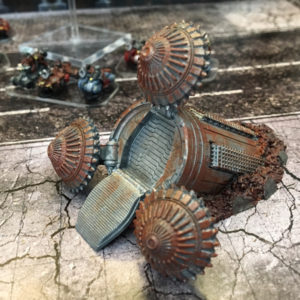 Another Resistance signature item with their Breach Drill.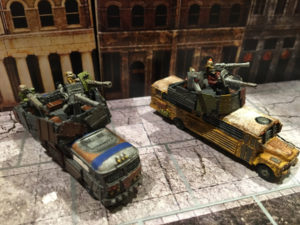 And at last, a unit of Battle Buses. The gunners are magnetized to the defensive bunker, which is also magnetized tho the buses themselves.
With all this work, I didn't want to risk damaging any of the models so I used pluck foam to fill out a box and use it all for safe/easy transportion.
This box carries everything except my rule books and terrain.  It also will have enough room to expand with the other models I have waiting to finish painting.