The beginning of the year doesn't just include resolutions and goals but it means preparations.  Even though August is a ways off, planning for the biggest show of the year, Gen Con, starts now.  Yesterday, the first volley of activity for this great convention started with the opening of event submissions.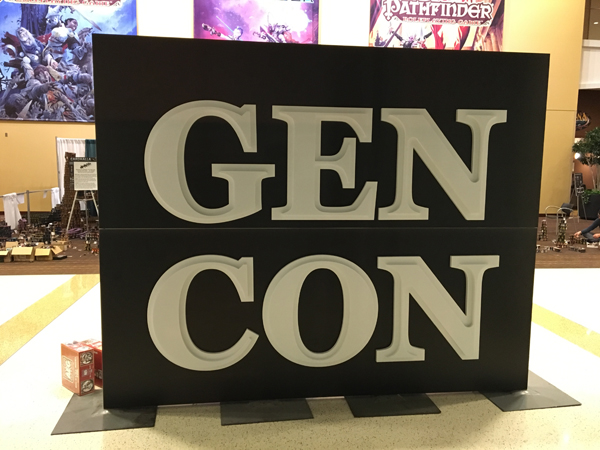 We have found that planning for Gen Con starts earlier and earlier.  Our hotel planning usually starts either right after the show (for the following year) or even during the current show.  With such an overbooked convention, the only way to guarantee anything is to over-plan as well.
The convention site released their initial set of key dates and event submission starts the whole thing off.  I've been running events at the show the last two years so I'm still a little new to it but one of the best ways to have an event succeed is to get it submitted during the early submission period.  This will guarantee that it is listed on the events page when the events go live and, if the event is interesting enough, fill up accordingly.
Last year I ran four events: a Loopin' Louie Tournament, a PitchCar game, and two back-to-back sessions of Catacombs.  All the events went really well but doing Catacombs games back-to-back was a struggle.  I definitely want to run Catacombs again but this time, so this time I'll combine them all into one event and have multiple games running.
So with my three events planned out, I have one last decision and that is to see if I want to expand and add one other event to the mix.  I always have to be careful because I don't want to burnout or run so many events that I don't get to participate in events for myself.  On the other hand, I run these events mainly because I don't see these games at the convention and really think they deserve the recognition.
One game that I keep toying with bringing to the convention is Championship Formula Racing.  It can accommodate a lot of players and it seems to have a good following at other conventions so I might give that one a go. It will take a bit of prep to do it "right" as regular-sized boards will be quite cramped if up to twelve players are all trying to play around the table.  Looks like I need to do some research and quick because the early submission date closes in a month.