I cranked up the CNC machine this weekend for the first time in a few months.  Back in the summer, I was really in a groove with the machine and things seemed to go well.  Having not messed with anything for a while, it seems that familiarity has left and I need to retrain myself a bit.
I was going to start up on my Dropzone Commander building bases project but before I get that underway, I needed to finish off one last pending project: my Pitchcar regular-to-mini converter.
I've been working on this project for awhile, even starting before I thought about getting a CNC machine.  For all my effort though, I only had one working prototype and since Pitchcar tracks make a loop, I had a way to convert down to the mini-sized tracks but didn't have another piece to convert back up.
This project ended up being a bit more complicated than I anticipated. I initially thought I could use or modify an existing file but that ended up being more trouble than it was worth.  I was beginning to feel like the tolerances needed to make these puzzle pieces fit correctly would be beyond me but little by little, I made progress.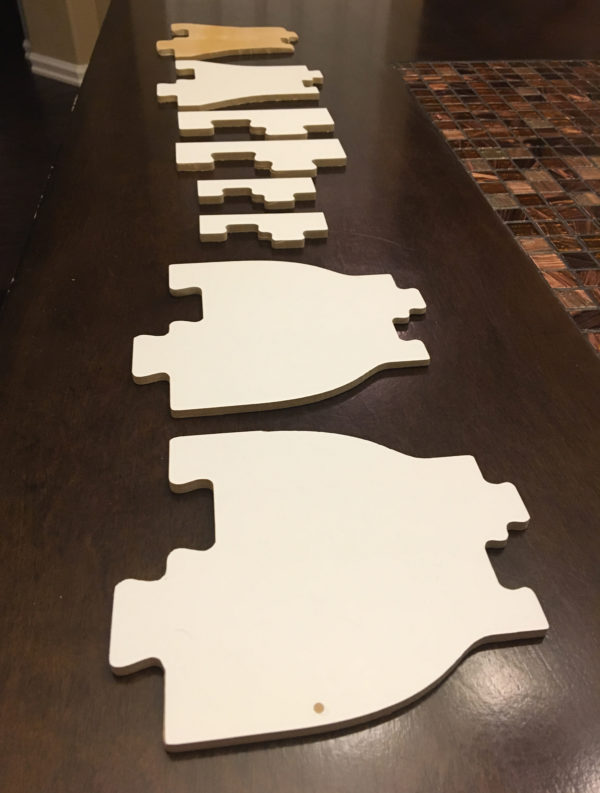 My crude hand cut attempt at the top of the picture was before I thought of getting a CNC machine.  In many ways, this project led me to seek out a CNC machine and so it was good to get back to this and see if my latest version worked.  I got bold at first and was cutting full pieces but soon realized that I needed to conserve material so then I went to just fixing the specific puzzle connector that I needed.  The second piece from the bottom was the first successful piece (though it wasn't perfect and needed a little sanding to completely fit).  The changes I made manually to that penultimate piece made the final modifications in the file for the last piece.
Right before my hiatus, I set up the latest file based on the working prototype and some tweaks I needed to make. Then I had the machine all set up and ready to start but had to leave and then never made it back to start the milling.  I didn't want to tear that all down to start my DZC project (finish what you start!) so I would make sure I could test out this latest attempt and see what happens.
All-in-all, the piece worked out great.  It fit perfect and the modifications meant for no post-processing to finalize the piece.  Well almost.  This piece is complicated for another reason as well.  Not only did I need to match the puzzle-piece connector of the regular-sized track and the mini-sized (which turned out to not be as simple as scaling down the connector), but the two track pieces are not the same height.
It's very slight but there is a noticeable difference between the regular and mini-sided track pieces.  This being a dexterity flicking game, even this small height difference can catch the sliding discs and ricochet them backwards, ruining a shot.  Now I had to work the puzzle connectors and work out a method of planing the piece at a sleight angle so that it was shorter on the mini side than the regular side.  Since the track pieces aren't the same size as any stock piece I can find, I knew I'd have to plane the pieces a little bit but I didn't count on having to plane it at an angle.
After messing with measurements over and over, I was able to shim up to the correct size and create the connectors.  A quick little map set and I can call this project done.  I can now combine both of my Pitchcar sets to make for some interesting options.  Having these connectors correct and planing of the piece sizes locked in, I can really start making some wacky pieces now.  The last little addition will be to cut the red wall guides into the piece so I can add walls when I want.