So it's been a few weeks since my last post but only because I've been head-down in a new project: learning CAD and CAM for milling on a CNC machine.
Way back at the beginning of the year, I was excited to have a brand new tool added to my pimping arsenal: a CNC Machine. The only issue was it was a kit I needed to build and I'm not so handy with building things this complex.
The project progressed in fits and starts until just a few weeks ago, I finally got everything all together and running.  I had to take a quick detour and clean out the garage and cobble together a quick workbench table to have room to run it all but I was able to knock that out in a weekend.
With everything prepped, I grabbed a template off BGG and set it up using a trial version of Fusion 360.  I have to say, the resources MillRight CNC have put together on their site is outstanding and the direct responses from them for questions I've sent have been amazing.  They really go above and beyond supporting their customers on what could easily be a nightmare project.
The my workspace ready and my machine up and running, I imported Flashhawk's PitchCar mini-converter SVG and got to cutting to test it all out.
As you can see from the video, the machine definitely did its job.  The cut was nice and everything worked as it should.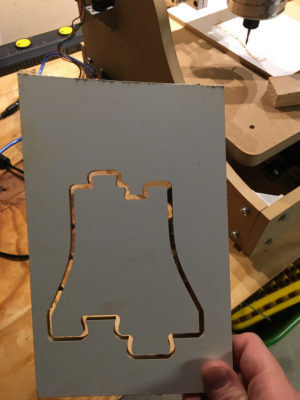 Punching out the piece was easy and cleaning up the "tabs" that hold the piece in place while cutting will be easy.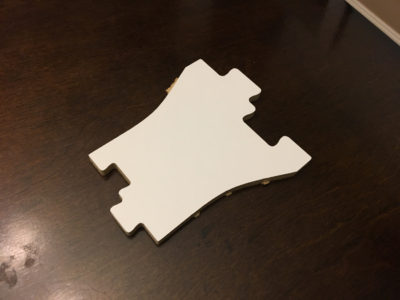 Just one little issue…
So obviously there are some scaling issues but the test was successful and I've been working up several new concepts that I'm eager to complete.  The first step has been taken, now the real challenges begin.