"Commandeered" is not quite the right word as everything seems amicable but in other news from Dropzone Commander world, I'd be remiss if I didn't mention this huge announcement from earlier this week:
Today we have an extremely exciting announcement here at TTCombat. We have completed a deal with Hawk Wargames to purchase both the incredible Dropzone Commander and Dropfleet Commander.
Yep, Hawk Wargames and their game lines were bought out by TTCombat, the in-house manufacturing/publishing end of Troll Trader, an online game store specializing in card games.
Both entities are putting out the customary "it'll be great" marketing spin and if things go how they hope it will go, there could be some hope for an overall better product.  According to all reports, version 2.0 of Dropzone is still in the works (though delayed until April) and the main designer and owner of Hawk Wargames is coming along with the acquisition to be the lead designer for both "DropX" systems.
I'm not a "sky is falling" kind of guy so while this was definitely unexpected, I'm not going to worry about it until there is an obvious problem.  There are too many games out there to worry about them all and I've still got a lot of mileage left in my collection even under the v1.0 rules.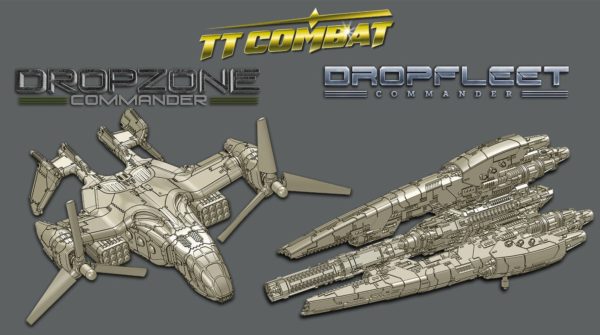 Also, it can't be all bad… One of the main announcement images features Idris Elba's Lt. Col. James Rodrigues' awesome new Tilt-rotor command transport.  That thing looks like tons of fun for my Resistance brethren.