Today we had our first game of our Dropzone Commander 2017 Winter Campaign at Funtastic Games.  It was 999 point Skirmish-sized game with 6 players in attendance.  Before I left, I had a few minutes and decided to try out a quick proof of concept I'd been thinking of: a pimped out spinner for Indirect Fire deviation (and anything else that needs a random direction).
I started with a cheap spinner, an extra flight stand base from the now defunct Planetfall game by the also defunct Spartan Games. The ship is an Athena Air Superiority fighter that had some miscast issues.
As this was just a test to see if the thing worked, I wasn't really trying to make things permanent.  Cutting off the arrows from spinner piece and supergluing it to the flight base position.  Then I cut off the flight peg holder on the Planetfall base and used blutac to keep the big spinner base connected.
And done.
This took all of about 5 minutes and seemed to work out well. Not really practical but painted up and clearing that base down to size would make it a bit better.  I have some other junk pieces so I might play around with this a bit more.  This might make a cool bunker with a spinning gun mount on top.
---
Now for the Dropzone game.  With 6 players we rolled off for map placement and opponent.  Today, I had the honor of playing a new recruit to Dropzone, Jayme, and he was running PHR.  I had really played against PHR before. Early on in our learning of Dropzone, we tried all the factions in their starter form and just couldn't get PHR to work.
Stephen, the campaign host, started us off for the campaign with the following opening:
…transmission intercept…
Forward Intelligence units have discovered that a UCM ship will be airdropping vital supplies and equipment at 1330.
All available units to mobilize to deployment zone to intercept. The enemy cannot be allowed to retrieve this shipment.
We were also going to try out some of V2.0 rules:
* disembark and shoot for a -2 penalty
* flyers are at peg height, not 6″
With that, we were ready to begin.  We were playing the Ground Control scenario.  This was the first time I'd tried this scenario and it is probably the closest to a normal tabletop wargame than most of the other Dropzone scenarios.  It has units directly deployed to the map (like most minis games) and no objective, focal, or intel points.  The game map is split into four quarters and awards scenario VPs to the player that controls each quarter at the end of round 6 (which is the end of the game).  Control is determined by having the most points in units in a given quarter, with infantry gaining double points if they are in a building.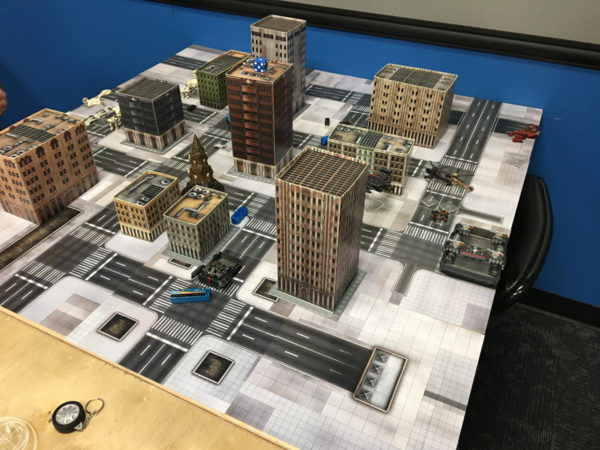 This type of scenario made for a pretty slow opening as a lot of the usual scenario tactics call for running out as fast as possible and grabbing objective points before your opponent. Since nothing is determined until the last round, the game has a bit more "dance" to it before units really engage.  After the first turn, I had pushed my Anti-Air (AA) unit to the left-center while my big Thunderstorm hovercraft at the bottom rumbled to line up on one of the long sight lines.  The rest of my units made for the center and used buildings as cover.  My opponent did similar as everything he had was in dropships and he didn't want to commit to the ground game quite yet.
After I set up down one of the less open firing lanes I realized my massive hovercraft only had an 18″ firing range (that's what I get for pillaging Scourge tech).  Hanging out in the back will make 25% of my army basically useless as I can't even shoot far off buildings.  I really suck at this big hovercraft.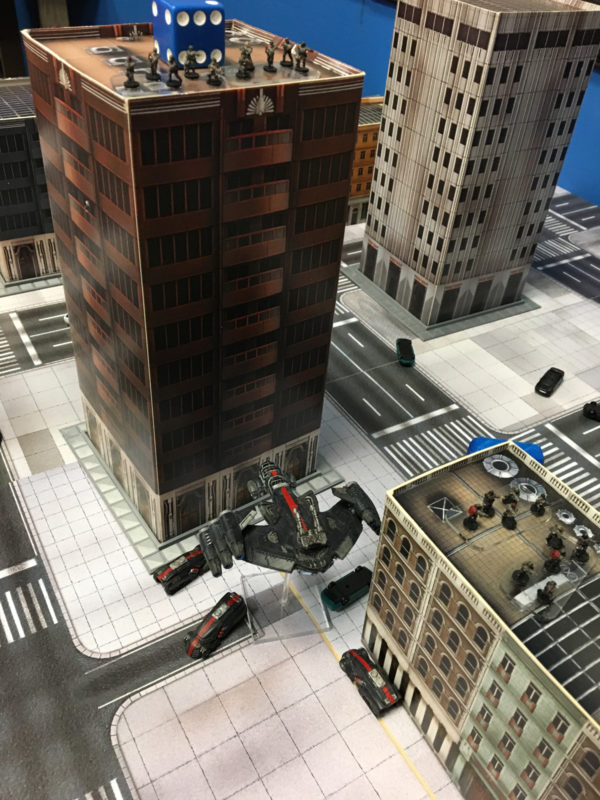 So, after failing with my hovercraft, I then started playing like all the other scenarios and threw my infantry into some buildings thinking they'd be safe there. That also turned out to be a mistake as my opponent had some good building demolishing and so these safe-havens I jumped into were turning out to be death traps.  I decided to load up the battered infantry once more into their APCs and Lifthawk dropship and head for safer skies.
I decided to turn my attention to his AA walkers and after they almost melted my infantry dropship (precariously hovering with all my troop transports in tow).  My Typhoons (yay! new unit) used their long range to chip away at one of the AA walkers and then after winning the initiative roll, I closed the game and threw all I could at them to take them off the board.  To add insult to injury, my attack choppers are in the same battle group as my AA trucks and they ended up taking down my opponent's dropship as well, wiping out an entire unit activation.
With no more AA options on his side, my opponent got desperate and threw down two infantry squads to serve as proxy AA and try to bring down my loaded up Lifthawk.  I was able to repair my dropship back up to 2 damage points to give a little bit of a boost but I didn't see this coming.  Pretty risky but if he can bring down my dropship with all those troops, it'll be a major blow to my ability to later control these different areas of the map.  My luck wins out and his infantry aren't able to land a hit (mainly due to the penalty gained from disembarking and firing in the same turn, a v2.0 rule we implemented).
The risk of that gambit hits home when my air units start lighting up the exposed infantry.  I open up and after two turns of fire, the PHR infantry are down to one base with one guy standing.  They finally hop into a remaining transport and run for cover in the buildings.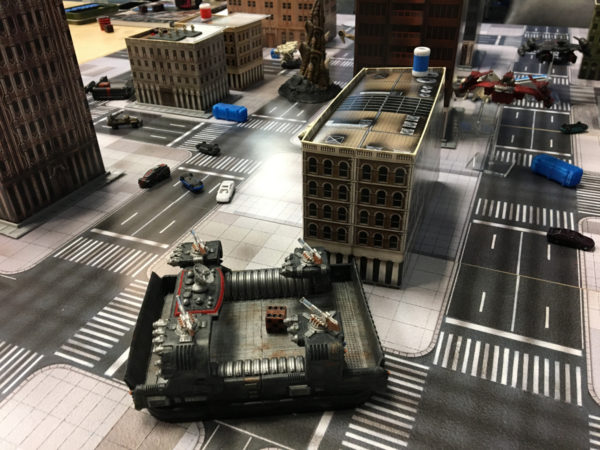 With Round 5 ending, my opponent pushes his remaining infantry squad into a small building in my starting quarter of the map via an underground monorail. I can't pass up the opportunity to finally put this big hovercraft to use so I pull back from that main firing corridor to shoot at the little building and hopefully drop it, killing all the infantry inside. I do 8 damage and need 2 more to drop it.  For a point comparison, my 265 point hovercraft with 4 shots at the highest power of any gun in the game did the same amount of building damage as my opponent's little Railgun-toting APCs (60 points total).  The dice were not in my favor on that.  I was able to follow up with about six weaker attacks from my Skulltaker but only landed one more damage.
Turn 6 started and I lost initiative but had a dirty trick up my sleeve.  I was able to pull a command card that allowed me to interrupt my opponent's activation and take a single activation beforehand.  He activated his infantry in the nearly collapsed building and I interrupted it with a final salvo of from my Thunderstorm command hovercraft. This time, I landed the hits and dropped the building on them.  I finished by moving my commander back into that quarter, sealing the point control for that one.
After that blow, my opponent did some quick math and realized that he didn't have enough points on the board to control three quarters of the map and since he was also behind in kill points, a tie would still equal a loss so we called the game.
It was a fun game and it was nice to see some really effective PHR units.  My new Typhoons were definite MVPs in this as they basically could own the map after I took out the threatening AA walkers. I tend to find that this is the case in this game with aerial gunships are in play and that was my biggest fear in building this list- that my AA wouldn't be enough to overpower a strong gunship that could then just obliterate my ground units with abandon.  Luckily, I was on the dealing side of that situation.
We have another game set up in November and we're going to escalate to 1250 points.  Time to start working on my next list!