Early last week I got a reminder that a group of us were going to hit Dropzone Commander this past weekend.  I had some units that were still primed from my big priming spree before winter so I decided to blitz through a few and finish them up.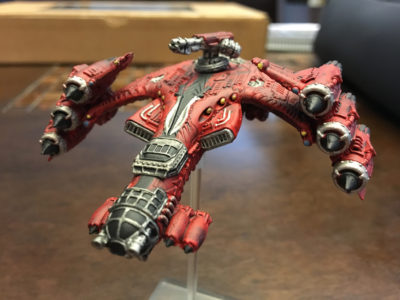 Up first was the new Skulltaker.  This aerial transport is the model for the special commander that first appeared in Reconquest Phase 1.  In Reconquest Phase 2, they made the model a general unit so that you didn't need to work with the special commander rules (which are usually experimental in nature).  After some errata, the unit was actually playable and so I was happy to finish this one out.
This makes the fourth "Lifthawk" style model I have done and they are looking quite eclectic.  I also have a Hellhog (blue) in the back to round out my aircraft units.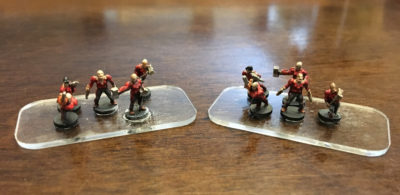 While the Skulltaker is a big beast of a unit with upgraded guns and weapons, its main purpose is to transport psycho berserkers quickly to a key close quarter battle. These berserkers were the next item on my list.
With these quick paints complete, I was able to complete my list and be ready for the game.  I haven't been keeping up with the Dropzone tournament scene but apparently 1250 points is becoming pretty popular.  We decided to try out that sized game. I went with a pretty balanced list with a good bit of anti-air, infantry, and anti-tank.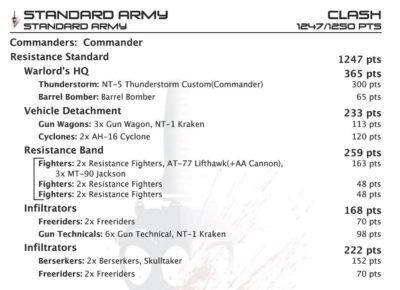 We had four players and split into 2 separate games.  I was on the ruined map layout and was going against my friend's UCM list which featured a heavy load of air units and anti-tank but light on the infantry.
The detail on the layout that our host setup was great.  His burned out cars and dead bodies really add to the atmosphere of the scenario.
We decided to play Secure The Flanks scenario and started up, each approaching from our respective corner.
We both settled in on our close objectives, me with my Freeriders and the UCM with their Legionnaires from a Raven A.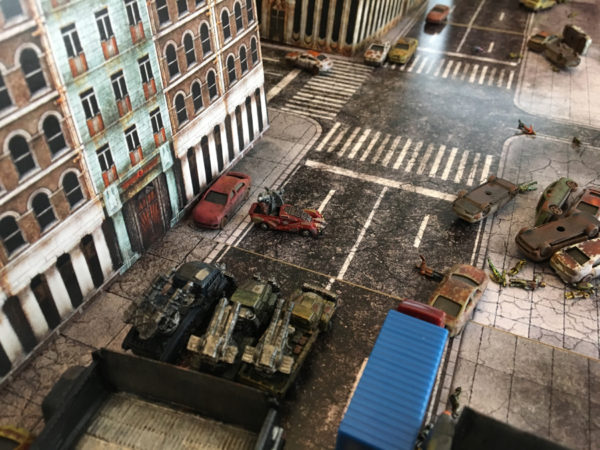 I started down the main street lane when the UCM sent a few air units to sweep by.  After a horrible whiff, they all fell to my Gun Wagons.  My front Kraken (missing in the pic above) was caught not far enough behind the building and was lit up by the UCM main force of anti-tank units.  I rolled especially bad and lost 5 of the 6 (red) Gun Technicals.
The UCM quickly took up position around the right focal point. He had two Gladius, a unit of Sabers, and a unit of Rapiers all defending this spot.  The scatter terrain was really favoring this position since all his unit have articulating turrets to see over the debris.  For whatever reason, my massive Thunderstorm Hover-building with gunship lasers mounted on the top does not have the height or articulated turrets rule so I could never really get line of site on anything and it became a huge waste of points. This seemed pretty ridiculous so for future games we'll house rule that LOS will measure from the gun mounts.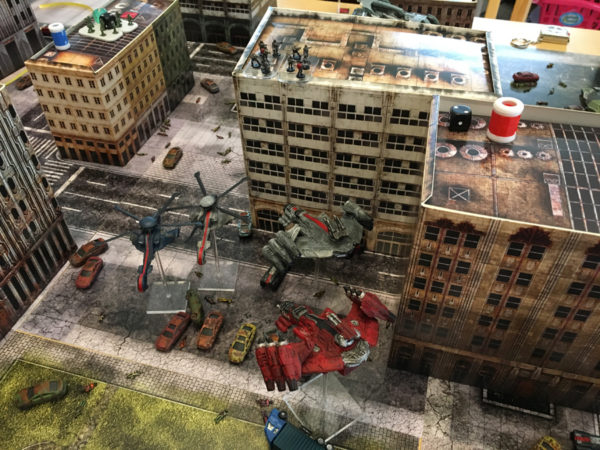 Moving on! I decided to centralize my forces in the middle buildings for the middle objective.  Unfortunately, the UCM had came in with their 2 squads and got in the building first.  I sped in with my Skulltaker and shot up the building and flamed it but found that the flame weapon on the Skulltaker (usually a great anti-personnel weapon) is pretty lackluster.  I dropped off my Berserkers and in the ensuing close quarters battle, they wiped out the Legionnaire squad with a 4:1 dice advantage.  Since the UCM had two squads in the building, they only needed to commit one squad to my Berserkers.  The other unit got a lucky roll and found the objective in one turn and was off the map before I could do anything about it.
We both still had our close objectives but his anti-tank and orbital laser-firing commander soon reduced my objective building to rubble. Playing tit-for-tat, I rushed my Barrel Bomber over to his objective building and launched my goliath bomb to knock the building down to 2 hits remaining.  The debris falling killed all but 2 Legionnaire figures.  My next salvo did no more damage and I couldn't finish off his objective.  His next turn, the Legionnaires got another lucky roll and found the objective on their second try, then got out and left the map again before I could stop them.
Things were looking grim.  I was down 4 VPs to zero and there were no more objectives on the board.  The only way I could win now was to occupy both focal points at the end of the game and make no unit of his could make it within 6 inches, and then also win on kill points.  I had three rounds to defend and eliminate his units.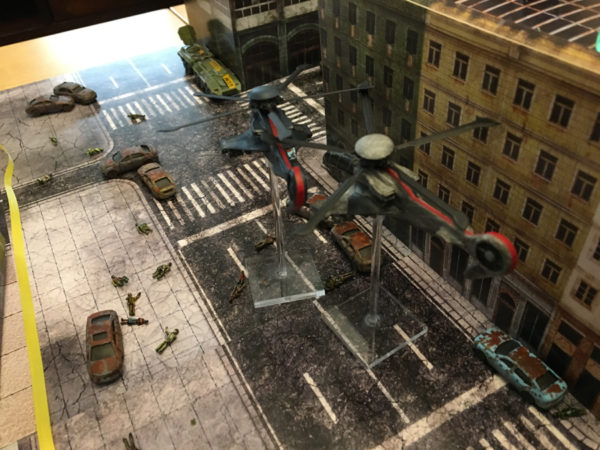 First, I sent my Cyclone helicopters in to assassinate his commander.
Then I cleared out some entrenched Legionnaires from a building near one of the focal points. This time the flame weapon worked, though this one unit only had 2 guys left.
And finally, I wiped out every last one of the crazy armor 10 tanks from his entrenched focal point.  It was round six and he had one dropship unit left: a Condor carry a single Bear APC with 2 units of Flak squads.  They set up in the building I previously cleaned out (getting them in focal point range) and I sent the Skulltaker back over.
Again the flame weapon did it's job and wiped out a full flak unit and then I launched a salvo of rockets and heavy machine guns to knock the building down around him to try to finish off that last unit.  All my salvo shots failed and that was the end of the game.
Final score:
UCM: 5 VP  581 kill points
Resistance: 4 VP 1,021 kill points
Definitely an interesting game.  When the objectives were found and removed before the end of round 3, I figured I was out of the game and we could have called it.  I was surprised that it actually remained as close as it did and I almost wiped out his entire army.  I need to rethink my use of the Thunderstorm Hovercraft as it seems to really struggle to do much in a game and can fall very quickly to concentrated anti-tank fire.  Couple that with the need to keep anti-air units around as protection and it becomes a big point sink.
---
A few weeks back, we also finished up our game of Pandemic Legacy: Season 1.  The second half saw us lose a few more game and definitely got a little tougher but we were able to pull through and finish the entire campaign out with the best ending result.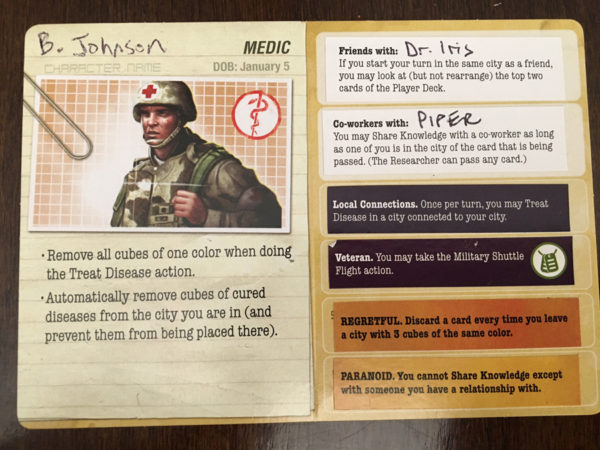 I was happy to see that my character, Bobdoh Johnson, survived the whole campaign and was pretty key to our success.  With two scars, he had a few close calls but my wife bailed me out to keep him around.
I can't really go into detail (even in the redacted style I did last time) as it starts to spoil too much so I'll just talk about some final thoughts in general terms.
While I thought the campaign worked very well and I liked where the story went, I didn't really ever have an incentive to switch characters.  They kept adding new characters throughout the campaign (even in the second to last month) but I felt such history and duty to stay with my character that I felt that was only an option when/if my character died.
In the last few games, I got a particularly nasty scar (the orange stickers on the lower right of the character card).  Initially, we didn't think it was a problem but then things changed on us and the inability to trade cards ended up being pretty crippling.  Even with that major handicap, I still was loathe to just ditch him and start with someone new.
The other thing that became tiring was the hidden bonus cards that you got to scratch off when you completed certain tasks or won a previous month.  This was novel the first couple of times but soon became a real chore to do and the mess it created was less and less novel.
Other than the lack of a compelling reason to change characters and the lottery scratch off cards, the game was a lot of fun and we're looking forward to trying out Season 2.