It has been a little over a year since we pulled the trigger and signed a contract to build our house down in Texas and we are finally fully moved in. We actually moved in a few weeks back but things were still unsettled and boxes were still getting opened and sorted. Most of that is complete (except the garage) so we're starting to settle in and get comfortable in the new digs.
Being in Texas means that I'm closer to a former Colorado gaming friend, Taylor. I was only able ever to see him at our CabinCons or a Gen Con when the stars aligned. He is still about 5 hours away but that distance is doable on more occasions than previously available (which was when I did "FateCon" back in 2017). I made the trek out earlier this month and was able to get in a fair amount of gaming in.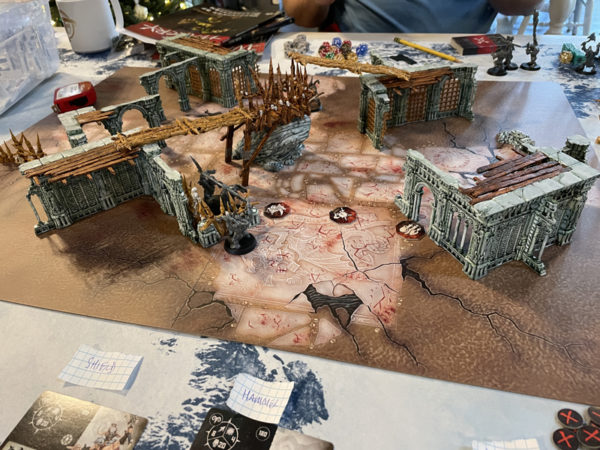 After a tour of Taylor's house and surrounding grounds, we decided to bust out Warcry. We are both really into Warcry so it was an obvious choice. Taylor chose to play Orks and I was with my Untamed Beasts. Because I haven't had a chance to try it, we started a campaign and ran through a couple of games.
The campaign games also allowed me to try out a custom force. Since the beginning, I'd wanted to try a list of Untamed Beasts with two of the big cats. The list is a lot of fun and can do quite well across a variety of missions.
After Warcry, Taylor wanted to check out some Infinity as he hadn't played and wanted to see why Sean, Colton, and I keeping fussing.
I put together two 150 pt lists that kind of mirrored the 7 figure starters. It'd have to be a Yu Jing civil war since that is all I have. Luckily, I have enough of the figures from each Sectorial to make that happen easily. I gave Taylor my Invincible Army team and I took some ISS groups.
The goal here was to really teach the concepts of the game as the Face-to-Face rolls and action interactions are pretty unique even for seasoned wargamers. Since I feel these critical elements are also the core of what makes the game so interesting, I played with the mindset of setting up situations that cause interesting interactions (regardless of whether they would be good for me or not).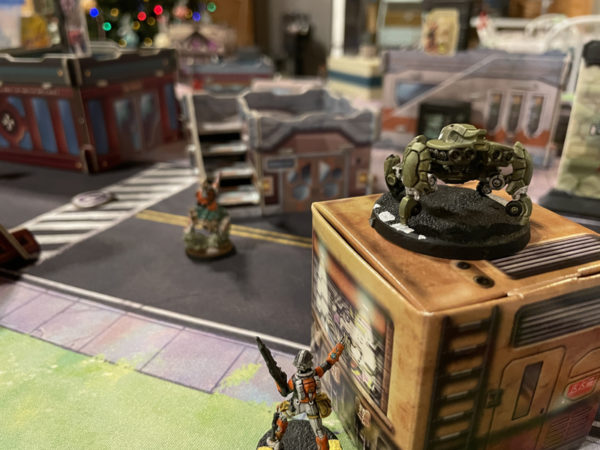 The game ended pretty poorly for me but my suicide run was able to cover a lot of interactions that covered most of the rules like shooting, dodging, range bands, and maneuvering. We were also able to explore some spicier things like direct template weapons, close combat, and hacking. We didn't do a lot of the "gotcha" stuff like hidden deployment, combat jumpers, or camo tokens. Taylor seemed to enjoy it so hopefully we can hit it again sometime after he has a moment to absorb the rules in more detail.
The next day saw us dive into Marvel Crisis Protocol (MCP). I was pretty harsh on this game when we saw it at Gen Con because the poor decision to scale up to 40mm figures and I still stand by that criticism. My criticism hasn't held the game back and is not shared by enough people to slow the sales down as it is a still a pretty hot property. The publisher has done well enough to have FFG push over all their minis games so hopefully that can keep all the plates in the air. Star Wars Legion is a game I see regularly in game stores along with the standard 40k and Infinity. I don't see much of MCP but maybe it is easier to play the game at home or a significant chunk of their customers are painters who like collecting the Marvel IP minis.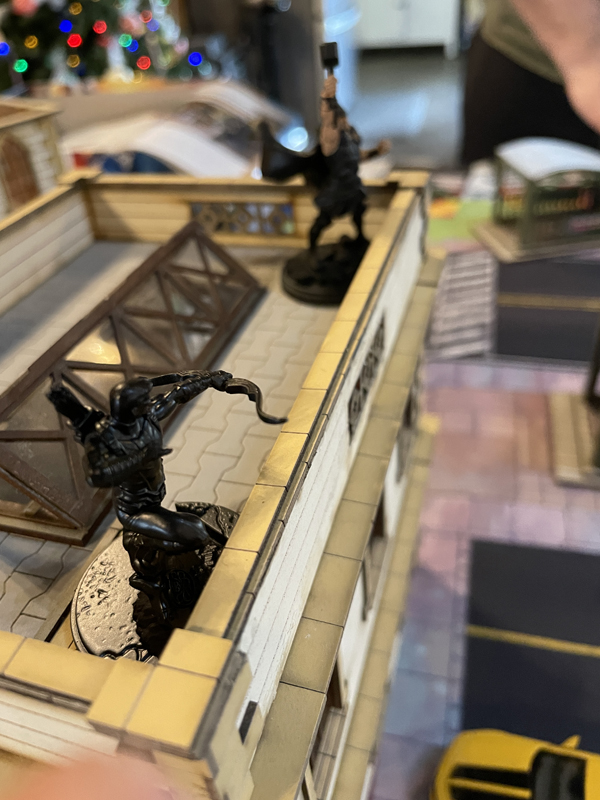 The game was quite fun and only leads me to hate their decision to go 40mm even more. I was secretly hoping for the game to be forgettable and easily dismissed but it was not. Watching Thor chuck car after car at Hawkeye only to meet out minimal damage was hilarious and cinematic. It went off the rails when Hawkeye retaliated and totally annihilated Thor a round later. Even with Captain America, Iron Man, and Spider-man on my team, Hawkeye was easily the MVP. While it did stretch the level of credibility quite a bit watching Hawkeye own the table at cosmic level proportions, it was still a fun game that came down to the wire.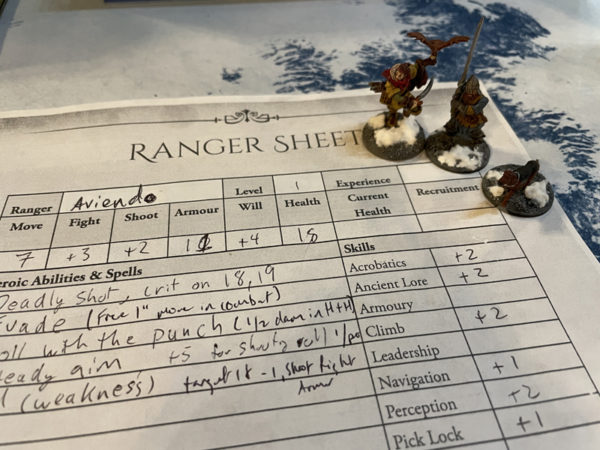 For the rest of the day, we hit Rangers of Shadow Deep. I love Frostgrave and have had the Rangers rulebook for some time now but never had a chance to get it to the table with the move and everything. I was really excited to see how the co-op worked so I could compare it to the co-op of the Frostgrave games I tried out.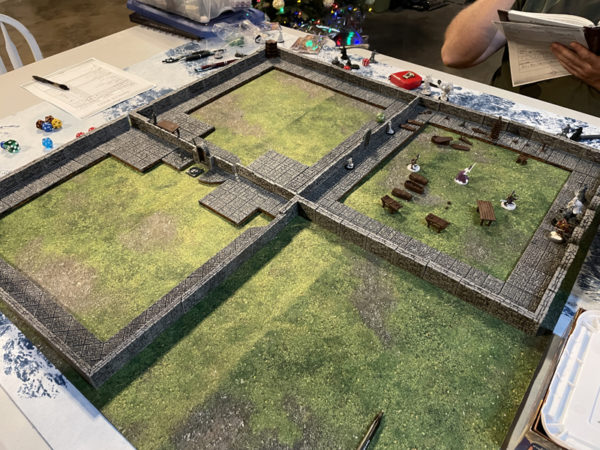 We ended up playing through 4 missions completely (had to redo one of them as we lost horribly). The co-op experience is definitely better in Rangers than in Frostgrave and I think the main difference is in the limited resources where spells are abilities are typically once per mission instead of spammable all game like in Frostgrave. The other major difference is the quality in mission writing. Frostgrave missions are usually very light and with a single focus. The Rangers' missions keep that focus but add in varying events that can completely change things or add in new and interesting twists.
The appeal was apparent as we kept clamoring for more, game after game. I have a lot things at home already set up for Rangers so I'm excited to run my own campaign and see where the narrative goes.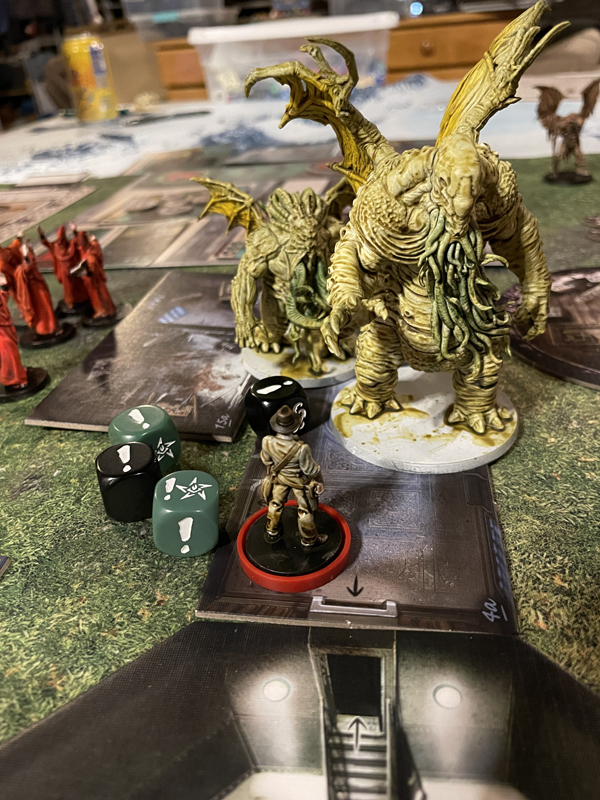 To cap off the evening, we did our first and only board game of the trip: Cthulu Death May Die. I've heard a bit of buzz on the game even though it has the stupidest name I've seen in a long time. It was pretty late at this point and I was fried but luckily I didn't have to teach the game and could just be along for the ride. It was nice to play with painted minis but the game didn't really click for me. Likely because I played a lot of good games before it but it also could be that it isn't the type of game I enjoy any more. It was nice though. We won with my guy barely surviving to the end and killing Cthulu (if that is ever really possible).
For the last day, we brought out two more minis games to try out. We started with my setup of Dracula's America. I did a quick setup of our posses and chose a fairly straight forward scenario where our leaders were facing off in the middle. I think the scenario was good for showing us how to get the basics down but really lacked any nuance.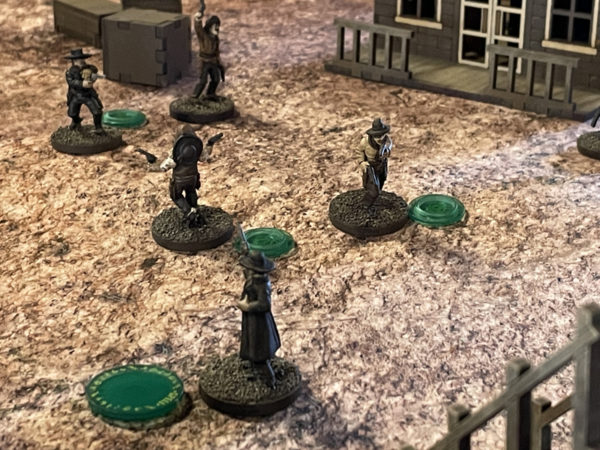 You set up your best guys in the middle with no terrain and kind of hope for the best. Even with the simple scenario, I found the game rules easy and quick, which is what I was hoping to get out of the system. I don't need an overly strategic skirmish/army game as I have those things. This is trying to fill out my Cowboy fantasies and throwdown some simple, yet compelling stories. I'll be exploring the game in more detail as I found the system fun enough to push on.
Lastly, we tried out Saga and set up in the Viking Age. I wasn't sure what to think of this game but after playing for a bit, I found the rhythm and started to really like the Saga board and dice mechanics that added an interesting extra layer to an otherwise ordinary army war game. I picked up the rules for myself and I'm looking forward to diving into the game in more detail as well.
That concludes our fun minis-filled weekend and it was great seeing and playing games with Taylor again. While a 5 hour car ride isn't the closest option, I know we'll be able to do this more than once every four years and I look forward to what we can hit next time.
Bonus: Tired Kitty hanging out around the grounds