In an effort to vary some of my Dropzone Commander terrain, I recently picked up a set of mdf buildings from Empires at War.  I usually wouldn't waste time on more buildings because the paper terrain versions work well for me but these are nice in that they feature destroyed buildings with multiple floors.  I spent the weekend getting one of the kits out and seeing what all I could do with it.
The kits are extremely easy to put together and I was able to put one together from package to desk in about 20 minutes.  They also come with so thinner paper cut pieces to help dress it further but I decided to really dive into this kit and see what I could do.  I kept the paper additions for the end as I dissembled and prepped the kit for priming.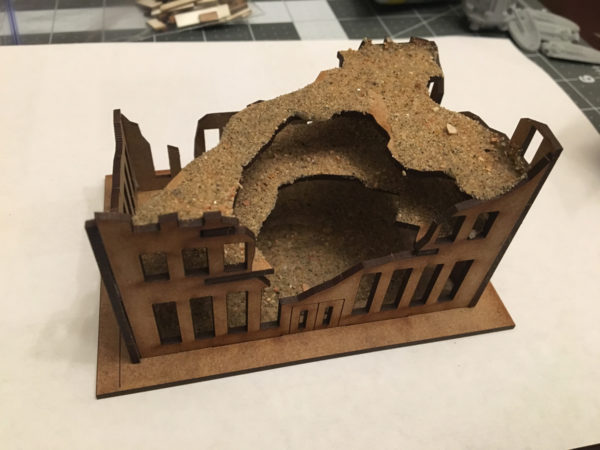 I ended up gluing the entire structure together separately from the base so that I could use some PVA glue and sand to texturize the floors. On the main floor and base, I took a bunch of the window cutouts that I had to punch from the mdf template and laid them about to simulate fallen beams and large debris.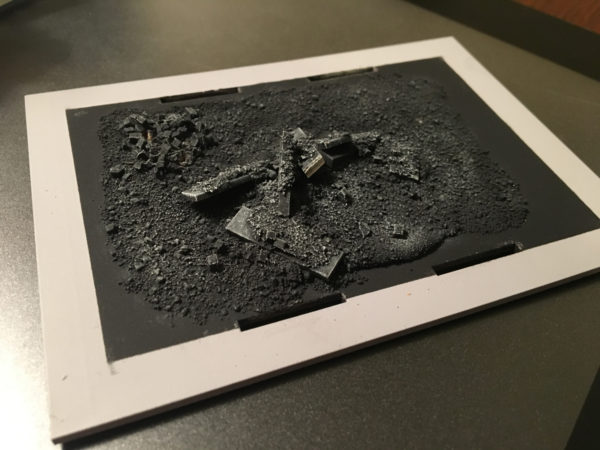 After priming it grey, then taping off the outside to hit it again with black, I did some light highlighting to pick out the terrain.  I know this looks like I'm doing some B/W work but I'll colorize things later on, just not inside the building as there isn't usually a lot of color left after things have collapsed and fire has gutted the interiors.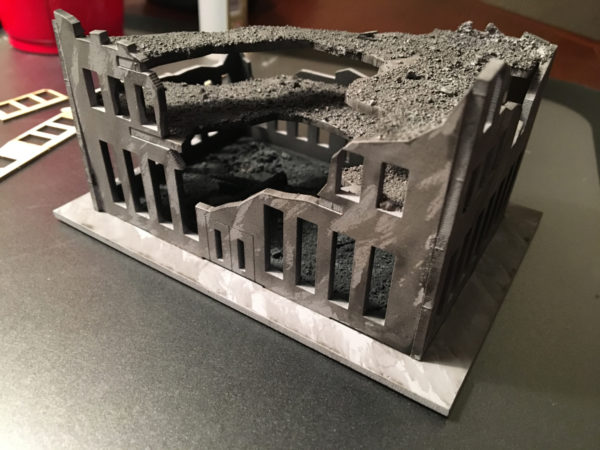 After everything was primed on the walls and upper floors, I washed heavily in Nuln Oil, both the textured floors and the exterior.  Since the walls of the exterior are flat and I didn't want to just simple make them darker, I didn't take a heavy load of wash on the brush and just streaked it across the building face at an angle.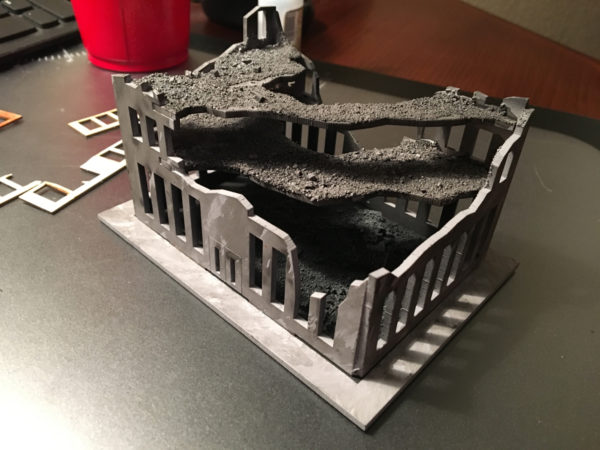 I felt like it helped break things up a bit and give it a more weathered look.
Finally, I painted the main floor's paper cutouts a brass color to help with the psuedo art deco feel of the game. I left the upper floors in the white stock as it still had scorch marks from the laser cutter and the contrast white above brass looked nice.
So detailing the kit makes finishing it take a bit longer but it definitely makes a big difference.  I did another kit (same model) in a quicker, primer-only attempt and prefer the textured version.
I think they can both work as one is recently destroyed and the other could be one gutted long ago and only the buildings bones remain.