I received my new replacement bell for my Test of Honour Temple Bell scenery piece and so I quickly set about fixing it up.
It came with a faux bronzing and while that may be just fine in a color setting, it won't cut it in my monochrome theme.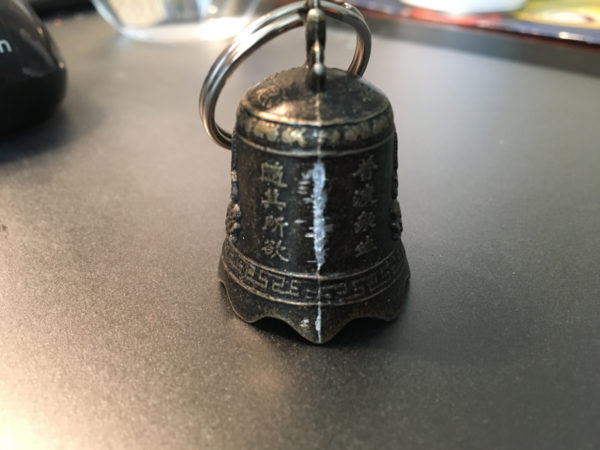 I first prepped the bell by filing down the mold lines.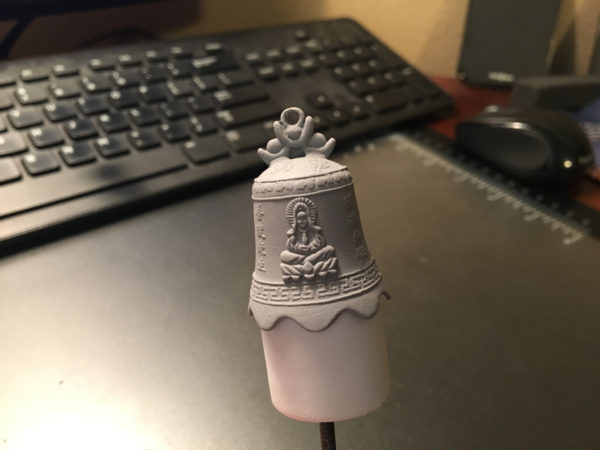 Then primed it in my standard automotive primer gray.  Nice that the stuff is specifically formulated to bind to metal.
After the primer dried, I painted it up, slapped on a diluted wash, and did some quick dry brushing. Now it was ready to go.
I clipped off the original stem that hung the mdf bell and drilled a hole to put a staple in.  I bent the staple around the hole and the bell and it was all ready to go.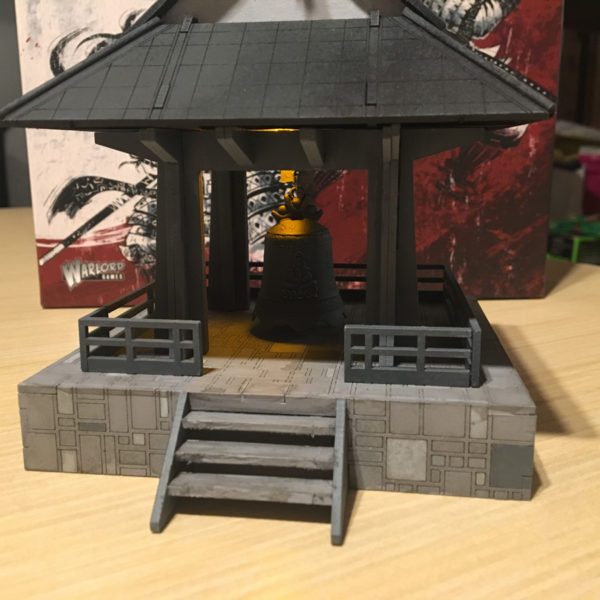 When researching the scenery piece, I found a great write-up on Chicago Skirmish Wargames and liked that they put a light in the top of the roof (big surprise).
The irony isn't lost on me that I spent all this effort and it is hard to see the bell anyway but the lighting is bad with a single overhead in this room.  Also, I will know that the bell is actually much better this way and that is probably the most important aspect.
---
The bell isn't all that pushed through this week as I also finished up my lanterns and sword ruler.
I'd already completed the heavy lifting on these guys but darkened them up with a wash and then used some bright dry brushing to mimic some stone.  Nothing fancy on these and I'll likely revisit them to bring the lighted base down to a more manageable size but I'll consider them complete now.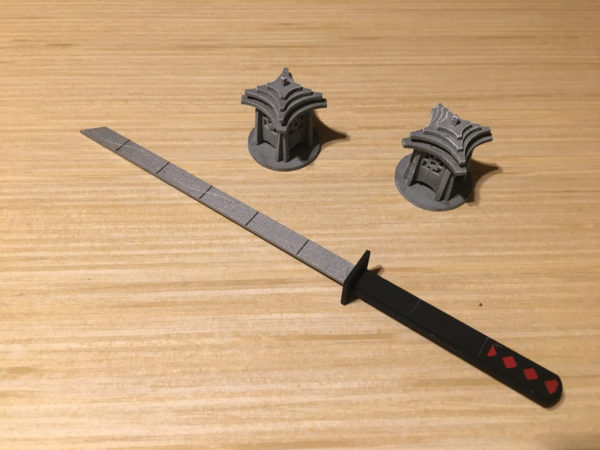 I also finished up the sword ruler with a quick and easy paint job.
And with those two last items done, my entire Dojo Assault set is now complete. With the skirmish scenario I made up just for the set, I'm really happy to have the whole thing complete.
The week isn't over though and I have a few more items I'm trying to finish up so hopefully we have a little more before the week is through.