After blitzing through my Ninjas last week for Test of Honour, I dug out the rest of my kits and decided to push through to see if I can wrap this game up. I made great progress this weekend, starting with the Sword-Master figure for my Dojo Assault set.
This figure has a great dynamic pose and was great to paint up.  I used Kurosawa's Seven Samurai for the paint-scheme inspiration. Below is Kyûzô, the film's master swordsman so I thought it was pretty appropriate.
The white lotus petals (or whatever they are) work great to break up the solid shirt and were easy to duplicate with just little white dots together.
To break up the bottom, I also put an even smaller 3-dot-triangle design to give the model more depth.
I love the model and it's been one my favorite to paint up.
To finish up the Ninjas, I needed to work up their group bases as well so I did a quick sand + PVA glue and then primed them.  When dry, I finished with a swath of undiluted Nuln Oil wash.  This process was almost the exact same technique used for my ninja figure bases so I knew it'd turn out close.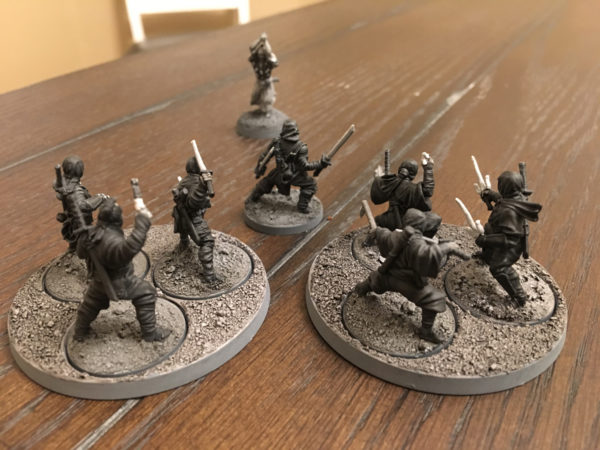 With the Sword-Master and Ninja bases complete, this almost wraps up the Dojo Assault set since I already have the Dojo itself complete.  I have the lanterns and the sword/ruler primed up and almost complete as well so I'll use this week to try and wrap them up.  Of course, I did more than get some bases done and wrap up a single Samurai figure but that will have to wait for later this week as I put the finishing touches on some remaining items.