It's October and time to break out the Halloween-themed games.  One game that tends to get pulled out every year is Fantasy Flight's Fury of Dracula.  I have the second edition but Fantasy Flight has since printed a third edition that I'm eager to see how it plays as well.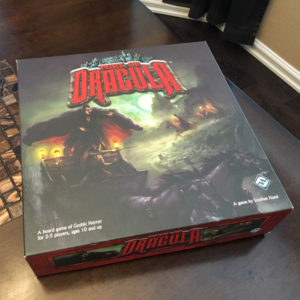 Fury of Dracula was the first game I ever completely pimped out.  We had a lot of fun with this game so every time we would bring it out, I would add a little more to it.  At first the pimping was practical.  I added a screen to help the Dracula player keep his location up and available but still away from the prying eyes of the hunter players.
This screen was developed by Boardgamegeek user Jeannis Leist and is a great accessory to the game as it also includes a lot of game details on the inside.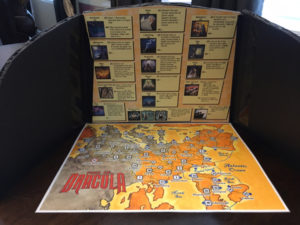 Along with the screen, Leist also made a revised game map that is upside down but with the city names right side up.  This is because the Dracula player sits at the top of the map looking at the map upside most of the game.
This helps keep things oriented for the Dracula player.  The map is on laminated cardstock so the player can make notes in dry erase pens easily.  The game originally came with a little map for Dracula but it is so small and upside down, it is almost useless.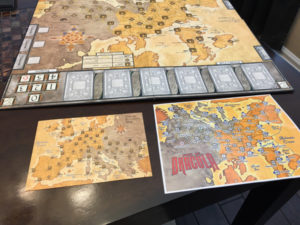 Next, I printed out a custom tuckbox for the event deck from Boardgamegeek user Helen Holzgrafe.  Fury of Dracula has a peculiar event deck in that you need to draw randomly but the card back is different and yet supposed to be hidden.  That game tells you to draw from the bottom of the deck but Holzgrafe's nice tuckbox eliminates that need.
The flap folds down to keep the card back hidden.
I then turned to the random tile draw action and my wife made this great little black bag with red silk lining.
I used fabric paint to make the Dracula symbol on the outside of the bag to complete the piece.  This was done a bit haphazardly by scanning the bat icon, blowing it up to the right size, and then printing and cutting it out on cardstock.  This cardstock then became a stencil that I used to paint the Dracula icon onto the bag.
With all the practical pimping out of the way, I decided to paint the minis as well.  At the time, this was only the second game where I tried to paint the minis so the sloppiness has a certain charm to me.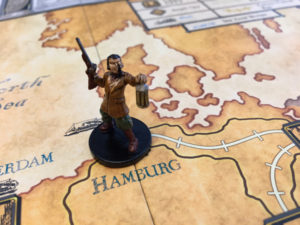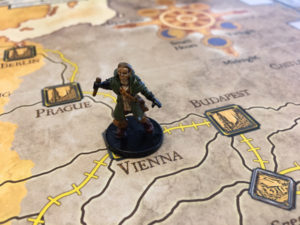 The game is one of our favorites and something I look forward to each year when Fall starts to come around.