Cutting apart my X-wing Miniatures Game Ghost model to customize the shuttle docking bay was just a precursor to my next big X-wing project: Uglies.
"Uglies" in the Star Wars universe were crap ships used by pirates and smugglers because they couldn't afford conventional star fighters.  They were part of the old Rogue Squadron and X-wing books which means they aren't official canon anymore but the new Poe Dameron comic books have brought them back.
I've always been fascinated with the concept of these crazy hodge-podge starfighters and hoped that Fantasy Flight would create some eventually. The introduction of the Scum faction a few years back would have been a good time but nothing has ever come of it.
After being gifted a friend's old set of X-wing Miniatures, I decided to start making my set of Uglies.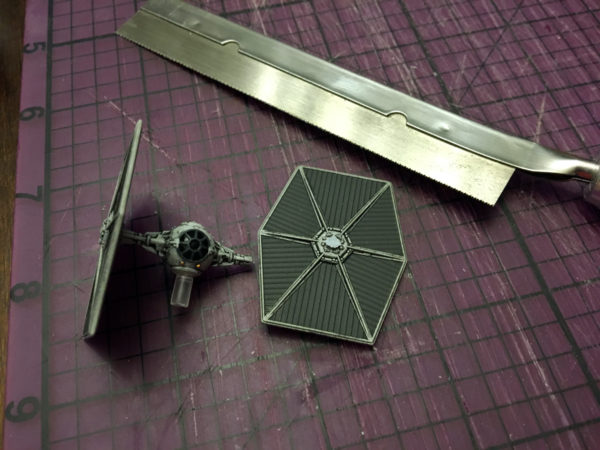 A cavalier attitude and a trust razor saw is really all I needed.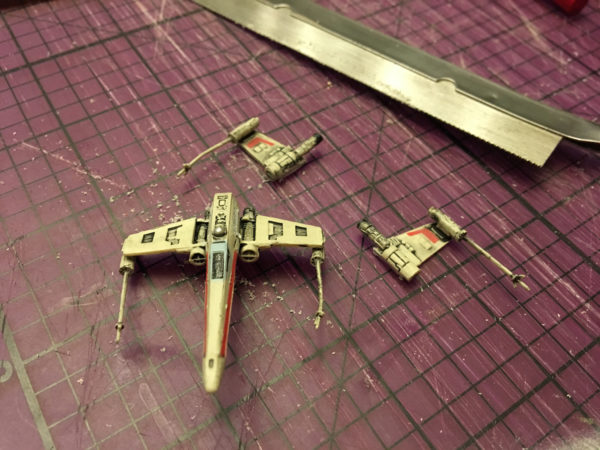 Soon, I was cutting apart ships with abandon.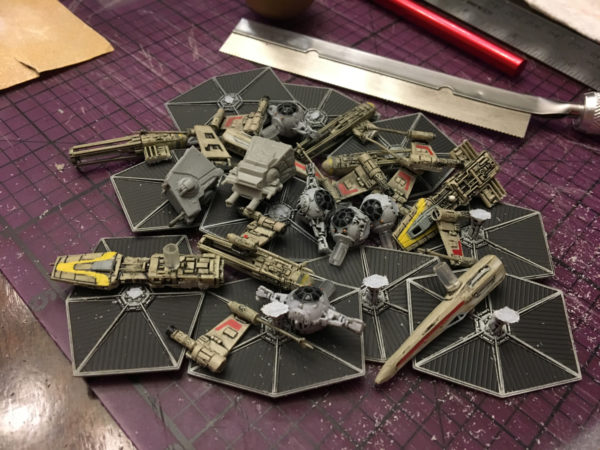 Now that is a sad dump of plastic.  Never one without a plan, I actually want to make this whole venture usable. Unfortunately, making the models is useless without ship cards and I don't want to worry about creating my own ships (or pulling other work from the net) and balancing them to the existing line so I need to create something a little different.  In the end, I decided that I want to take it a step further and spin this into a self-contained variant.
X-wing variants are pretty common but I've always enjoyed the Four Corners variant of decking out a cheap ship, setting up all the players on a corner in 3′ x 3′ map and having them go at each other in a last-man-standing free-for-all game.  Taking this concept to the Uglies, I want players to build their own Ugly ship and be able to play in a free-for-all game as well.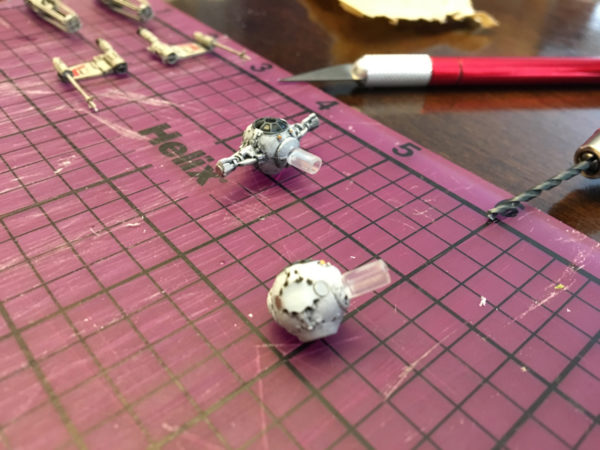 Before I get bogged down too much into the variant rules detail, I needed to make sure I could make a set of buildable pieces so players to make their own Ugly ship. Magnetizing things, is in my wheelhouse with all the Dropzone models I mess with so I decided to go that route.  Magnetizing both cockpit pieces and wing pieces separately should allow players to pick pieces and deck out a ship anyway they want.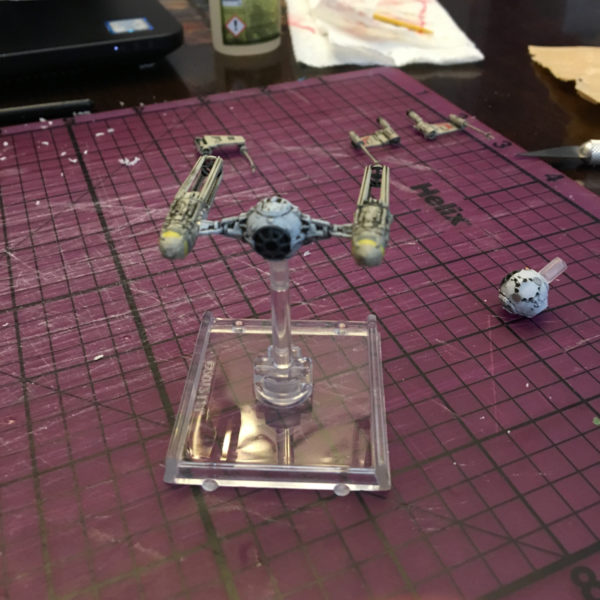 And it turns out that magnetizing these suckers works pretty well.  I was able to easily recreate the infamous "TYE-wing", nicknamed the "DIE-wing" for it's ability to typically get the pilot killed in action.  But creating a famous Ugly is easy if all you want to do is remake ships that have already been made.
Now we're getting somewhere! With those big Y-wing engines sitting so close to the cockpit, I assume this will just cook that pilot alive if the craft sees any extensive use but fun to make nonetheless.
And now we get to go truly bizarre with this ridiculous ship. At this point, I ran out of magnets (but more are on the way!) so I couldn't create many other options.  Once I get the next set of magnets, I'll finish up the rest of the pieces and then work on the rules.
My rough concept will be to have each cockpit piece have a base stat-line with base maneuvers it can perform.  Each item you grab will add or subtract from the different items in the stat line and maneuverability of the craft.  Players will draft the pieces in turn order and build their ship based on what they draft.  Pieces will likely have costs associated with them and after players build their craft, they'll be able to buy upgrade cards with left over points.
Also, you may be wondering what I'm doing with some non-starfighter pieces in that boneyard of cutup pieces image. Well, that Dameron comic took the Uglies concept and upped the ante:
Yep. AT-AT head strapped to some U-wing engines with TIE-interceptor wings. So awesome.