The weather finally turned around here and killed my last Championship Formula Racing game night so I decided to end my 2017 CFR 6×6 challenge with a maxed-out solo race against seven Historical Drivers.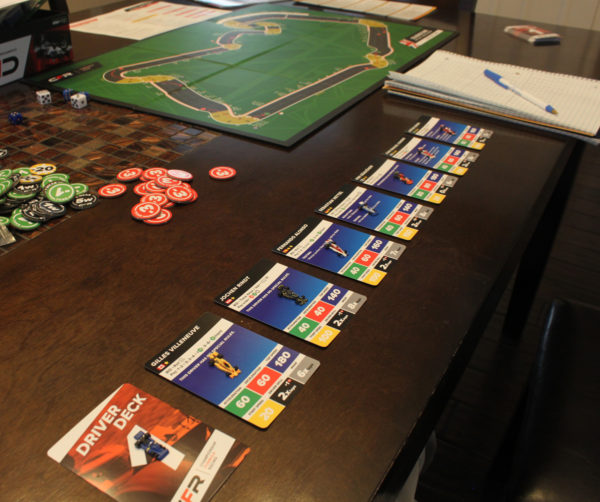 I love the Tyrrell P34 for its uniqueness so I'm in the blue/yellow one as driver 1. I set up my car with the following stats:
Top Speed: 160 mph
Start Speed: 100 mph
Acceleration: 60 mph
Deceleration: 40 mph
Wear: 7x lap (14 tokens)
Skill: 2x lap, 0 "-3 tokens" (4 "-1 tokens")
Pretty standard build for me where I favor acceleration over deceleration and wear tokens over skill.  The start speed bonus is a little new for me but the field seemed to heavily focus the front so if I had any hope of winning, I'd need to start with them.
Speaking of the field, here were my competitors:
Gilles Villeneuve: Back Standard strategy (Yellow McLaren M23)
Jochen Rindt: Even strategy (Black Lotus 77)
Fernando Alonso: U strategy (Red/White/Blue Penske PC4 )
Sebastian Vettel: Front B strategy (Blue/White Tyrrell P34)
Kimi Räikkönen: Random (Orange March 761)
Juan Manuel Fangio: Front X strategy (Red/White McLaren M23)
Ayrton Senna: Front A strategy (Red Ferrari 312 T2 )
The only printed course I hadn't run yet was Silverstone so I set up the table and got ready for the qualifying bid.
After qualifying, I was in the middle of the pack:
Pole: Senna (6 pt bid)
2nd: Rindt (5 pt bid)
3rd: Vettel (4 pt bid)

4th: Me (4 pt bid)

5th: Fangio (4 pt bid)
6th: Räikkönen (1 pt bid)
7th: Villeneuve (0.5 pt bid)
8th: Alonso (0 pt bid)
And we're off with Alonso, Fangio, and Senna all pushing their start speed.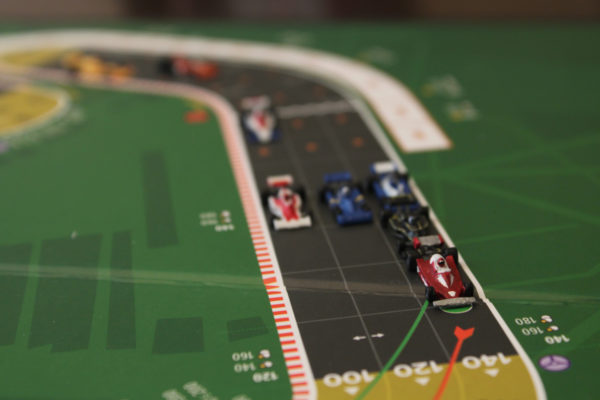 Fangio, me, and Vettel all straddle the 3rd place spot as Senna and Rindt carry the lead. Right behind us is Alonso who immediately jumped from 8th to 6th in just the first round.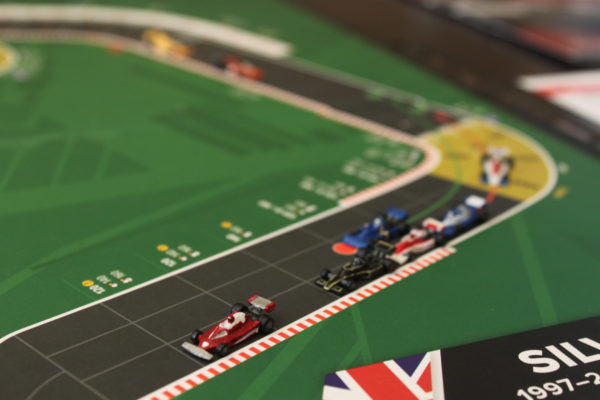 Senna starts to break away and Vettel slips behind Fangio and I as he opts for the faster wide turn.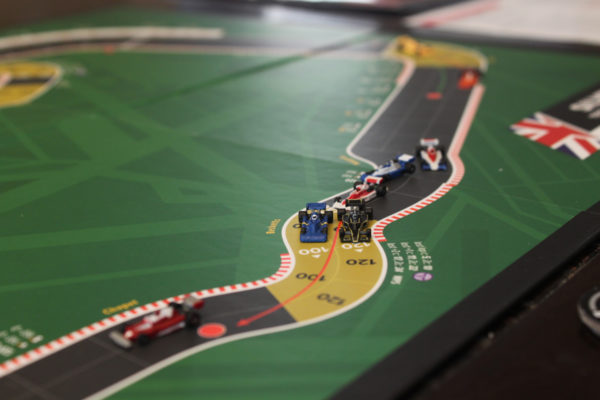 With the speed of this awkward second turn at Silverstone, I opt to burn wear and eschew the main line. Senna pulls farther ahead burning wear at every opportunity.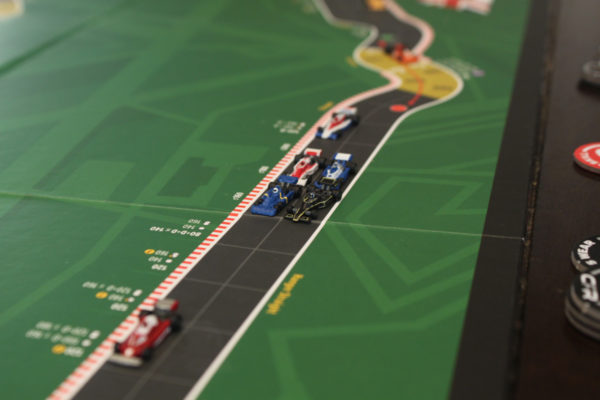 Rindt and I battle out of the turn but I have the line while Senna keeps putting daylight between him and the rest of the pack.
Having the inside line, I push ahead of Rindt for the next turn.  Villeneuve (yellow) is almost seventeen spaces behind Senna at this point.
I'm able to keep Rindt in check but Fangio comes alongside to threaten me.  At the tail of our pack, Alonso is now fighting Vettel for 5th.
Fangio schools me in the corner and I pull back to conserve wear and see if I can just hang with Fangio.  Alonso and Vettel battle hard in the corner with Vettel losing in the exchange as he's forced off the line.
The final series of turns really choke Senna so Fangio and I are able to fall in line.  Rindt had trouble getting out of the turn (and his strategy seems to play out quite conservatively throughout the race).  Vettel turns the sub-optimal line to his favor and beats Alonso out of the corner.
Senna really chokes as he blew most of his wear in the early parts of this race.  Fangio is able to overtake him and I'm forced to go around him as well.
Senna and I start battling around these last tight turns with Rindt in pursuit.  The lead pack formally breaks off from the remaining racers as Alonso and Vettel continue their battle for 5th.
Senna opts for the conservative outer line with Fangio and I use my cache of wear tokens to pull up alongside the leader.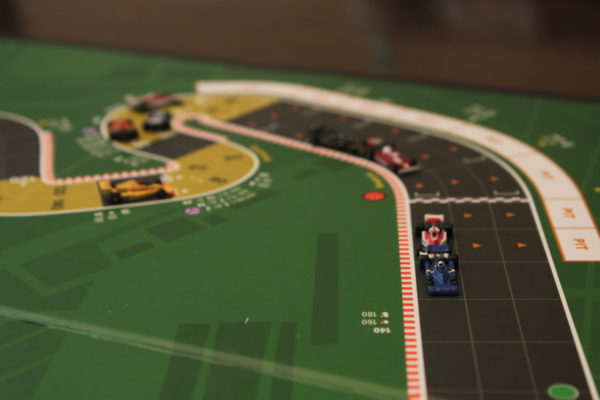 I test acceleration and it pays off as I push ahead of Fangio.  Fangio's weaker top speed (140 mph) and his strategy not to test limited him out of this turn.  Senna drops way back as he was not able to clear the corner during the previous round.
I still have more wear than either Fangio or Senna so I burn down again to take the inside line to solidify my lead.  Fangio's car is no match for mine and he's out of resources to push hard to keep up.
My car's superior speed on the straight opens up my lead much like Senna did in the previous lap. Senna's car can outclass mine so he's able to make gains on Fangio.
I maintain my lead on Fangio but Senna roars back.  He is able to push his car's acceleration and top speed beyond its limit to overtake Fangio and start cutting down my lead.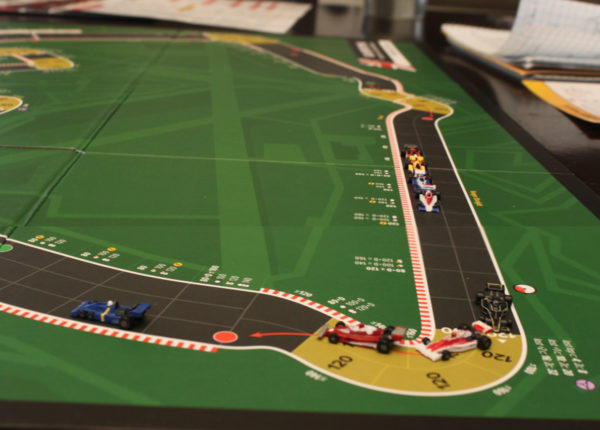 I'm able to maintain my lead on Senna for the moment but the same choking turns that caused Senna to misstep are coming up. The back of the field sees some surprises as Alonso overtakes Vettel and Villeneuve starts charging.  It's about time as Villeneuve is sitting on a mountain of resource tokens and better start using them if he wants to see any real gains from this race.
We make through the next corner but my lead cushion is all gone and Senna's special ability to free late brake makes it hard for me to really stay ahead. Alonso, solidly staying in front of Vettel, now starts battling Rindt for 4th.
I burn my last wear to push a little farther ahead of Senna in these final turns.  I'm so close to finishing this race but the most dangerous area is right ahead. Vettel won't go away and pushes around Rindt (his conservatism ruining his chance to really contend with anyone) and is back to fighting with Alonso.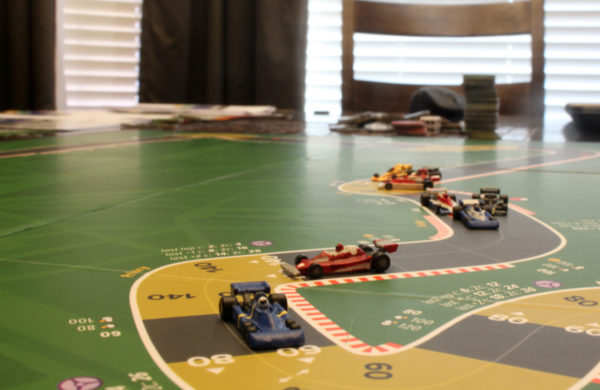 Disaster strikes Fangio as he makes a last desperate push to contend.  Luckily it is only a spinout but this late in the race, it will ruin his chance for any top finishing spots. Vettel uses the distraction to pull ahead of Alonso.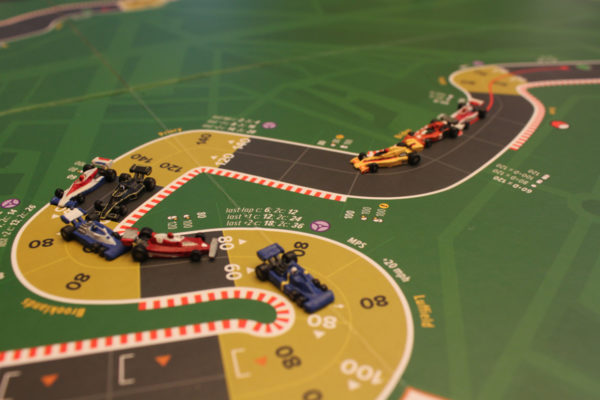 These tight turns take their toll and I opt for the slower inside line again dropping to an agonizing 60 mph as I watch the field catch up.  Of note Villeneuve (yellow) is in seventh and is now only 7 spaces behind the leader.  Vettel is in charge on these turns and Rindt is finally getting some balls to battle Alonso. Senna has to make his move or settle for second place.
Ah, too many lucky rolls, Senna, the dice were bound to bite you at some point.  Luckily, it was only another spin out but it's a brutal one on the final turn. I'm only able to push to a sad 80 mph out of this turn but the race is all but mine as Vettel (now amazingly in second place) has a weaker car and can't threaten my lead.
I take the chequered flag for the win! Vettel wins his battle against Alonso and takes second. Alonso comes from 8th to make 3rd place while Rindt settles for 4th.  Senna takes a bitter 5th place. Villeneuve, 6th. Räikkönen, 7th and Fangio taking a hard 8th place finish.
It was a fun race but I think Silverstone is my least favorite course.  It was a long game running all these AI schemes and I don't know how Douglas Schulz does it on his blog with 9+ other racers.  Afterwards, my mind was mush.  Still a fantastic game and a great solo experience but I won't be running that many Historical Drivers in the future. The sweet spot for me seems to be adding 4 or 5 other racers.