With the Thanksgiving Holiday came a much needed break. Things are still pretty hectic but I've still been able to work on some projects. Mainly, more of my Inked re-theme of The Walking Dead Here's Negan board game. Having gotten the figures mostly complete, I've run into the same issue I usually have with these ventures: terrain.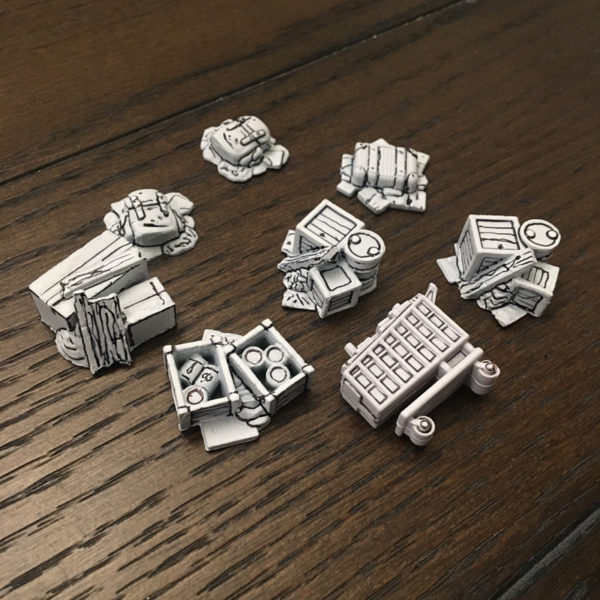 Most of these pieces are from a second set of Mantic's Walking Dead game but the shopping cart is from their older Mars Attacks line. Everything is primed white again and inked with the Microperm pens.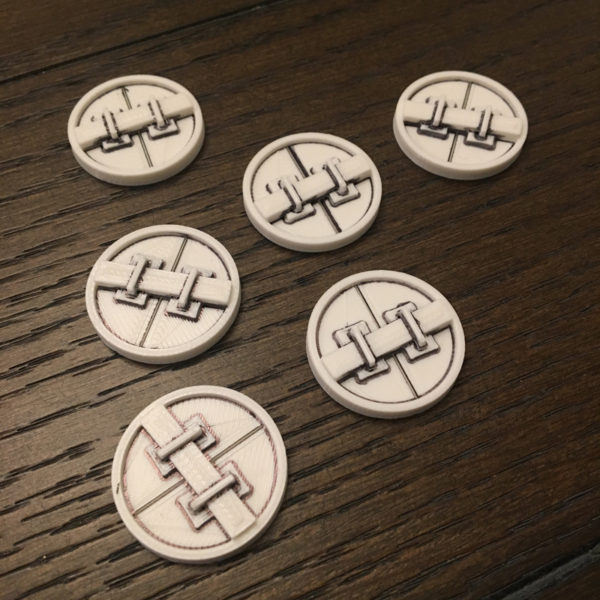 Reese also printed up my custom "unsecured" tokens. Since he printed them in white, I just used the pen right on them and inked out the contours of the token.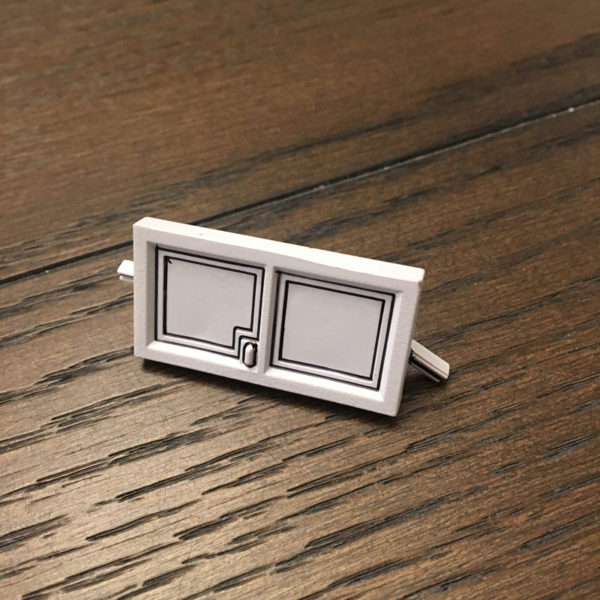 Some additional barricade scenery was, again, from the Mars Attacks set.
Scenery terrain pieces and 3D tokens weren't the only thing I needed. With all this inked material, I couldn't use the tiles anymore either.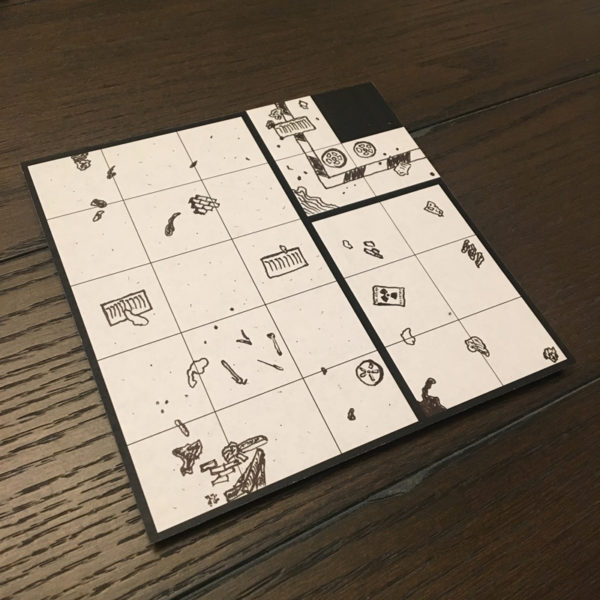 I mocked up the general layout of the grid space for the first four tiles in Scenario 1 and then freehand drew on them as best I could.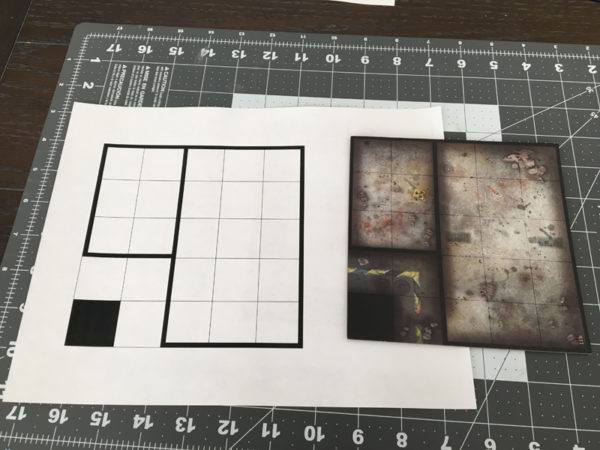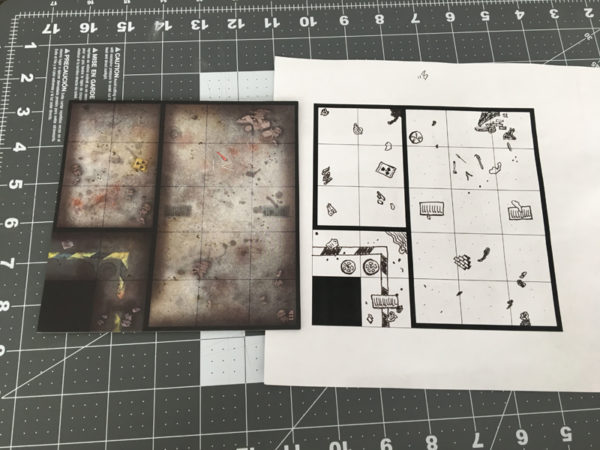 After first drawing it all on paper, I trimmed it down and used spray adhesive to mount it to black foam core board. That board was then trimmed down to the final size and became one of the player boards.
I completed the first four boards so that I could run through the first scenario. I found that I'll need to do 26 more to complete every tile (which I assume will be required to play all twelve scenarios). I figure I'll just do a little each time I need to run a new scenario and gradually get to all of them. I noticed some of the tiles were just mirror images of each other so I might just cheat a little and scan some to flip around digitally and reprint. We'll see.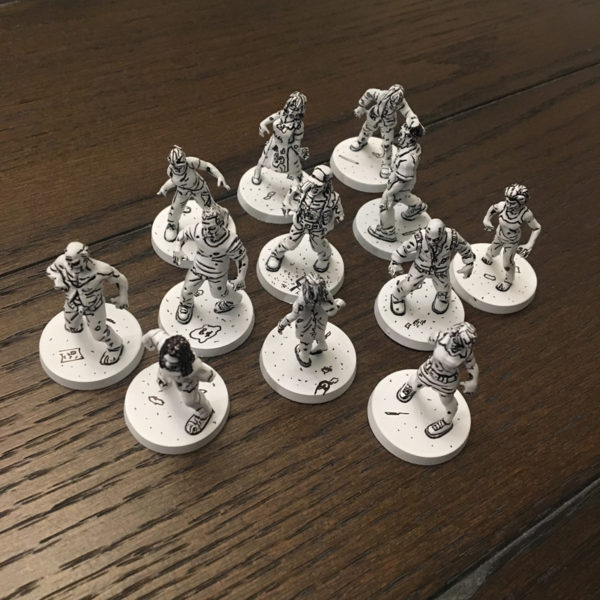 Lastly, I finished up all the minis by adding basing effects on the previously white bases. These effects were simple freehand drawings similar to how I filled out the boards.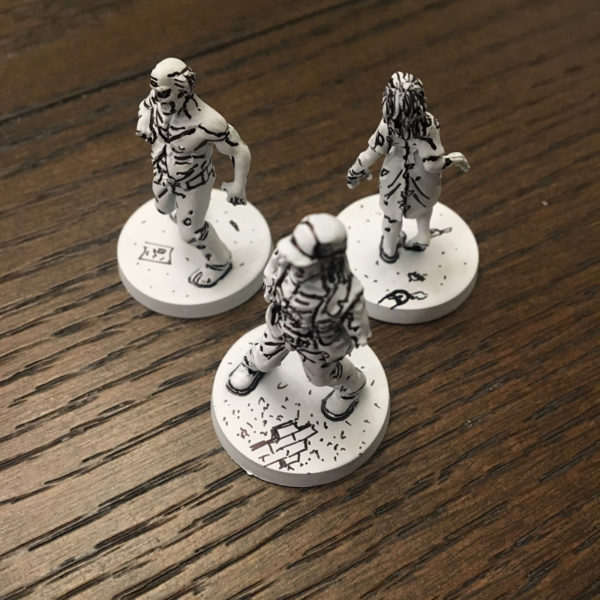 I knew I'd want the heroes to have a slightly different design to help pull them apart from the walkers so I went with a consistent "tile" design.
As you can see, my lines don't need to be straight. It still all works together if you do enough of it. Not claiming to be any kind of artist but doing similar work over and over tends to generate a style and then you can just keep going.
So that is it for most of my Here's Negan: Inked! project. I still have more tiles to make and want to add a few revised tokens to help keep everything in theme but putting it all together seems to work well.