My last Photo Friday focused on some art shots of Blood Rage miniatures and I hinted that there was both inspiration and purpose behind it. Today, I showcase what that was all about by emulating one of my favorite pieces of board game art, Vincent Dutrait's Blood Rage poster from Boardgamegeek's Artist Series #1.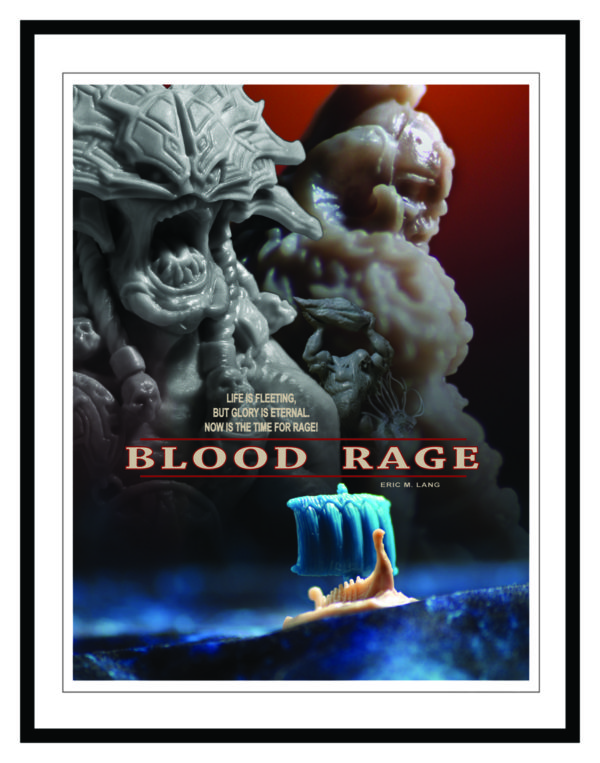 This homage to a great piece of art was a lot of fun and I'm glad it turned out as well as it did. I have a large print of his masterful work hanging in my game room and seeing it everyday got me thinking about if I could recreate it.
Looking back at the original, you can see Mr. Dutrait's use of the actual miniatures is very realistic, it in line-art form. There were some liberties taken with the pose of the giant (reversed from the actual miniature's pose) and the profile headshot of the viking warrior (I don't believe that exact helmet was used). Finally, the boat isn't the same kind of longboat form used in the game but they are all close enough that it was easy to photograph the poses for the compiled shot.
I decided not to recreate the Yggdrasil sunset as it would have to be pulled from stock photos or illustrated by hand and both options didn't seem fitting. I almost took out the reversed giant and sea serpent as they looked a little tacked on in my shot but when I added the titling and taglines in Illustrator, it seemed to work out. Putting things together gave me another interesting shot that I really loved so we'll end there for the week.