My Greyrock band is really coming together and all they need is an intelligent leader to guide them to victory. The mage, my Gnome Magister, is no conjurer of cheap tricks. Instead, he is a master of the elements and surfer of the thermal waves. This Magister is a magical extraordinaire who takes to battle in an enchanted flying carpet so he can guide the team from above while dealing with terrible foes with his eldritch might.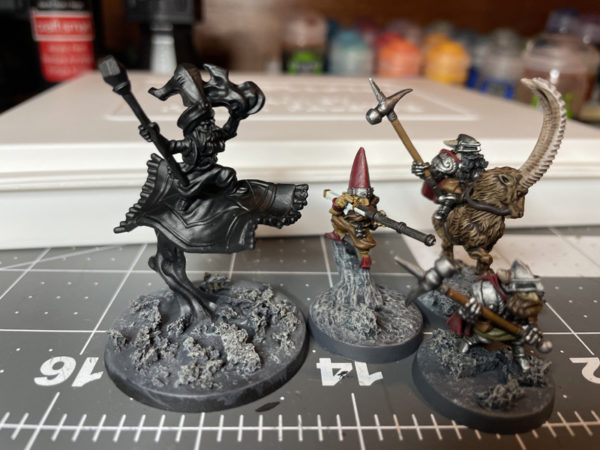 The Magister is on a large base and had to be pinned to his big carpet. Luckily, there was enough material in that "wave" sculpt to get a pin through that back foot and sturdy him to his "mount." This model, being bigger, seemed more of a showcase for the team so I spent a little extra time getting him where I wanted him, aesthetically.
Again, I started with the face and skin to get those where I wanted them. Relicblade minis have a cartoonish set to their eyes so getting those right takes some diligence. The sculpts emphasize these large orbs so it didn't seem right for me to leave them black. I think on the table, they'd be fine but all my work on super small infinity eyes seems to be paying off.
The flame and "wave" work was done freely and without much concern to blending as it seemed inline with the art theme in general.
Magic carpets tend to not be your run of the mill house accessories so I spent some time doing some freehand additions like I saw in some other users examples of the painted model. I added some freehand magical glyphs as well. This was almost a disaster as I tried to add a bunch all around and it just looked like a mess. I painted over all except the four corner ones and that really helped pull it back down and not overwhelm the viewer with junk.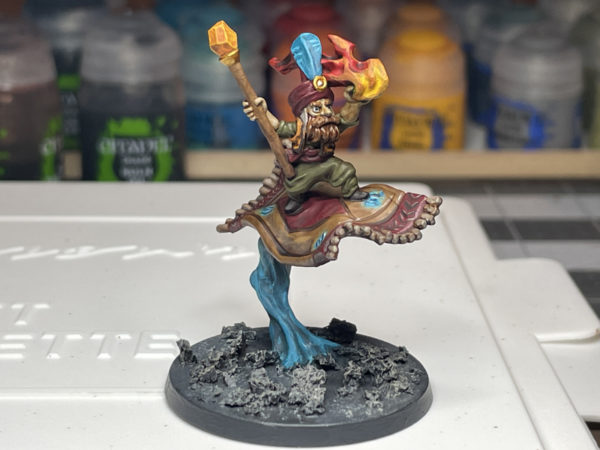 More grey rocks and my Magister is complete, also completing my whole group.
Since I don't have anything like a local group that plays at my house anymore, I always have to think about how I will transport these new minis. I decided to use the shipping box my minis originally came in and create a little storage set.
Foam core was used to make some individual holding cells and old infinity package foam was glued in to keep the team safe and secure. The large section holds the dice, counters, and game cards while the height of the foam core allows the rulebook to nestle in right on top for a perfect fit. The Gnomes of Greyrock are ready for adventure.