All the way back in January, TTCombat announced the first ship of a possible Dropfleet Commander faction, the Remnant.  This ship, the Centurion, was a special show exclusive model but has a lot of potential to be the beginning of something great for Resistance faction players hoping to get into the fleet game. I picked up two of the models even though I own nothing for Dropfleet and almost eleven months later, I finally worked one of my copies up.
I was going for a similar paint scheme as my Orbital Laser since this is supposed to be old school fleet around the time of the initial Scourge invasion.  It was a pretty easy paint scheme with just the painted primer for the main flats of the ship and silver for the exposed areas and weapons.
I tried out a new technique where you wash the model in your normal wash and then, when the wash is setting, you lightly scrub off the wash from flat areas.  The effect should leave the wash in the recessed lines while cleaning off the excess, leaving a clean model with nice lines.  To scrub off the wash, you wet a Q-tip in Windex.  A friend of mine that is versed in the technique said to pinch out the excess Windex and then remember to lightly scrub across the surface.
I think it worked well and got away from the dirty look I usually get when washing my miniatures. The primer I used was pretty thick (I don't really like it but it is was it is) and filled the details in a little too much.  The wash settled in in the lines but were easily scrubbed out when I wiped the model down.  Most of the lines are intact but there were parts where it didn't fully work.
Overall, I'm pleased with it and happy to have my first Dropfleet ship complete.  With TTCombat's new Battle for Earth book coming, maybe we'll see a full Remnant fleet and I can join in both sides of the conflict.   Battle for Earth is to be the next chapter in the saga of DropX and will feature the full Second Edition rules as well as new units.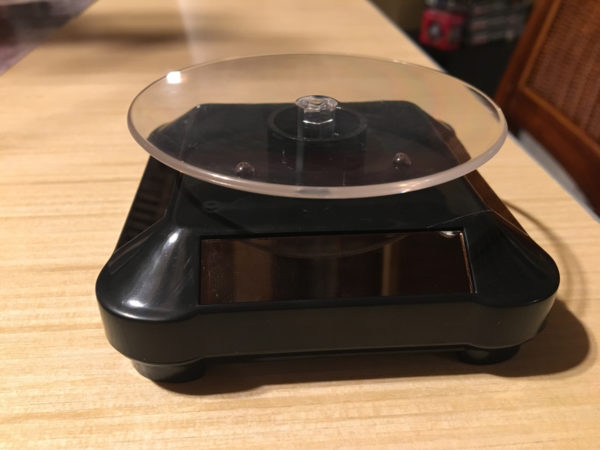 I also got a new little toy.  This is a solar powered revolving jewelry display. There are a lot of options online but all run around $10.  I bought to showcase minis in at 360 view and have my first example using my new Centurion model.