I know, I know. You might be thinking, "He can't possibly have any more posts about Batman Metal…" But, you'd be wrong.  I have one final thing to wrap up and this one is a little odd as it's not game or minis related.  It is the finale to my Metal comic collection: my comic's case.
Wood is the new Metal after all.
So this case is from a promotion box containing a Caribbean rum that I commandeered from a friend.  It's size is big enough to hold my Metal comics and then some.
In addition to the mandatory handle (in metal), it has a sliding lid to reveal…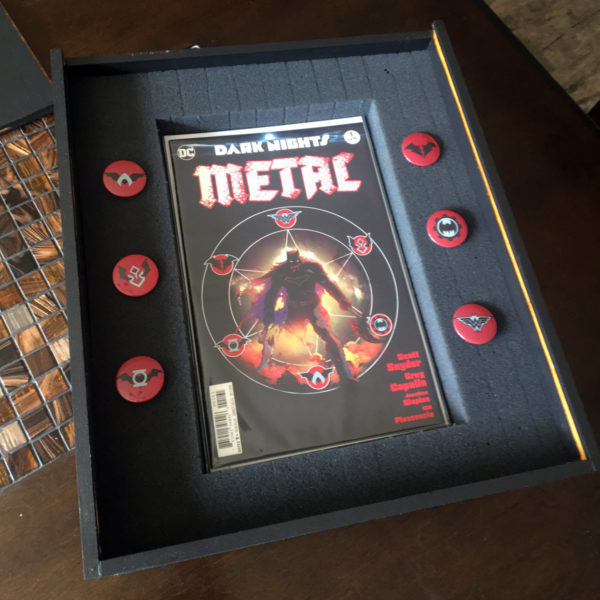 ..my collection safely contained in foam.  This is battlefoam's four inch pluck foam.  The width was perfect so I trimmed the length to fit the height of the box.  I was pleasantly surprised that the foam cubes plucked out the perfect footprint dimensions for a bagged and boarded comic.
The buttons are the promo give-a-ways for picking up the first six Dark Knight one-offs.
The comic stack is about 3.5 inches tall.  Since the spines all run slightly thicker than the comics themselves, I have them alternating direction to limit the warping of the lower issues.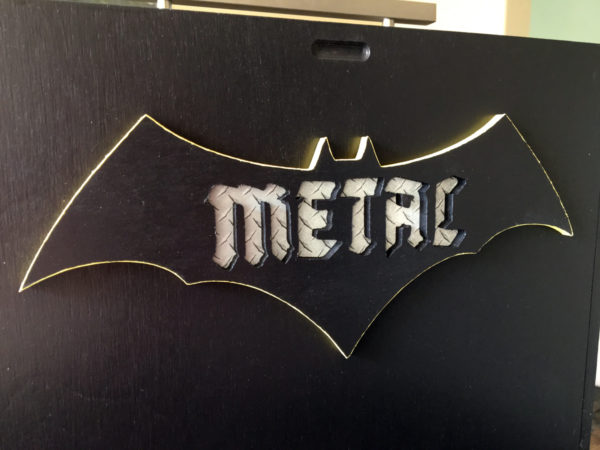 The logo was cut from my CNC machine and then painted up in the Rebirth style with the yellow highlighting the out edge of the bat symbol.  The diamond plate logo lettering was backed using a reflective safety sticker.
Comparing the two fonts, it looks like it turned out pretty close to the original.
It was nice to be able to store these comics securely. I prefer the graphic novel format as I don't have to be so careful with the issues but it was a lot of fun collecting all the event issues that came out and remembering what it was like to collect comics again.
This largely concludes my major Metal collection.  I'll be painting up the Knight Models' figures eventually so we'll still see more of it around but likely with less fanfare.  Though info from San Diego Comic-Con had discussions of a new mini-series coming in November based on The Batman Who Laughs so who knows…