As I mentioned on Friday, we had an intro to painting session with a friend that has decided to join the hobby fold. He's been on the sidelines, listening in, but now he's ready to get into the game.  I decided to start from scratch so we first put together a mini from the North Star Frostgrave Soldiers set and then dove in with the two models I assembled/primed earlier.
The torch is a little comically close to this guy's hat but it is also damned cold out in that frozen city so you know what they say, build a man a fire and he'll be warm for the night. Light a man on fire and he'll be warm for the rest of his life.
After the torchbearer assembly, we got down to some painting.  My friend took the sword and board guy while I took the mega sword dude. We're using the Citadel handles I picked up a few weeks back and my friend loved them.  The next day, he even went out and bought one for himself.
The point of this session was to get through some simple block painting and then finish with a wash to show how one can get through these figures quickly and easily.  During the evening we'd talk about tools to use and some small technique things but really it was all about getting comfortable throwing paint on the model.
After a bit of painting and kibitzing, we both finished up our block painting scheme.  I still use crappy craft paints after all these years and pull brushes from Hobby Lobby on 50% sales so I encouraged him to do the same to start out with.  Another friend uses Vallejo paints and his models look fantastic so I hope that we can expand these boot camp sessions to show off what higher end paints are like.  After seeing the results of both, he can then decide where he wants to go with his own setup.
We wrapped up the evening with the wash.  I don't cheap out with washes (mainly because they don't really make them) so we were using the Games Workshop washes Nuln Oil for my friend and I still had my classic Devlan Mud.
This was a little different than just covering your model in paint so we did these one at a time.  I went with a full strength wash on these (most of time, I'll dilute them for control) because we were running out of time and multiple rounds of washes would have taken too long.  The wash is probably my favorite part of the whole painting process.  The model can look like total crap but then that wash goes on and it is like magic.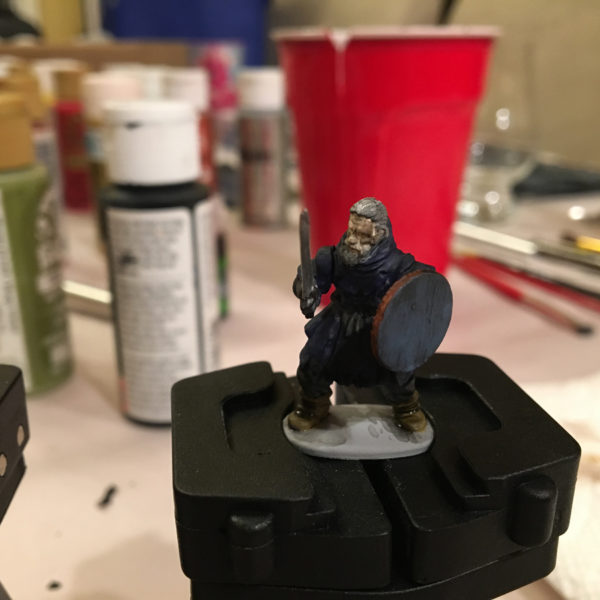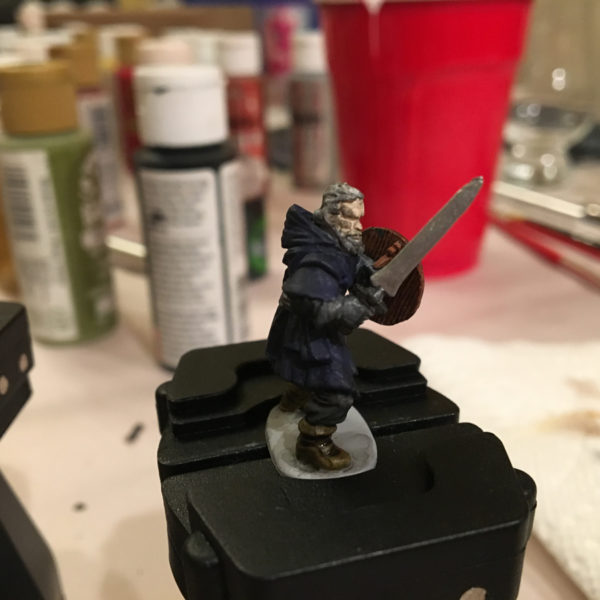 My friend's model used Nuln Oil since most of his model was with cool colors and it ends up bringing a lot of the grizzled look he was going for.  The old man grey hair and beard with a shock of white worked very well.  Also, there was a weathered effect he was going for on the shield using my overly thick paint to create texture on the shield face and that turned out as well. He did realize that his base color was pretty dark so the wash didn't create as much effect as he was expecting but that was the whole reason why we're doing this. What would help is a follow up round of highlighting in that dark blue tunic but we were out of time so we'll have to try that next time.  He was also a little disappointed in the grey on the face and I should have had him Nuln Oil all but the face and then hit the face with the more natural Devlan Mud.
At the end of the evening, my friend was very pleased and had a great time, which is light years away from where I was when I started. I hated assembling and painting minis (and sometimes still do) but I like the end result and the effort always feels like it pays off even when things don't turn out as well as I'd hoped.  I think we have a new convert and we'll be getting a Frostgrave group together soon enough.