I'm still chilling out in my hobby hiatus but we were at the Museum of Science and Nature recently and I remembered I drafted this post almost a year ago.  I dusted it off and decided to finally post it.  Initially I was waiting to get more info from the Museum but they never responded.
Every time we go to the museum we stop over in a little corner of the building to check out the small display regarding Ancient Egypt. While the kids watch videos and ogle the mummies, I've been enthralled with one of the exhibits' educational pieces, a large diorama depicting the life and times of ancient Egyptians living in and around a temple.
This large glass cased display is about 10′ x 6′ (rough estimate) and packs a lot of great detail into the space.  Every time I look at this piece I find something new and figured I'd share some of my favorite vignettes.
This is a pretty simple farming scene outside the temple walls near where the common workers live.  I believe the scale of the model is about 10mm based on the size of the human figures compared to my Dropzone Commander figures.  The shape and size is more "life-like" with proportional appendages instead of the chunkier figure style we typically see in wargame minis.  Obviously, these minis aren't meant to be handled after they are displayed so it is easier to have super thin arms and legs without worrying about the figures standing up to abuse.
On the outskirts of the temple, they have a full diorama of a village. I really love the old-school education this piece offers. The text is simply stated regarding what each area of the diorama is depicting, allowing the viewer to draw their own conclusions about how life continued.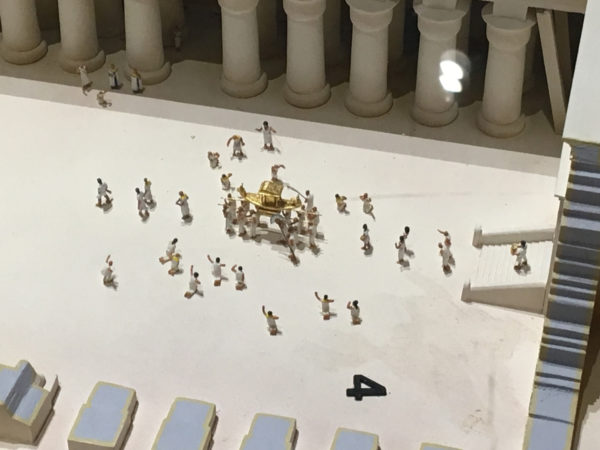 Complete with partial cutaways to allow for unobstructed views of the scene, the detail is fantastic with minimal effort. I can't help but wonder where all the figure models came from. Museum Diorama creator Aaron Delehanty discussed how he created a Hemudu village for the Field Museum in painstaking detail:
He built the homes with floorboards made of popsicle sticks, spending hours hammering and scraping them, staining them with coffee, and speckling them with red paint to simulate blood stains because people usually went barefoot. Delehanty says, "I wanted the floorboards to tell a very complex story, as if they were worn down by generations of people."

https://ideas.ted.com/gallery-the-art-and-science-of-museum-dioramas
If Delehanty is going to those lengths to recreate floorboards, these figures could be molded from scratch or, in the least, hand painted.
And the artist didn't pull any punches as he even depicted sacrificial chambers in the cutaways. Finding these little scenes really bring the whole piece together. What's more is, in researching how museum dioramas are created, the effort for authenticity gives rise to the feeling that the scenes aren't just interesting, they are important.
There is another take-away for the wargamer here: the authenticity in your terrain and models can matter as well, whether historically accurate or based in fantasy- your choices matter. What stories are you trying to tell? When we game, ultimately that is a major point of what we are trying to get across, the story of these fantasies and re-enactments. We want to relive or experience something beyond a fabricated entertainment blitz. We want those stories to matter. Seeing this piece in the exhibit always reminds me of this and I find it inspiring.