After a break, our team concluded our 2-game mini-cup with a 2-lap session of Nürburg. We all took a moment to re-tool our cars and I decided to create a lop-sided car with an 80 acceleration and a 40 deceleration.  To help compensate for all the late braking I might need to do, I dropped my skill in favor of more wear tokens.
After the bidding, I did slightly better than last time and came in 4th position.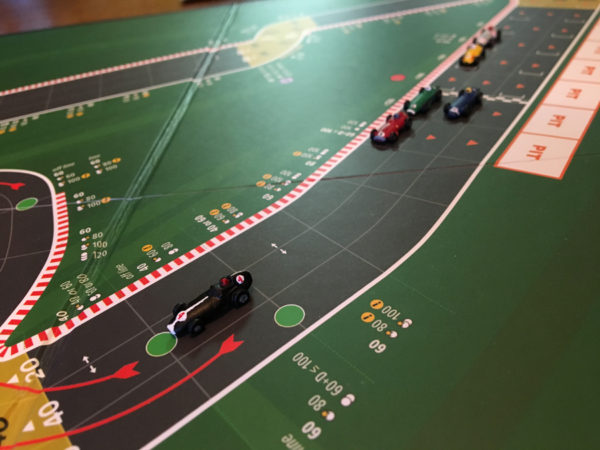 Colton, in the black no. 4, decided to follow the "lead from the front" strategy in the rule book and bid high for pole position.  He took off quickly, pushing his start speed to 140 while the rest of us played conservative and fell in line.
Using my acceleration, I (green car) pulled into 2nd following slightly behind Colton. Sterling in red decided to take the outside line while Reese in Blue fell in behind me.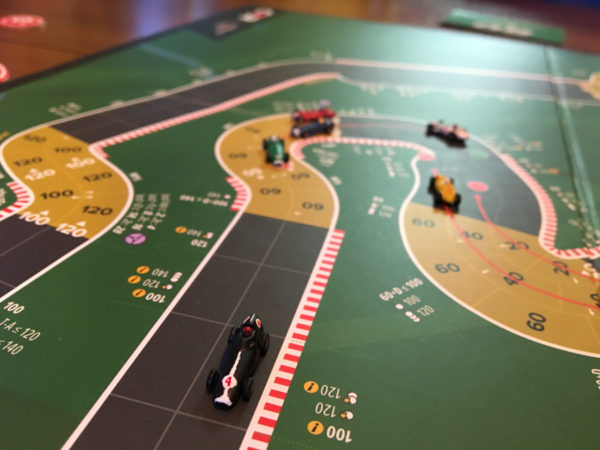 Colton continued to push and burn wear while I fell back a little.  Sterling's outside line caused him to fall back into fourth.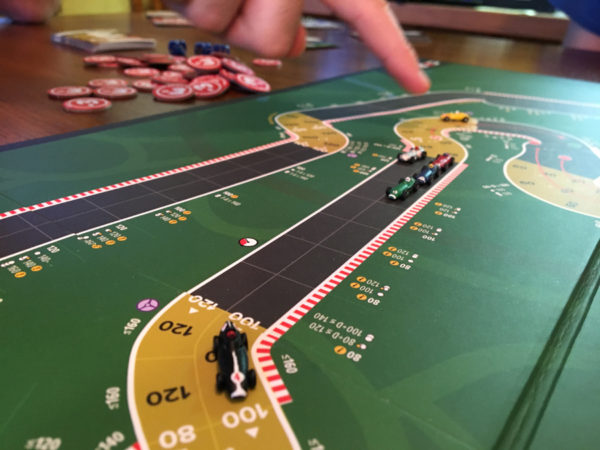 Colton used the straight to widen his lead and quickly was getting into a dominant position.  James' silver car started to make a move on the pack I'm leading.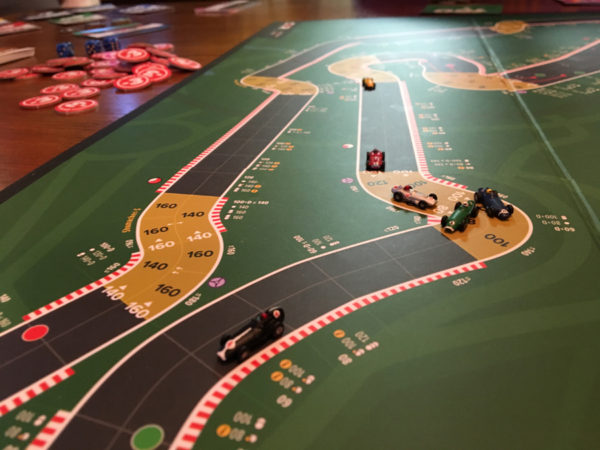 The third turn pulls Colton back a little but James is able to push hard to fourth and battle into the second place scrum that is developing between Reese (blue car) and I.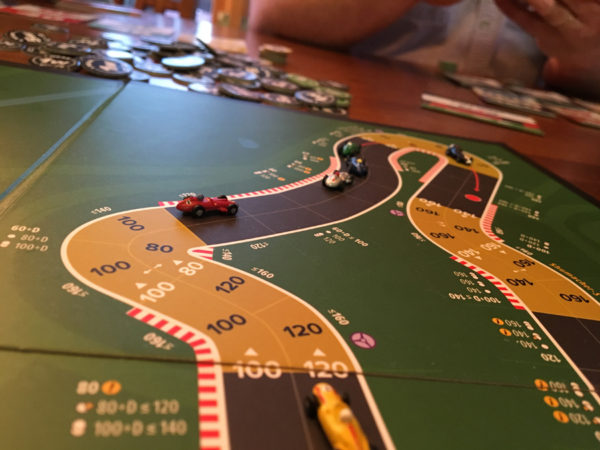 A shot from the rear as Colton starts the next turn and James falls in line behind Reese and I.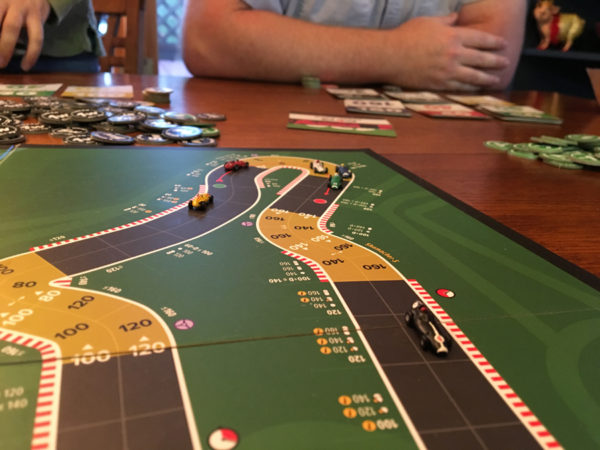 Heading into the straights, James starts to get into position.  His car is the fastest with high acceleration and the highest top speed of all of us at 180 mph.  He also isn't afraid to push it to 200 when he needs to.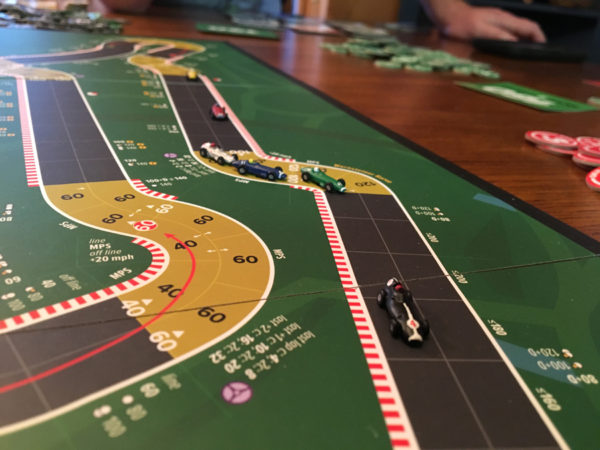 It doesn't quite time out for James and he's forced to get back behind Reese. Colton is able to maintain about 4 spaces on us but can't seem to get any further away.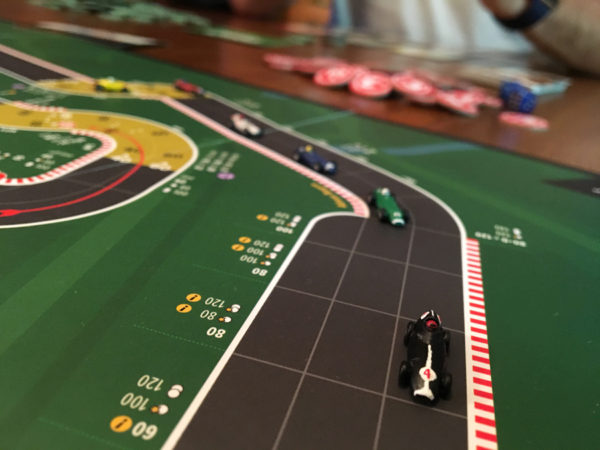 My acceleration spaces us out in the straight and I gain on Colton's ultimately slower car.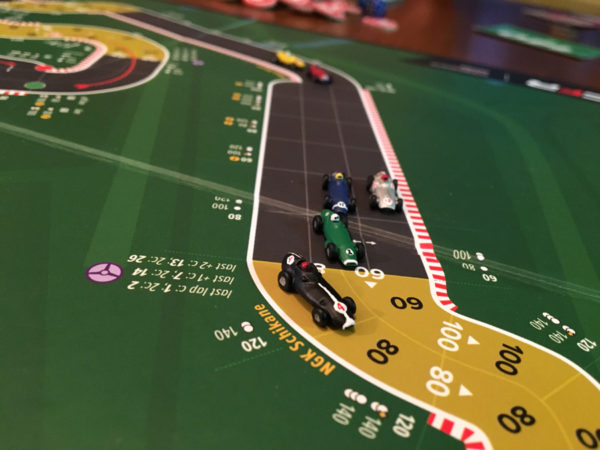 Colton is forced to slow-up for the turn and we descend on him, cutting his lead to one.  This has some unintended consequences as all hell breaks loose.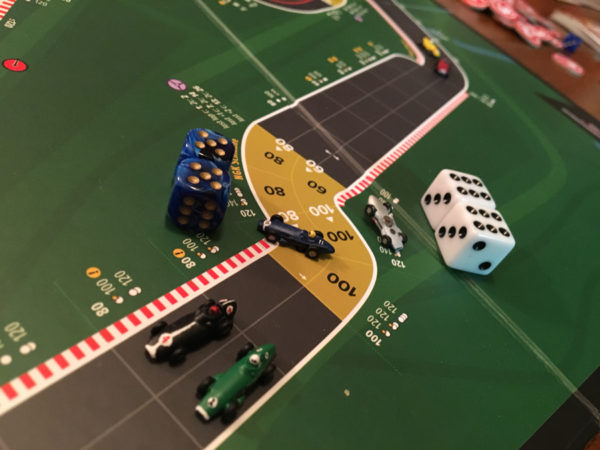 James, seeing an opportunity to really "be somebody," pushes the 80 mph corner at 140, uses two wear and a green skill token but still gets burned by boxcars on the dice.  The resulting crash happens before Reese can approach the corner and the debris causes him to spin out.  Since I got through before James' death rush, I was about to pull up alongside Colton.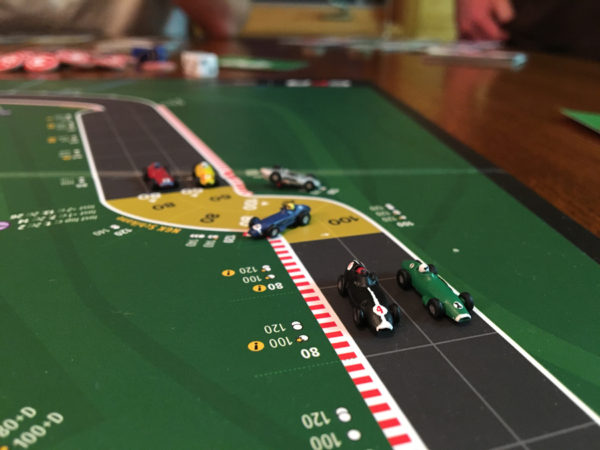 Sterling and Jeremy round out the crazy turn by starting a battle for 5th place.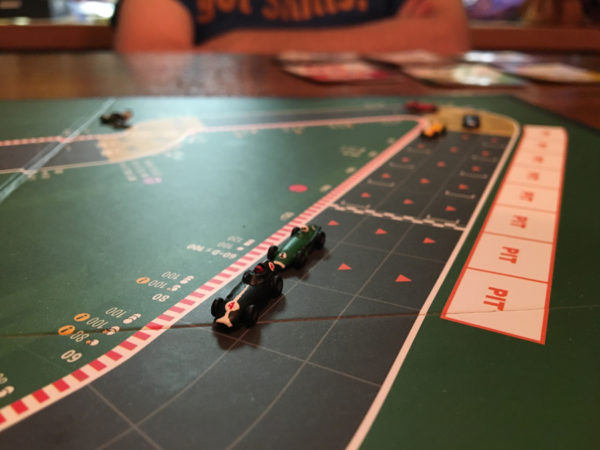 Colton is able to negotiate the corner and I'm not willing to risk hitting the corner at a faster speed to beat him off the line. The craziness of James' wreck allows Jeremy to blast into 3rd from the rear.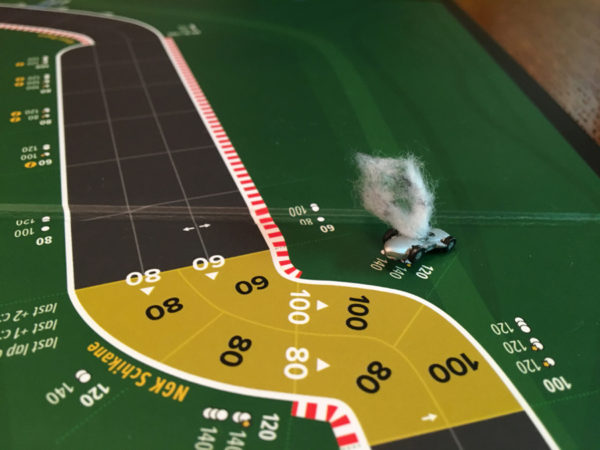 James is able to get free of his wreck moments before it starts to smoke and flame.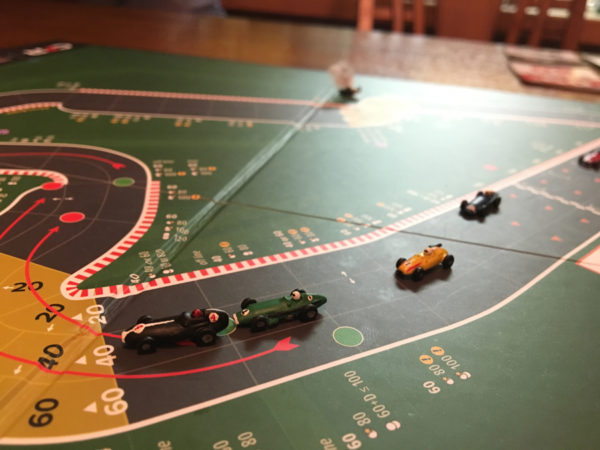 I totally mismanage this upcoming turn as I know Colton is going to go 80 mph to line up this inside line (eventually slowing to 60 mph) and he is out of wear. For some reason, I think I'll be able to go 100 mph get alongside him again. Instead, I chicken out and end up late braking and burning my wear token advantage on him.  At this point, I realize that if I just maintain second, my overall points will give me the Cabin Con Cup.
Re-evaluating this turn, I should have maintained my 100 mph and taken the outside line. The next turn would have dropped me to 60 (or 80 if I wanted to spend the wear I would have lost late braking).  Either one would have put me either alongside Colton through the turn or one space past him to take the lead.
Colton and I take this first turn at the stock value and cause Jeremy to late brake but it messes up his deceleration and he spins. I'm in the beginning of the turn now doing 40 mph and Colton is in a great position to accelerate out of the turn.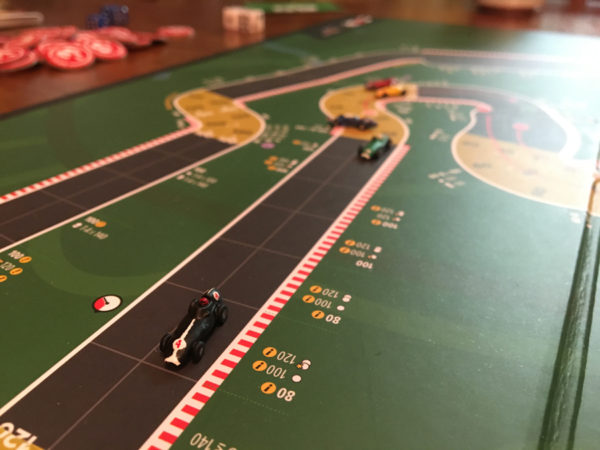 I botch the corner and Colton is able to take off again. Reese tries to make a move but spins out and Sterling starts to march on Jeremy.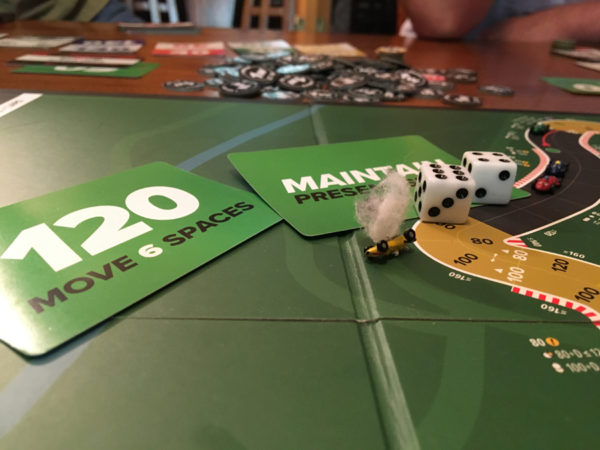 Jeremy pushes again fighting Sterling but with a naked chance roll, he rolls just enough to crash out and starts smoking.
Now there are four racers left and Colton has regained a good lead while I've separated from the remaining cars as well.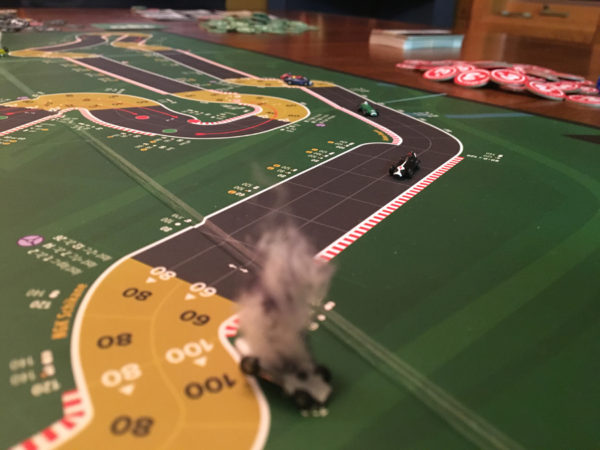 We're back in the straights and I can make up more ground as we approach "James' Doom."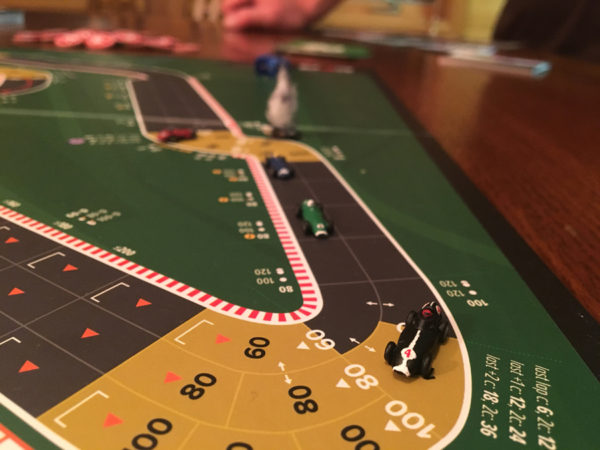 We come into the critical last turn. Colton knows my car will take him to task out of the turn as I have both the top speed and acceleration on him so he elects to maintain as much speed as possible taking the outer line.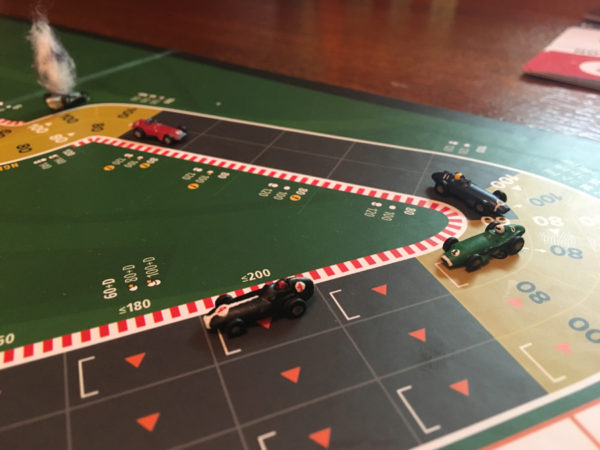 His gambit pays off as I stay 2 spaces behind but he's still going 100 mph and can accelerate to his top 140 while I'm at 60 mph and can also jump up to 140.  Even if I push to 160, I won't be able to break even with Colton so I leave it and hope Reese doesn't have a trick up his sleeve to push me out of second place.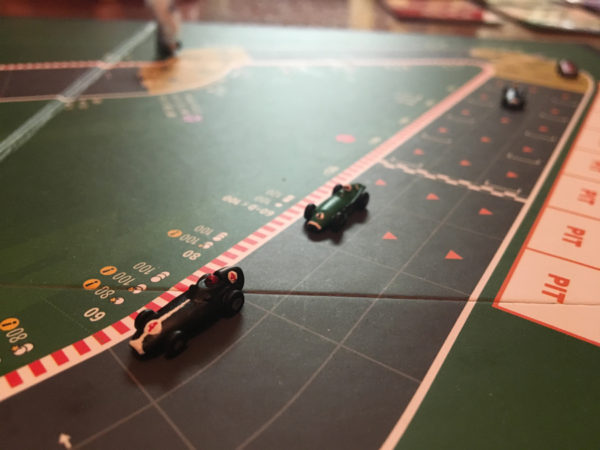 Colton takes the flag and I, predictably, stay within two spaces of him.  The race may have ended up a little different but I played conservative to maintain my second place.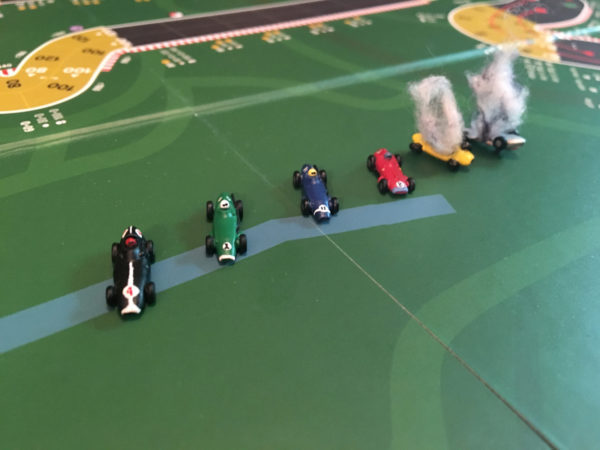 Even though the race results didn't change much after the first turn or so, I still found it really tense. It seemed like I was caught in this never ending trap of trying to keep up with Colton while getting distance on the pack behind me.  The pack behind me was frightening because they felt like they had nothing to lose and so kept pushing chance rolls all the time. If it was just one car pushing chance all the time, I'd be less concerned as the dice would eventually fail but with three cars, it always seemed like someone was on verge of coming up and winning their chance rolls.
After this race, the final standings were:
Myself: 5.1 pts
Colton: 4.2 pts
Reese: 4.1 pts
Sterling: 3.2 pts
Jeremy: 2.2 pts
James: 2.0 pts