My friends and I were looking for a time to get a lot of gaming in but realized we didn't really have the time to go far so we decided to have a "house" Con. To us, a House Con is where someone hosts open house gaming for a time, usually a weekend or so and people come and go but we more or less treat it like round-the-clock gaming.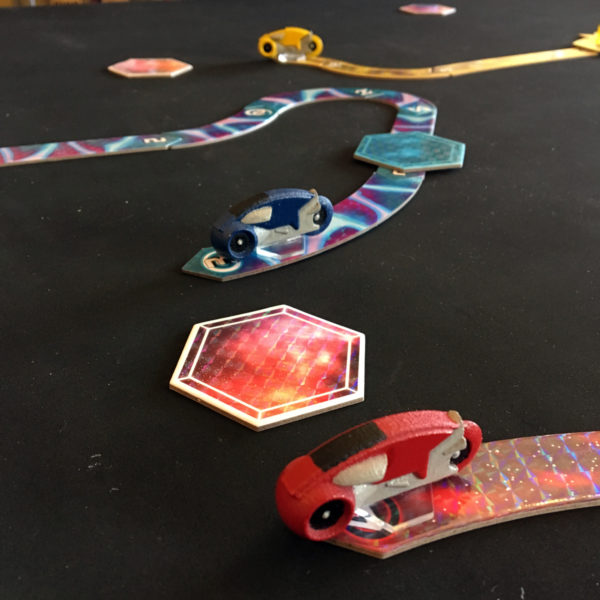 We started Saturday morning and went through until Sunday night, exclusively gaming for most of the time.  Reese wanted to start off with a print-n-play game that he'd heard about so we jumped right in.
Button Men was originally a Cheapass Game but has taken a life of it's own with fan created content and expanded themes.  It's a simple and quick dice rolling game. We ran 3 games where Reese bested me two of three.
Sun Tzu was up next.  This is a two player game that made me think about Battleline with dudes on a map. The area control aspect was strong as was the ability to bluff about where you wanted to strike or feint.  Reese and I both enjoyed this one.
Next up was my pimped out Lazer Ryderz. Reese was able to beat me to the line and forced me to crash into him and miss the prism.
In a desperate play to keep Colton from winning, I was able to beat him to the prism and make a series of high speed turns. The game turned out more intense than I suspected.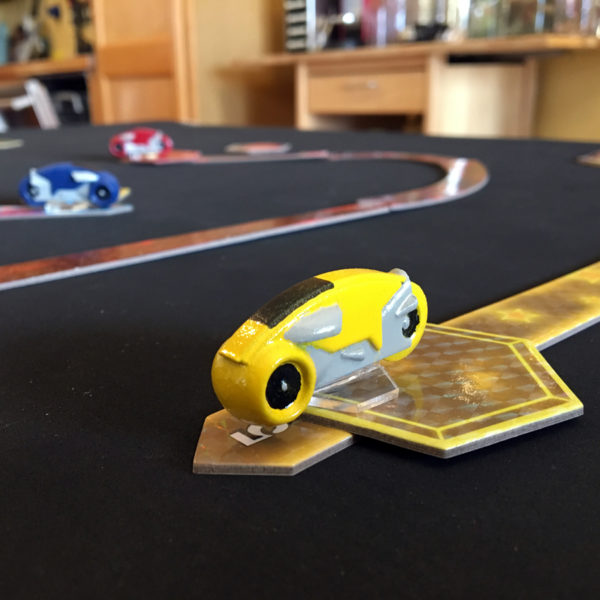 Ultimately, Colton still won out as I wasn't able to get enough speed and get to my 3rd prism before he did.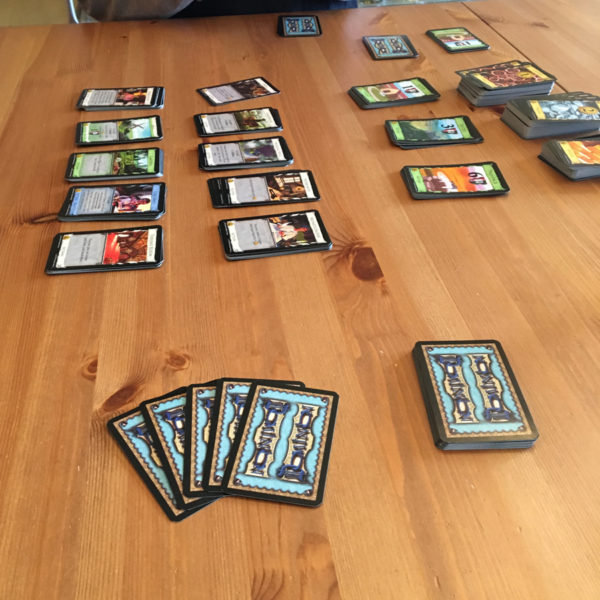 We followed up the Tron-wannabe with a classic game of Dominion.  I decided to quickly for a bloated deck of cards using Gardens (VP = 1/10 your total deck size) to win. Colton had the chance to actually win this one as his money scheme was taking down a lot of Providences but he failed to end the game before my turn and I grabbed enough cards to boost all my Gardens to 5 VP and take the win.
We followed up one deck builder with a new one, Eschaton. This dark evil cult game is part deck builder and part area control.  The art is a little hit and miss and the game has some random effects but is overall entertaining.
As evening started to set in, we grabbed the easy Kingdomino for a couple of light games. Newcomer Mike started out strong and took the first game and then Colton blew us all out of the water in the second game.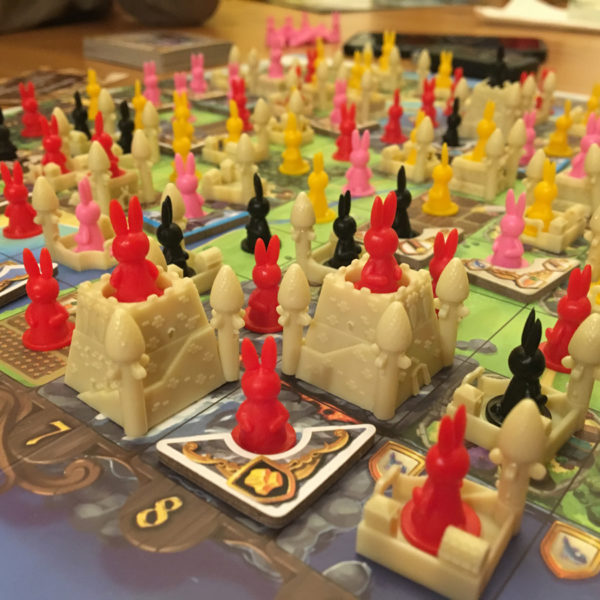 We broke for dinner and then played the area control drafting game, Bunny Kingdom. We messed up the rules a little bit that ended up favoring me accidentally but we seemed to like it enough to run it again.  The issue (as you might see from the picture) is the board is crazy busy and a bit too small for all that business. The final scoring is a bit of a pain but we think that we might be able to expedite it if we keep all our cards and count from there instead of relying on the overcrowded board.
For a change of pace, we broke open Sonar.  This is the lighter, smaller head count version of Captain Sonar.  It was fun but since Sonar doesn't run in real time like Captain Sonar does, it was a bit more methodical and thinking. I love hidden movement games and this was a pretty fun entry.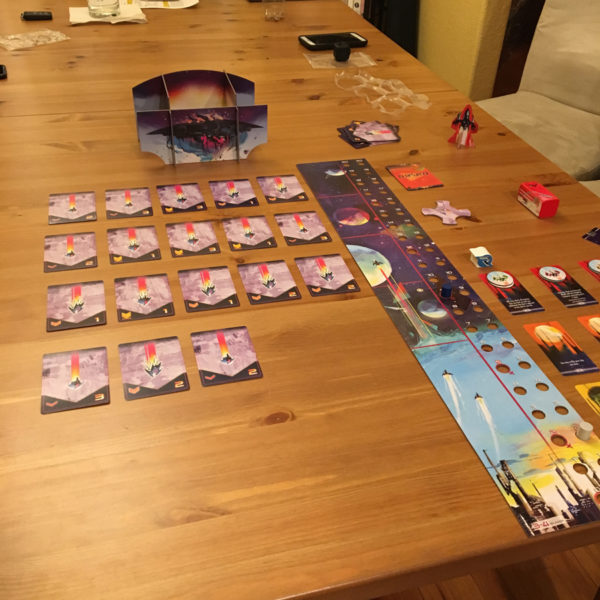 We finished the night with a co-op game of Flip Ships.  This was Mike and Colton's first time at it but you couldn't tell as they were just brutalizing the enemies and mothership.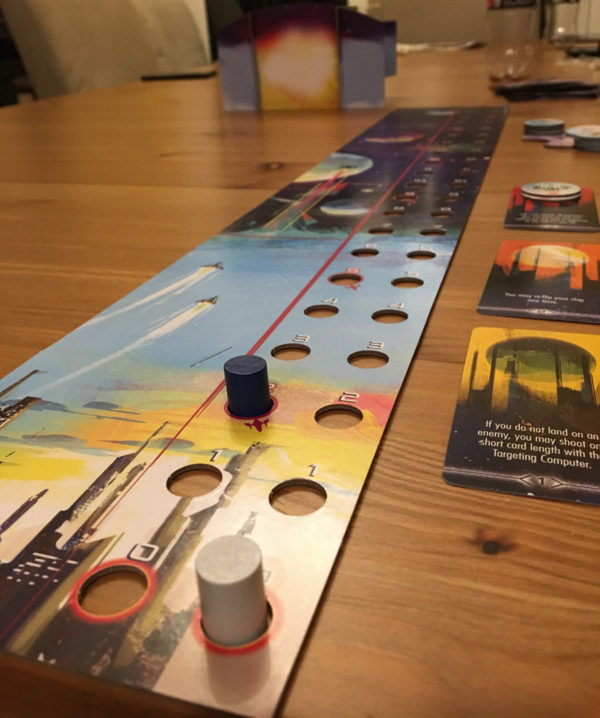 I was so much dead weight but they carried me through to victory and we knocked out the Mothership before we had to run through the last round. It was pretty tight as we survived with only 2 life left in our city.  As Colton pointed out, "at least we're alive to rebuild."  Too true.
---
Sunday started off with another print-n-play that will be coming to Kickstarter in mid-February.
The cards for Leviathans were printed to see how we liked the game and if we'd back it.  We both liked it and the real artwork is amazing.  It's an open table game with some hidden movement describing the epic battle between Ahab and his nemesis, Moby Dick.  Moby Dick got a little too aggressive at start and misjudged the closing distance to miss striking the Pequod and winning only to have me drop a whaling ship on him and send him to slaughter.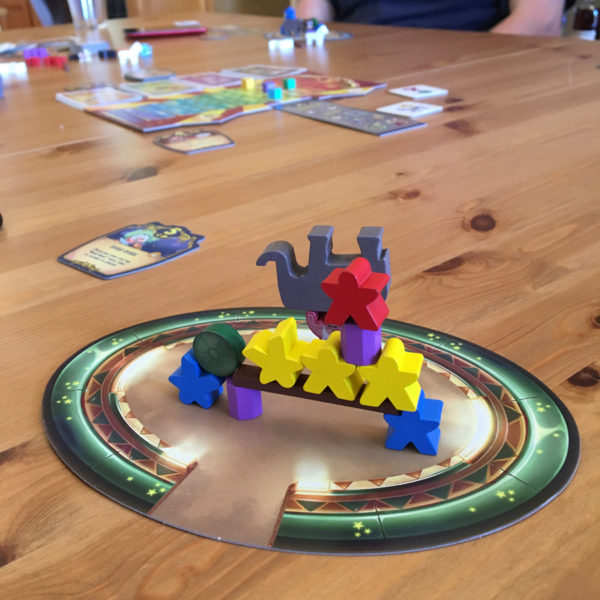 Moving on from the serious and highbrow Melville-inspired epic, we lightened things up with a game of Meeple Circus.  This game continues to be fun with it's dexterity and wacky setups.  My friends were almost concerned for me as tried to finish the last act in this picture as my nerves were hilariously out of control and my hands were shaking like I had advanced Parkinsons.  I was able to get through it and my finale carried me to victory.
We then tried out the advanced variant of Cable Car.  This Tsuro-like game gets flipped on its head in the variant as you don't control one type of cable car, but rather, you choose stock in various types of cars and then try to push the cars you like to victory. It was a bit more "thinky" than the original version or Tsuro can get but definitely a good way to play the game.
We hit a classic game of Roll for the Galaxy.  Colton and I both decided to run the Production-Shipping game to consume VPs but my game engine was just a little faster and I was able to take the win.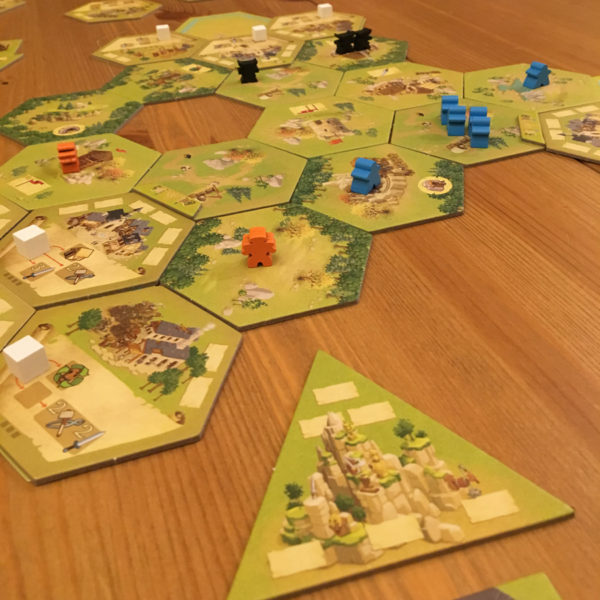 Evening brought the gamers to just Reese, Colton, and I so we tried out the Warcraft II like game, Meeple Wars. The pacing of the development is a little slow but I totally failed hard on this one and got beat down by both Colton and Reese.  Colton had a few opportunities to win the game but forgot about some abilities and powers and Reese ended up taking the win in the end.
Tired of learning new rules we closed out the night with a few constants. First up, We ran Isle of Skye.  I tried to win through some of the scroll VPs on my map instead of the regular round-by-round options but couldn't quite get there in this very tight finish.  Reese, again, took the win.
For the last game, we brought it all home with a quick three player game of 7 Wonders.  Colton went science heavy so I burned him by dropping every "wheel" science card I saw.  Usually "hate-drafting" means you make one player lose and also lose yourself but Reese got resource hosed and couldn't complete his wonder.  In another tight finish, I won with only six points separating first and last place.
---
It was a great couple of days of intense gaming.  We burned through a lot of games (fifteen total uniques, nineteen games played total) and had a lot of fun. It was nice to see a good variety of older games we all know and learn some new ones.  With the success of this, we talked about doing this more often but we'll likely shrink it to a single day for the ease of finding time to commit to it.