One of the first hobby board games I came to appreciate was Ticket to Ride by Alan Moon.  Such a simple, yet effective game, I've found that very few casual games elicit the nervous end game anxiety that this one can. Being a great game that can be shared with gamers and non-gamers alike, I was happy to see Days of Wonder (DoW) produce an upgraded "Anniversary" edition.  I've often wanted to create a larger scaled version of the game and pimp out it's contents like I've seen at GenCon (taken from Tony Hope Romero's post on io9):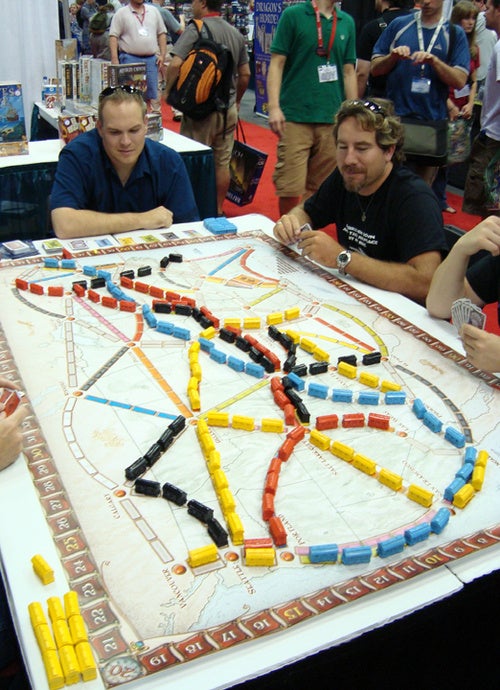 Thanks to DoW, I don't have to:

The new 10th Anniversary edition has a lot of upgraded components including new card art and a larger board (also with new art) but the most striking upgrade is the new plastic train pieces. DoW provides a new theme to each of the player colors by introducing detailed train cars and holding them all in a thematic tin:

Along with a larger board and reworked art, the publisher decided to have a little fun with the new art and put in quite a few easter eggs (I heard rumored to be about 20-25 fun little things on the map). My favorites include the geographical Duluth paradox being acknowledged:


And the reference to a favorite guilty pleasure movie, Stardust, based on the short story of the same name by Neil Gaiman:

Overall, the quality is great and the reworked art, detailed trains, and larger board size make the anniversary edition a great addition to my game collection. There are a few weird production missteps like the omission of the 1910 expansion rules when they included all the 1910 game components, the mismatched color of the "yellow" player and the corresponding Brown train cars, and the box insert not being able to accommodate sleeved cards. Since I've played Ticket to Ride with the 1910 expansion in upwards of 50 times, the rules omission doesn't bother me. The Yellow score tracker not matching the brown train cars is funny but will give me something to quick pimp soon. The insert not accommodating sleeved cards is pretty annoying though. I'm not a compulsive card sleever but for a board game that has an MSRP of $100, I'd like to make sure I keep the cards in good condition (especially a game that has seen as much play as my previous version of Ticket to Ride). Looks like I'll have another game in needing of some pimping soon.
Ticket to Ride: 10th Anniversary edition
$100.00 (US MSRP)
Available: Now
Pro: great new components, awesome new card and board art, larger game board
Con: rules omissions, non-sleevable insert
Pimpin'?: 4.5/5   Outtasight!